Full of the Pipe launches new logo and official merchandise range
28/06/2022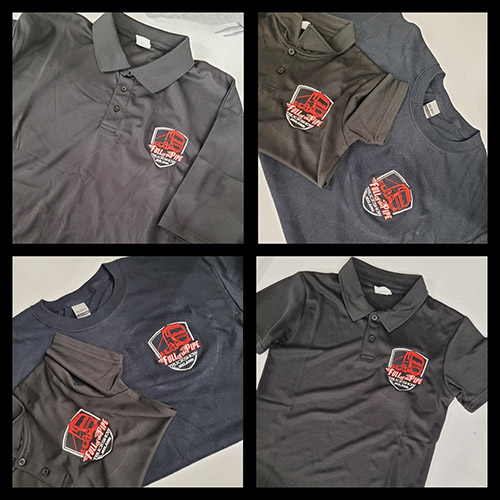 Courtesy of renowned County Laois based family business David Clegg Signs & Embroidery, Full of the Pipe has been given a makeover in 2022 with the incorporation of a new event logo as well as the introduction of a fantastic range of official merchandise – all of which will be available to purchase over the course of the weekend.
Highly regarded nationwide for the quality of their services, David Clegg Signs & Embroidery answered Kevin Mulqueen and Colin Hegarty's request to develop a new Full of the Pipe logo in typically professional and creative style, duly coming up with a striking new visual identity for Ireland's premier transport and logistic event.
The brand-new grey-and-red Full of the Pipe Truckshow Ireland logo, which was designed by Jennifer Clegg and has been launched to coincide with the staging of the magnificent 2022 comeback show, is indeed a thing of beauty and David Clegg Signs & Embroidery have also created a complete range of stunning-looking official Full of the Pipe merchandise, including hoodies, beanies, jackets, gilets, polo shirts and t-shirts, all of which will be available to purchase in all adult and kids sizes over the course of the weekend at Punchestown.
We've had a sneak preview of the merch and can confirm that it of the very highest calibre – as one would expect from a long-established company that's been operating the very latest state-of-the-art technology to deliver industry-leading vehicle graphics (from full body wraps to partial branding on trucks, vans or any other vehicle or machine), printing, signage (indoor and outdoor), window graphics and embroidery solutions to countless satisfied customers – many of them involved in the transport sector - from the length and breadth of Ireland for more than three decades.
While embroidery is a relatively new departure for the business - an area they first ventured into less than three years ago - David Clegg Signs & Embroidery have put their vast experience of signage and branding to great use in quickly establishing themselves as one of Ireland's premier providers of custom embroidery services – which, again, have proven extremely popular in the trucking community.
Jennifer has the experience, skill and wherewithal to create very attractive customised items of clothing / workwear to exact customer specification, including names, logos, designs, images of trucks, etc. Having made quite a splash with truckers across the country, it was perhaps inevitable that she would attract the attention of the inimitable organisers of Full of the Pipe:
"We designed the new logo for them and we're also delighted to be doing all the embroidered merchandise for the show," the Laois lady confirms. "We'll be there for the weekend with a full selection of official merchandise including beanies, softshell jackets, hoodies, sleeveless jackets, shirts, t-shirts and kids clothing. As we are known for signage and stickers, we'll also be bringing along some decals for trucks."
The embroidery team will be on hand to take custom orders and will be able to fully customise each item of Full of the Pipe merchandise on the day, if required. "We're going to be bringing two of our embroidery machines along with us to Punchestown and will be able to personalise the merchandise if the buyer wants to avail of that service," says Jennifer. "We're really looking forward to the weekend. It'll be our first time to have a presence at Full of the Pipe. We've been at a variety of other shows around the country, but nothing of this scale, so it promises to be a great experience."
As well as creating the new logo and supplying the official merchandise, David Clegg Signs & Embroidery is also on board as a key sponsor of Full of the Pipe. On the embroidery front, they provide a truly unique service: "Custom embroidery is very difficult to get and we specialise in custom embroidery work for truckers," Jennifer continues. "We can embroider their trucks onto the back of their jackets as well as their names or logos or whatever they require. Customers often ask me 'how many items do I need to order?' but the beauty of our service is that they can order as few or as many as they want – from one to one hundred. That's probably one of the reasons why we get so many orders. We also like to think that the quality of our work speaks for itself.
"We've been doing signage and graphics for 30 years and first got involved in embroidery around two-and-a-half years ago. I met a rep over in Birmingham and subsequently purchased my first Tajima embroidery machine. They are made in Japan and are the Rolls Royce of embroidery machine – we now have eight in total."
David Clegg Signs & Embroidery also handle the merchandise for The Highwaymen Ireland, are well known at the National Ploughing Championships, and can be found at various truck shows throughout the year. Visit their stand at Full of the Pipe if you want to get your hands on some very fashionable and beautifully-finished official clothing!
David Clegg Signs & Embroidery,
Borris Road,
Portlaoise,
County Laois
Tel: 0862625999
Mobile: 085 1298707
Email: [email protected]
Web: davidcleggsigns.ie