The signs are more than encouraging…
27/06/2022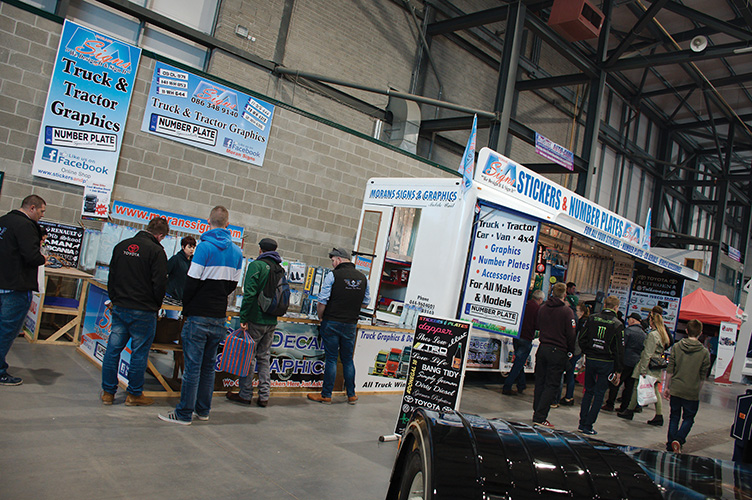 Twelve years on from its inception, Full of the Pipe has evolved into Ireland's premier truck show and continues to go from strength to strength. Through the duration of this remarkable journey, Moran Signs has been on board as the event's longest-serving and most-loyal sponsor.
It seems like almost a lifetime ago, but it was as recently as 2010 that Full of the Pipe took its first tentative steps, with the maiden show hosted at Athlone IT. There have been many tweaks and improvements since then, not least an upgrade in venues from Athlone to Cavan Equestrian Centre and then – in 2017 – Punchestown, which has become the event's spiritual home.
Year on year, FOTP has got bigger and better and it is now widely regarded as one of the best annual truck shows staged anywhere in Europe. This represents a remarkable achievement for the organisers and is also testament to all of those who have faithfully supported Full of the Pipe down through the years, including the truckers themselves and vital commercial sponsors.
In this regard, nobody has supported Full of the Pipe more often or more consistently than Moran Signs, which stood up to be counted twelve years ago and remains a key sponsor and participant for the long-awaited 2022 edition. Damien Moran, founder and proprietor of the County Westmeath based bespoke vehicle graphics and accessories specialist, is delighted to see Full of the Pipe return after a two-year absence and is looking forward to another fantastic weekend come July.
Providing a wide range of customers with industry-leading solutions for a decade and a half and counting, Moran Signs design signs tailor-made for any business, using state-of-the-art technology to produce high quality, durable and economic signage guaranteed to get the customer's business noticed. From vehicle graphics for trucks and vans to striking shop fronts pitch signs, safety signs and even stickers and labels, Moran Signs can cater for every eventuality.
For anybody looking to get their business noticed, vehicle graphics and wraps cost-effectively deliver a great way to stand out from the crowd. Not only do these have the potential to draw attraction and capture the imagination, they also represent a value-added solution because, unlike billboards or other advertising, vehicle wraps are essentially mobile advertising, giving free exposure to the vehicle owner 24/7, whether the truck is on the motorway, offloading on a busy street or indeed simply parked up.
Moran Signs can professionally, efficiently and imaginatively cover everything from a small van to a fleet of trucks, with a full in-house design service available if required. Utilising cutting-edge techniques and precise manufacturing standards, all vehicle graphics provided are designed and applied to exact specifications, resulting in exceptional durability and beauty.
Already in this calendar year alone, a host of superb vehicle graphic projects have been completed to the most exacting standards by Moran Signs for satisfied customers, including – but by no means limited to - full cab graphics and company branding on PD Logistics' two new Renault T520 Renaults truck as well as outstanding truck / van graphics and branding solutions for Fahy Haulage, K.L.S, Billy Moran & Sons, and Lakeland Civil Engineering, to mention just a select few.
For graphics, liveries, logos, wraps, colour changes and decals on trucks, trailers vans and / or agri plant, Moran Signs are proven market leaders, with a wealth of experience and wholly dedicated to continually improving and expanding their range of services. They have provided their expertise to trucks the length and breadth of the country and enjoy a steady flow of repeat business on the back of consistently achieving unrivalled levels of customer satisfaction.
Proprietor Damien operates his own fleet of vehicles at Moran Signs and has always had a keen interest in all things trucking. Full of the Pipe is of course close to his heart, not least because the company founder hails from a trucking background himself, his father Jimmy and brothers Declan and James running Eagle Motors in Mullingar, specialising in truck, trailer and light commercial repairs, recovery and sales … so he understands all about the importance of this show to the trucking community.
As truck graphics have become an integral part of Moran Signs' business model, Full of the Pipe is traditionally a big weekend for Damien – not just in terms of providing some sponsorship but also with regards to getting his name out there through his attractive and popular trade stand at the show (hopefully generating some welcome new business!).
A company held in the highest regard by truck owners and drivers from all over Ireland and beyond, Moran Signs offer unbeatable products and services to a wide array of business types. They design signs which are tailor made for literally any business, from vehicle graphics or custom number plates (or novelty plates) for trucks and vans to window graphics for commercial premises, pitch signs, safety signs, stickers and labels, etc., etc.
Event signage is another busy corner of the signs and graphics market. Here, Moran Signs provide professional, value-added signage solutions that are instant, portable and striking. Moran Signs are proven, experienced specialists in providing businesses with promotional banner systems that reflect their professionalism. Using the latest large format print technology, every print is guaranteed to be of the highest quality.
Signage and banner systems are available to suit every budget, space and timeline. Damien has researched the signage industry extensively in order to offer the latest, most reliable and innovative signage solutions available, whilst the in-house graphical design service ensures signage is portrayed exactly as it should be – to the customer's specifications and always making the optimal impact.
Moran Signs also manufacture standard and custom safety signage, with thousands of signs in stock at any given time. They also offer a t-shirt printing service and can supply quality printed stationery, leaflets, invitations and posters – all printed using the latest digital and lithographic technology, again with a full design service available.
Meanwhile, their online Stickers & Plates shop (stickersandplates.com) contains a comprehensive range of specialised number plates, K-Chem cleaning and shining products, car and truck stickers, window decals, dash mats and seat covers.
Since Day One, Moran Signs have continued to expand into new horizons, moving with the times and providing truckers, hauliers and other customers with an ever-growing range of excellent services. The fact that they have also generously and loyally provided much-needed sponsorship to Full of the Pipe on a consistent basis, helping it evolve into one of Europe's greatest truck shows, is an added bonus!
Moran Signs,
Whitehall,
Castlepollard,
County Westmeath.
Tel: 044 9604001
Mobile: 086 3489140
Web: www.moransigns.com
Email: [email protected]
Facebook: www.facebook.com/moransigns