Falvey XL thrilled by Full of the Pipe's return
24/06/2022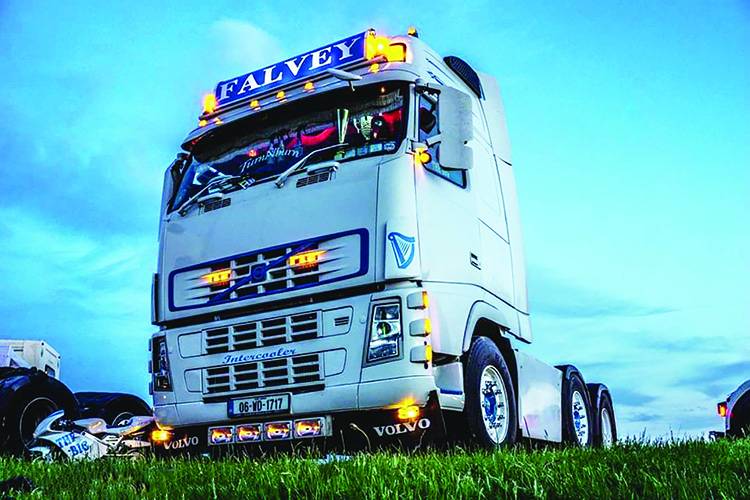 A regular visitor to Ireland's premier truck show, popular Tipperary trucker Peter Falvey (Falvey XL) is bringing his iconic 'Big Cool' Volvo FH Globetrotter to Full of the Pipe 2022. Peter has the height of respect for the great work of FOTP organisers Kevin Mulqueen and Colin Hegarty, and is looking forward to a fantastic weekend.
The inimitable Peter Falvey has certainly been keeping himself busy with extracurricular and fundraising activities since the 2019 edition of Full of the Pipe took place. Peter – who currently drives for Daltons of Cahir - has been in haulage all his working life, while his engaging character has seen him build up a large following on his social media platforms, where he posts engaging real-life adventures (under the Falvey XL handle on Snapchat and Instagram).
The affable Tipp trucker, owner of the instantly-recognisable Volvo XL 'Big Cool' show truck, has also organised three novel fundraisers for very worthy causes over the past three years and is sure to raise a few cheers when he steps forward to compete in the lip sync battle at this year's Full of the Pipe. After being ruled out due to Covid restrictions in both 2020 and 2021, the magnificent truck show extravaganza returns to Punchestown Racecourse on July 2nd / 3rd and – like the rest of us – Peter is counting down the minutes…
Now in its 13th year, Ireland's largest transport and logistics event will be staged both indoors and outdoors in 2022; the scene is set for something very special indeed: "It's always a great event," Peter enthuses. "I have been going to it for a good few years now, going back to 2015 / 16 when it took place in Cavan Equestrian Centre, and the show never disappoints. It has grown massively year on year, which is brilliant to see."
The truck show fraternity in Ireland are almost having withdrawal symptoms at this stage and the appetite for the long-awaited return of FOTP could hardly be greater… "The last two years were such a let-down, and the way things were was very unfortunate, but I feel confident that the lads have a great show in store for us this year and nobody is going to leave Punchestown disappointed, that's for sure.
"One of the brilliant things about Full of the Pipe is that it caters for everyone. It attracts the trucker man and the family man and it is a great weekend for everybody. No stone is left unturned to make sure that everybody has a good time, from the man with the serious lorry to the man who goes to look at lorries to the young kid who is amazed by them."
Is it difficult to get time off work to attend an event such as this? "My boss would prefer if I worked every day of the week but you have to take time off and Full of the Pipe is certainly one not to be missed," quips Peter, who purchased his 2006-reg 'Big Cool' Volvo in 2019.
He has been part of the Daltons of Cahir team for two-and-a-half years now and drives the oldest lorry in the fleet – an iconic old-school '01 Version 1 Volvo called 'Big Payment', doing bulk tipper work North and South, including drawing a lot of Cat 3 waste from factories. "The boss man is eager to see her go to Full of the Pipe, too, so if time is on our side we will bring the two Volvos," the Tipperary man notes.
Peter Falvey and Damien Dalton, the owner of Daltons of Cahir, share a love of old Volvos. "Damien is great. He'd be asking me what my latest plans are for a fundraiser or event and – even though it means he might be down a man – he always gives me his blessing and I respect him for that. He loves the old Volvos as much as I do and that's one of the reasons we have such a good relationship."
Peter has been around lorries all his life. His father, Mickey, ran a car garage and recovery business, with two artics – Hino and Mercedes – and a lowloader, transporting cars and balers and other plant and machinery. Meanwhile, his grandfather, also Peter, who had a Hino, did timber haulage going back to the 1950s (an area in which the younger Peter has also worked extensively).
The lip sync battle at Full of the Pipe will raise funds for LauraLynn's Children's Hospice - a charity close to Peter Falvey's heart as he completed a fundraiser for them (and Scoil Aonghusa in Cashel) in November, 2021, travelling from Mizen Head to Malin Head on a 50cc pink scooter dressed as Buzz Lightyear
In 2020, before lockdown, Peter travelled through all 32 counties in two days in a dilapidated pink Fiat Cinquecento that he salvaged himself to raise money for Pieta House, while in February of this year he completed another 32-county challenge, this time travelling in the 'Big Cool' alongside Ciaran from Agrireality to raise funds for Irish Road Victims Association, stopping off briefly in each county and encouraging others to join him for various legs of the fundraiser.
"The hauliers had gone to the Dail in February to protest against diesel prices and the government didn't listen to them," he recounts. "But those same hauliers then came out to support me and help raise funds for Irish road victims. The hauliers were the first men to the line and you have to respect that. We all use the road together and the hauliers will always step forward to lend their support.
"The Full of the Pipe team also came out to meet us and to support us and they are a great bunch. I will always respect those boys for everything they do. They always put on a great show and make sure everybody has a good time. No matter how tired they are at the end of the show, they will make sure to meet everybody before they leave. No matter who you are, you are going to see the Full of the Pipe team wishing you well before you leave and that has to be admired."
With all the pressures that the haulage sector is under at present, it's great to have a big truck-themed weekend to look forward to where everybody can let their hair down and enjoy themselves. "There is pressure on haulage at the moment and there always will be because, let's face it, the government is trying to eat from something that's trying to grow," says Peter. "In that case, stress is going to be there.
"Fuel is rising, insurance is high, tyres went up 20%, there's more duty on parts coming in – you have to admire the men in haulage because they put up with so much but they keep going. In times of need, they will be there to support you. When we were doing the convoy in February for Irish road victims, 80% of those who supported it were lorry men. They have stress to deal with and drivers to pay and enormous pressures to contend with but, if anybody needs support, they will step to the front of the line to help out."
It's a truly remarkable community and Full of the Pipe is a wonderful celebration of the spirit and togetherness that unites all truckers here in Ireland.