A hearty 'welcome back' from the team at Irish Trucker
24/06/2022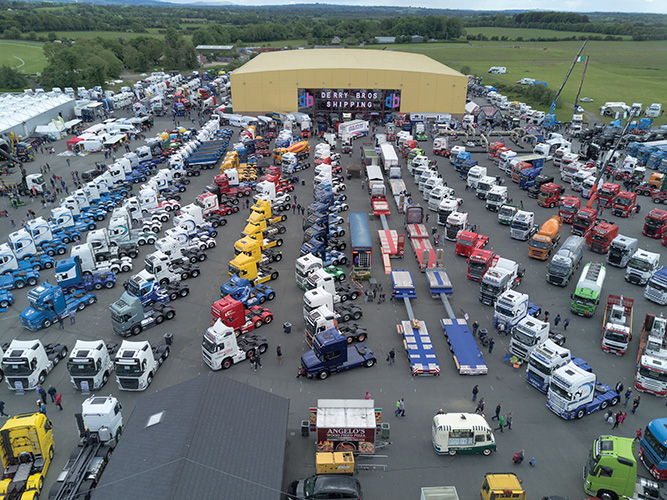 They say absence makes the heart grow fonder and this well-worn cliché certainly comes close to relating how everybody here at Irish Trucker feels about Full of the Pipe. While we have never been in any doubt as to how essential this wonderful, life-affirming truck show has become, the past two years served sharply to reinforce our appreciation of the amazing and vital event that Kevin Mulqueen and Colin Hegarty have conceived and breathed so much life into.
When we were putting together the programme for the tenth-anniversary Full of the Pipe show, which took place in 2019, none of us could have imagined the frustration and uncertainty that lay ahead. It would have been unthinkable to all of us back then that a global health emergency could be declared and that the staging of public events would be suspended indefinitely.
Alas, such unprecedented measures came to pass, rendering it unviable to organise Full of the Pipe in either 2020 or 2021, and boy did we miss it! While a truck show is by its very nature relatively unimportant in the greater scheme of things, Full of the Pipe is nevertheless a massively significant event for truckers and trucking aficionados from all over Ireland, so it is with a genuine and sincere sense of joy – and a collective sigh of relief - that we welcome it back in 2022.
As Full of the Pipe comes around each year, the excitement is invariably palpable in the Irish Trucker office. We are honoured and humbled to play our small part in promoting the show by putting the annual event programme together as well as publicising it through our magazine, website and social media platforms. Outside of attending the event itself, preparing and publishing the programme is part of the annual ritual here – speaking to the organisers, to drivers, operators and exhibitors who will be attending, to sponsors and supporters.
This affords us an inside line as the excitement builds and we strive to relay and relate that to our readers via this programme, which we hope will endure as a fitting memento to the weekend. We really missed doing all of this in 2020 and 2021 – when as a nation we were grappling with bigger issues – and we're suitably delighted to get this opportunity to travel down a familiar path for Full of the Pipe's long-awaited comeback over the first weekend of July, 2022.
Down through the years – from its humble inception at Athlone IT in 2010 – Full of the Pipe has grown steadily year on year to establish itself as one of the leading transport and logistics events taking place anywhere in Europe. We are very proud to have been associated with the show, albeit in a small way, since the beginning and would like to place on record our immeasurable respect for the incredible accomplishment of Colin and Kevin in taking FOTP to where it is today.
It hasn't all been plain sailing and there have been many obstacles, challenges and ups and downs encountered along the way – the past two years being a very clear case in point – but the organisers never took a step back or faltered in their convictions. They believed they could nurture Full of the Pipe into something truly special and their faith was no misplaced. Here we are today, marking another show, one that has been arranged under the most testing of conditions – vindicating that vision and justifying the inordinate amount of hard work that goes into making Full of the Pipe a reality each year.
Through both print and online media, Irish Trucker endeavours to provide a voice to all the hauliers, operators, dealers, manufacturers, garages, test centres, etc. who make haulage in Ireland so precious and so strong. As official media partner of Full of the Pipe, we are proud to do what we can to help preview, promote, highlight, advertise and report on this spectacular trucking extravaganza - a fun-packed weekend during which truckers can leave their troubles outside the door and spend precious moments with their peers.
Somehow, the last two years just weren't the same without Full of the Pipe. Although it would probably be something of a white lie to claim that we enjoy working, at the same time it has been invigorating and exhilarating putting this programme together. Because it means Full of the Pipe – a show of real substance and one that offers so much to the trucking fraternity and their families – is back.
Welcome back! Congratulations to everybody involved and thank you to all of those who are attending or supporting the show in any way. And, most importantly, enjoy your weekend. God knows, we're long overdue a good one!
Irish Trucker,
Lynn Group Media,
Kells Business Park,
Cavan Road,
Kells,
County Meath.
Tel: 046 9241923
Email: [email protected]
Web: www.irishtrucker.com