'Don the Cowboy' never misses Full of the Pipe
23/06/2022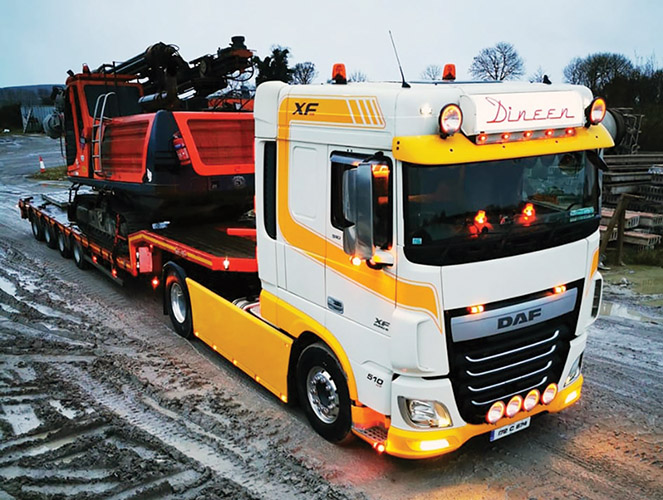 Since the show's inception, Cork trucker Don 'Cowboy' Curtin has been a regular attendee at Full of the Pipe. Needless to say, the amiable Rebel County trucking enthusiast will be making the trip to Punchestown Racecourse once more in July, 2022 as FOTP returns following two years of Covid-induced absence.
Full of the Pipe wouldn't be Full of the Pipe without the countless wonderful characters who congregate from all corners of the island – and beyond – to make the weekend so special. Don Curtin from Cork, who currently drives for local company Dineen Transport in Kanturk, is one of the many individuals who make the annual pilgrimage to Ireland's premier truck show. To say that Don is looking forward to the 2022 event might be an exercise in understatement!
"I head up every year. I haven't missed one yet and certainly won't be missing it this year," confirms the man known affectionately in the industry as 'Don the Cowboy'. "The show provides a rare opportunity to meet up with the rest of the lads. We'd know each other through social media and from meeting out on the road, so we'd all be friends but we never get to meet up in person too often and Full of the Pipe is brilliant in providing that opportunity. The weather should be good and I'm sure it's going to be a great weekend."
As a trucker first and foremost, Don has been highly impressed by the quality of the vehicles on display at Full of the Pipe down through the years. Indeed, he has noticed that the standard keeps on improving with each passing year…
"I'm really looking forward to the show," he continues. "The standard of Irish trucks is unreal. It's amazing what they are doing to trucks these days. The boys are flying the Irish flag high – they are up at the top now and the trucks here are on a par with anywhere else." Don should know as he makes a point of flying over to the Truckstar Festival in Assen, Holland every year and is therefore in a good position to judge the competition.
One of the things he really loves about Full of the Pipe is the friendly, relaxed atmosphere that prevails over the course of the weekend. This doesn't happen by accident, of course, and comes directly from the organisers: "They are a great friendly bunch of people and it's very relaxed up there," observes the Cork trucker, who has been driving lorries full time for two decades, since he was 21. "Ireland is a small country and us truck drivers would know each other from the top of the country to the bottom. It's almost like a little bit of magic when we are all together for a weekend in one location.
"We know each other's trucks because we all see each other on the road but it's nice to be able to have a few beers together and to see the trucks up close and to fully appreciate what the lads are doing. Even though these aren't their own trucks in a lot of cases, lads do pump money into improving them and you can get a lot of ideas and inspiration from seeing what others are doing."
Although he's a V8 man at heart and has always brought Scania to Full of the Pipe previously, having worked for Philip Ryan Haulage and Collins Transport, Dan is breaking with tradition and taking a striking DAF XF to this year's show. With this trusty steed, he does tipper quarry, low loader and bulk cement work for nearby Dineen Transport, whom he joined early in 2021.
"Shane, who runs the business, is the same age as myself and we were at school together. He has two rigids and two artics – he does Hiab specialised work with the rigids and I do the artic driving. Around 90% of the work is out of Ducon Quarry here in Kanturk, which is extremely handy for me as I live only 2km up the road. I was lucky this job came up and Shane is a great man to work for."
Some of the modifications Dan has made to the DAF include the addition of custom-made side skirts and the incorporation of four Dutch-style round lamps low down in the bottom grill. "I just love all machines and I suppose you could say that I never grew up, really," the Cork trucker quips. "I have always done my best to keep them all right, to wash and polish them and to put my own touch on a lorry if possible.
"I am grateful to Shane for allowing me to attend the show. It's not a cheap thing to bring a lorry up the road and, to be honest, you'd nearly be afraid to ask. Or at least you'd be looking to arrange a load or something to justify it… You have to appreciate it when the boss man agrees because these are tough times. You have to give him credit and it's the same for a lot of companies – the show wouldn't go on if the truck owners didn't get behind it."
Due to prevailing public health measures at the time, it was not possible to organise a Full of the Pipe show in either 2020 or 2021. How much did Don miss the event during those dark times? "We definitely did miss it. This year's show is going to be very interesting because a lot of lads have better trucks now. A lot has changed in three years. It's a big gap and there's going to be a lot of new stuff on display – I'm looking forward to seeing it.
"There's always a great buzz and excitement heading up to Full of the Pipe and – because of the long wait – that will be even more noticeable this year. I'll head up on the Friday night. And the one thing that's guaranteed is that the boys will be there to welcome each of us with open arms. After the two years we've had, it's great to be coming back at last to some sort of normality. It's the first big show staged in Ireland in ages and it's nice that people will be out and about enjoying themselves again."
Especially given the stresses and pressures that the haulage sector is coming under these days, what with the rising cost of fuel – and, indeed, of just about everything else as well! "With the way diesel has gone, you have to feel sorry for anybody running a haulage business," says Don. "Things were just settling and getting back busy again but this diesel situation has come along and rightly upset everything. You'd definitely feel sorry for hauliers because these are not easy times, but they will still go up and get out the barbeques and open a few beers and shut off and not worry about all their troubles for two or three days. We need that."
Don got his nickname after his father, who famously brought a ten-gallon hat with him when he returned home to Cork after years working in London. "They called him 'cowboy' and I became known as 'young cowboy' … there's always a hat with me up on the dash," he reveals.
While the nature of the work he does on a day-to-day basis makes it fairly difficult to get his stunning white-and-yellow DAF XF 510 spotless, Don will do his best to make sure the truck is looking its best at Full of the Pipe 2022: "We'll try to give her a good compounding the weekend before and then try to keep here right for the week," he concludes. "I'll get the power hose out on the Friday evening, give her a good polishing and clean the tyres. Then up to Punchestown, get the flies off her and open a can of beer."