Bridgestone never tires of supporting Full of the Pipe
23/06/2022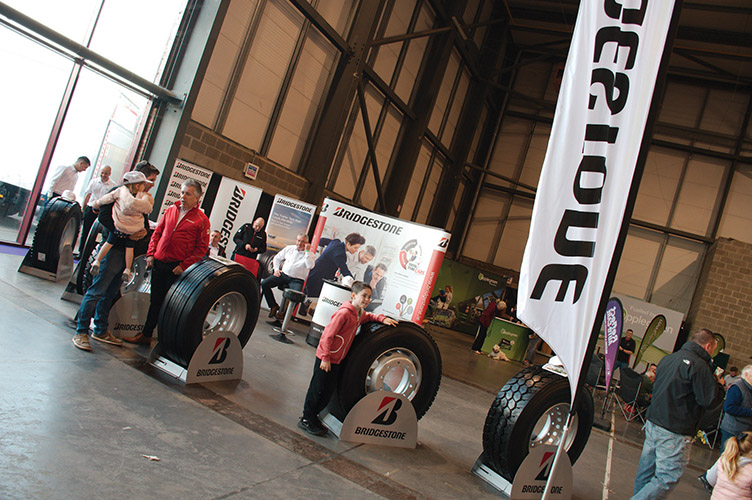 Bridgestone - the world's largest tyre and rubber company and the market leader for top brand commercial and consumer tyres here in Ireland – is on board as a main sponsor of Full of the Pipe once more in 2022. Like all true market leaders, Bridgestone is moving with the times: continuously developing innovative new products and exploring associated market sectors.
Bridgestone offers an ever-growing range of premium tyres for cars, 4x4s, vans, motorcycles, trucks, buses, and off-the-road and agricultural vehicles. Bridgestone's expansive range of truck and trailer tyres help reduce fuel consumption, carbon emissions and operating costs without compromising on performance. Their versatile tyres use the latest technologies to achieve outstanding mileage, grip and durability for a wide range of applications.
Their complete range of truck and bus tyres provide maximum safety whilst minimising fleet cost of ownership through innovative tyre management solutions.
As a global leader in tyres and rubber, providing solutions for safe and sustainable mobility, Bridgestone has developed the R179+ premium trailer tyre for prolonged and even wear life to reduce fleet operating costs even further. Some features of the R179+ include: optimised wear life and improved irregular wear performance; reduced noise level to 69dB2; improved wet performance (achieving wet label grade B); winter ready 3PMSF and M+S; and RFID unique tyre identificator equipped.
Bridgestone's engineers selected the best materials to develop the new R179+ cap compound. The high silica in the cap compound improves irregular wear resistance, wear life and wet grip. The benefits of this compared to previous products are optimised wear life, better irregular wear resistance and improved wet grip. The new cap compound and six-rib tread design deliver better performance even in wet conditions with its improved irregular wear resistance and wear life.
Other great options in the comprehensive Bridgestone range of truck and trailer tyres include the Duravis R-Steer 002, Duravis R-Drive 002, Duravis R-Trailer 002, Greatec M709 Ecopia, R249 Ecopia, R249II Evo Ecopia, R294, R164, R16611, R180, R184, R187, R297 and R168.
The Duravis R-Drive 002's innovative pattern concept improves tyre grip on wet surface thanks to optimised water drainage. Nano-pro tech cap compound reduces energy loss and rolling resistance, while the innovative high silica cap compounds provide high wet grip and low running temperature. Meanwhile, a dedicated compound mixing process provides for consistent wear and wet grip performance enhancement.
Synonymous with the industry-leading M Series range, Ecopia range and Duravis range of truck tyres, Bridgestone has delivered premium engineered tyres for almost 90 years – keeping drivers of all different types of vehicles going, no matter what. Firestone is an iconic American brand that embraces the philosophy of its pioneering founder, Harvey Firestone, to offer a smart and reliable choice of tyres for any vehicle.
Bandag is the world's most trusted supplier of premium tyre retreads and retreading systems. Known for being safe, cost-effective and environmentally-friendly, this solution by Bridgestone is supporting the transition towards a circular economy. In addition to their main brands, they also are proud to include Dayton, Saetta, Seiberling, Roundia and Protread in the Bridgestone portfolio.
Bridgestone employ over 20,000 people across EMIA (Europe, Russia, Middle East, India and Africa), including the industry's leading chemists, engineers and data scientists. Mobility is transforming fundamentally and rapidly, and Bridgestone is evolving with it. Their business is threefold: they are investing in premium added-value tyres; enhancing their retail and service-based offering; and bringing digital mobility solutions to the market - including Europe's leading telematics business, Webfleet Solutions.
Bridgestone have a dedicated and growing customer base of drivers, fleets and dealers, and are the partner of choice for several major consumer and commercial original equipment manufacturers across EMIA. With the biggest retail network of any tyre manufacturer in EMIA, they service customers in Europe within 24 hours or less. They have a network of 15 tyre plants across EMIA, using the latest technologies to deliver premium products.
Bridgestone is pioneering digital mobility solutions and applications to bring efficiency, convenience and peace of mind to drivers, fleet managers and owners. Webfleet Solutions is one of the world's leading telematics solution providers, serving 50,000 customers with cars, vans and trucks in more than 100 countries. Its main software-as-a-service solution, Webfleet, is used by businesses of all sizes to track and trace vehicles 24/7, improve vehicle performance, save fuel, support drivers and increase overall fleet efficiency.
Webfleet Solutions – formerly known as TomTom Telematics prior to October 1st, 2019 - is one of the world's leading telematics solution providers, dedicated to fleet management, vehicle telematics and connected car services. Customers benefit from the highest standards of confidentiality and integrity.
Bridgestone Ireland,
Unit 10,
Fingal Bay Business Park,
Glebe North,
Balbriggan,
County Dublin.
Tel: 01 8410000