Punchestown is the spiritual home of Full of the Pipe
23/06/2022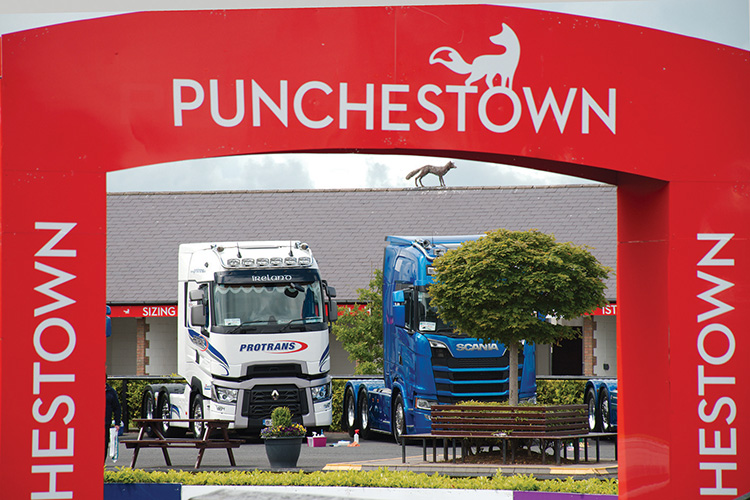 Full of the Pipe moved to Punchestown Racecourse Event Centre for the first time in 2017 and since then the iconic five-star County Kildare venue has become synonymous with the biggest date on Ireland's truck show calendar. The Punchestown team invariably go out of their way to accommodate the organisers and this will be the case once more in 2022, with Ireland's largest transport and logistics event due to be accommodated both indoors and outdoors.
Three years on from the unforgettable tenth-anniversary edition, Full of the Pipe finally returns. And it was something of a no-brainer that the event would once more be staged at Punchestown Racecourse, which has proven to be the ideal venue for this unique celebration of all things trucking.
As a venue, Punchestown boasts everything that's needed to make an event extra special – from the location, capacity and exceptional facilities themselves to the cooperation and professional input of the events team, led from the front by CEO Conor O'Neill.
Indeed, in the times that are in it, there were always going to be potential challenges involved in putting together a FOTP comeback show, but the event organisers and Punchestown team have collaborated closely and worked together tirelessly to plan and implement a subtly tweaked format (including more outdoor activities than hitherto) which will guarantee peace of mind to all visitors without compromising on the quality of the show itself or the entertainment levels provided.
It was a significant growth in the number of people attending Full of the Pipe each year that prompted the switch to Punchestown in 2017. The move reflected Kevin and Colin's vision for the show and their determination to develop it into a flagship event; Punchestown has been instrumental in helping them to realise this ambition.
They have never looked back since and, as this weekend plays host to the event for the fourth time, it seems unlikely that any change will be taking place in this regard any time soon. For a show of this scale and magnitude, Punchestown Racecourse Event Centre quite simply ticks all the boxes.
A spacious, well-appointed, internationally-renowned centre for hunt racing, equestrian, field sports, festivals, exhibitions, concerts and a range of other events, the Punchestown Event & Exhibition Centre was added to the Punchestown Complex in 2001, offering clients a top-class, 60,000 sq ft event and exhibition facility with a specification to match. Punchestown Event Centre is unique in that its design lends itself to the provision of maximum space and flexibility, which ensures that the venue is suitable for a wide variety of events.
Ensuring maximum enjoyment and convenience for truckers, exhibitors and other visitors alike, Punchestown's facilities are unique and vast and can be tailored to suit any style of event - this innate flexibility and versatility has proven critically important to the organisers of a weekend event like Full of the Pipe – no more so than in 2022, when lingering concerns around the Covid-19 pandemic have necessitated a tweak here and a modification there.
The adaptability of Punchestown and its ability to welcome guests in either an indoor or outdoor setting – or a combination of the two – is both rare and ideal.
Adding value not just to Full of the Pipe but to all other events hosted here, the professional, wholly client- and visitor-focussed team at Punchestown boast a wealth of experience and knowledge in the events industry which, combined with a diverse range of skills, enables the organiser to stage a successful event. The Punchestown team remain dedicated and committed to the client from the planning stage right through to event completion, ready and willing to help in all best practices to ensure that the maximum is derived from the facility.
Punchestown Racecourse Event Centre has hosted many incredible concerts and festivals over the years (MCD Promotions is a regular client) as well as prestigious events such as the Farm Machinery Show, the National Plant Show, Dixon's Roadshow, the Modified Motors & Prodrift Live Show and the Construction Plant Show to namedrop just a handful.
The return of Full of the Pipe over the weekend of July 3rd - 4th is another major positive in what has been a landmark year for Punchestown Racecourse, where things have finally started to return to some sort of normal after two years of severe disruption due to Covid.
From Tuesday, April 26th until Saturday, April 30th, for example, huge crowds flocked to the iconic venue for The Great Comeback Festival as history makers and record breakers like Rachael Blackmore, Willie Mullins, Paul Nicholls, Henry de Bromhead and Davy Russell presented a showcase of horse racing in front of an appreciative Punchestown Festival crowd for the first time since 2019.
The 40-race programme included no fewer than twelve Grade 1 contests. You see, Punchestown has the capacity to accommodate both quality and quantity.
It's been a while – too long, perhaps – but the good times are back with a bang at Punchestown!
Punchestown Racecourse Event Centre,
Naas,
County.Kildare.
Tel: 045 897704
Email: [email protected]
Web: www.punchestown.com