Portlaoise Springs upward bound
22/06/2022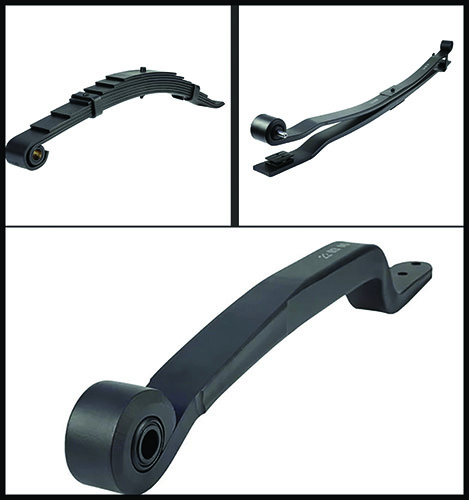 Portlaoise Springs Ltd. – Ireland's largest distributor of parabolic and multileaf springs for commercial vehicles – is supporting Full of the Pipe Truckshow Ireland 2022 as an official sponsor. The company has also expanded its product and service offering through the acquisition little over 18 months ago of local business Condell & Ryan Motorfactors.
Selling, repairing, modifying, manufacturing, reinforcing and installing leaf springs for trucks, trailers, vans, buses and 4x4s, Portlaoise Springs – which was set up three-and-a-half decades ago - has firmly established itself as an industry-leading specialist in its particular field of expertise.
In October, 2020, the core business was expanded when taking over Condell & Ryan Motorfactors - a leading supplier of parts and accessories for cars and (increasingly) heavy and light commercial vehicles.
Portlaoise Springs stock over 600 different leaf springs for hundreds of vehicle applications as well as individual spring leaves, bushings, pads and centrebolts, with thousands of OE part references to help identify the correct spring for each vehicle. Springs can be identified by vehicle registration number or chassis number, for most applications.
Via a fully-equipped workshop and experienced, specialist technicians, Portlaoise Springs offer a full, value-added installation service and can replace, repair, recondition, reinforce and manufacture leaf springs for any commercial vehicle. They also stock hundreds of different ubolts to suit all applications and can manufacture ubolts for one-off applications, with a prompt same day / next day delivery service available on all products.
Portlaoise Springs has enjoyed a period of steady growth and diversification since John Duff, who had worked there for six years previously, took over the business in October, 2016. Since then, the forward-thinking managing director has remained committed to providing more and more products and services to commercial vehicle owners and this progressive nature was underlined by the acquisition of Condell & Ryan Motorfactors, which dovetails perfectly with the original business.
Prior to the acquisition, Portlaoise Springs – renowned for stocking Hino parts - had already gone down the road of supplying parts for light commercial and heavy goods vehicles and they now have additional scope and capacity to significantly increase this aspect of the business.
Condell & Ryan stocks an ever-expanding range of high-quality car and commercial vehicle parts and accessories, including everything from shock absorbers, valeting and refinishing supplies, catalytic converters and DPFs to coil springs, batteries, mirrors, lighting, alternators, fuel tanks, airbags, sensors, brake pads, brake discs, filtration and much, much more besides.
Between the two businesses, a vast range of products and services is provided to truck and van owners nationwide from a prime location at the heart of the midlands.
Portlaoise Springs Ltd. stock all the leading brands of OEM quality parabolic and multileaf springs, which are sold to a wide customer base including hauliers, quarries, garages, motor factors and local authorities. As John told Irish Trucker magazine a few years back: "We make sure to keep the price affordable to the end user right across the board.
"We offer a professional fitting service and pride ourselves on being both more affordable and more efficient at fitting springs than any other garage. We also offer a spring repair and reconditioning service. We can replace individual components that are damaged or broken if the customer doesn't want to replace the entire spring. We can also manufacture custom springs here on site, which is obviously a very niche business but one that's useful for customers with vintage vehicles or American trucks, where you aren't going to get parts off the shelf. We also supply all accessories for leaf springs – u bolts, pins, bushings."
With an ever-expanding range of products and services to complement the specialist core activities for which they are renowned island-wide and beyond, Portlaoise Springs Ltd. is a long-established, market-leading company that continues to expand and move with the times, serving not just its original niche market but a host of other areas across the truck, trailer, van, bus, 4x4 and car aftersales markets.
The company provides invaluable services to the haulage sector and their generous sponsorship of Full of the Pipe Truckshow Ireland 2022 is greatly appreciated.
Portlaoise Springs Ltd.,
Clonminam Industrial Estate,
Knockmay,
Portlaoise,
County Laois.
Tel: 057 8622377
Email: [email protected]
Web: portlaoisesprings.ie