Full of the Pipe 2022 promises to be the mother and father of all reunions!
21/06/2022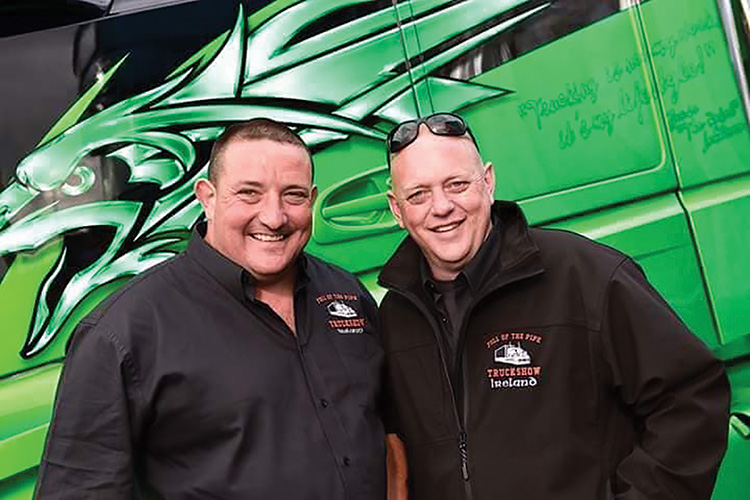 After two years of frustration and anguish, Ireland's premier truck show returns to the familiar environs of Punchestown Racecourse on the weekend of July 2nd and 3rd, 2022. Tireless organisers Colin Hegarty and Kevin Mulqueen are delighted and honoured to finally be in a position to bring Full of the Pipe Truck Show Ireland back to a ravenous, appreciative, fully-supportive and ever-discerning trucking fraternity.
It almost seems like a lifetime ago that the tenth-anniversary Full of the Pipe extravaganza was staged in Punchestown in June, 2019. That event was a resounding success, cementing FOTP's status as one of Europe's leading truck shows. Also scheduled for the five-star County Kildare venue, the 2020 edition promised to be the biggest and best yet but, of course, Covid-19 had other ideas.
Full of the Pipe had to be called off in 2020 and, due to prevailing emergency public health restrictions, was not feasible last year, either. However, as the worst of the pandemic begins to clear, Saturday, July 2nd and Sunday, July 3rd have been announced as the dates for the show's long-awaited return.
The sense of anticipation and general excitement levels ahead of this year's Full of the Pipe are arguably unprecedented. Thus, while the double disappointment of 2020 and 2021 has no doubt caused much heartache, financial hardships and many sleepless nights, this is certainly a time to look forward in hope rather than back in anger!
Somehow, after the dark days we've all experienced, Full of the Pipe Truck Show Ireland 2022 feels like a new beginning. For determined event organisers Colin Hegarty and Kevin Mulqueen, this marks the culmination of more than three years of hard work and perseverance behind the scenes. It might have been easier to walk away but they knew that they had built something special and were resolute in their collective conviction that the Full of the Pipe brand was worth fighting for:
"We are absolutely delighted to be back on track again," the latter confirms. "Myself and Colin have been anxious to put another show together and have tried everything to make it happen but unfortunately over the past two years it has been completely out of our control.
"We were planning away behind the scenes and following developments, watching and waiting for a window of opportunity to come along. Thankfully that day has finally arrived and we are both very proud to be bringing Full of the Pipe back to Punchestown."
This will be the fourth time the show has been staged at Punchestown Racecourse, with the wonderful, well-appointed Kildare venue having become home to Full of the Pipe from 2017 until 2019 inclusive. Notwithstanding a couple of minor tweaks here and there, this great reunion show will take place along similar lines to its predecessors. Ireland's largest transport and logistics event will be accommodated both indoors and outdoors this year, with more than 1,800 custom, vintage, American, European and classic trucks set to be put on display over the course of the weekend.
"The HSE are still using some of the facilities but it won't limit us in terms of space," Kevin continues. "This year will see an outdoor show for all trucks on display, but we will still have a certain amount of indoor trading – as well as all the other facilities and events we have become known for. The first change people might notice when they arrive at the venue is that they will be asked to go right instead of left upon entering, but otherwise everything is going to be more or less the same as it ever was."
After all the uncertainty surrounding the feasibility of putting a show together, Colin and Kevin have made innumerable trips to Kildare during the six-nine months running up to July, meeting with traders, dealers, sponsors and venue management to make sure that this year's Full of the Pipe is everything it can be and more.
"We're looking forward to showing fantastic trucks in a fantastic venue and bringing back our show to the public who have supported Full of the Pipe over the years," Colin adds. "We're still going to have great live entertainment over the weekend, the indoor trading village, and kids' facilities. So it will still be family-orientated.
"We're asking people to come to the show, to support the show and to align their brands to the show. We have brought this show up to a high level and we want to continue moving forward. It has grown so much bigger than we probably ever thought it would and the fact that we're expecting upwards of 1,800 trucks on site this year speaks for itself."
Kevin continues: "It's great to see dealers coming on board and the trade support we've seen has been fantastic. It's been a long couple of years without any truck shows. Everybody out there is looking forward to a weekend and the weekend this year is going to be Full of the Pipe!
"We are especially excited to be bringing it back this year and it goes without saying that we will be adhering to whatever Covid guidelines are in place at the time. The fact that it's more outdoor this year should leave people in a better situation to enjoy the weekend as safely as possible. It really is going to be like a reunion. We absorbed the initial cost of the first cancellation and have managed to keep the boat afloat. Now all we want is for people to have a fantastic weekend.
"God knows, we all need it. We need it, the companies need it and the truckers need it. It's been a long time coming. Two years have gone by that we are never going to get back. Indeed, come July, it will have been more than three years since we had a truck pull up inside Punchestown. The response has been phenomenal, with tremendous interest and support being shown right across the board. All we need now is the weather and here's hoping that, even in Ireland, you can't go too far wrong in the middle of the summer!"
The organisers are keen to stress that there will be absolutely no limitations on space, with Punchestown Racecourse CEO Conor O'Neill having been extremely accommodating through all stages of negotiations. "We knew when we met him that he was on the same page as us and he has been very proactive in turning negatives into positives," says Kevin.
"We're also pushing the rebranding of Full of the Pipe Truck Show Ireland and Jennifer Clegg has designed a new logo and a complete range of new merchandising, which will be available at the show and also from David Clegg Signs & Embroidery."
Kevin believes that the challenge of delivering a slightly different Full of the Pipe experience this year could make the show stronger in the long run. "Please God we'll finally be able to revisit the original style and format of the show in the not-too-distant future but we are on a learning curve all the time and, for now, this could develop the show further as we realise more of its potential. It's going to take a couple more years for us to get this show to the level where it is perfection. But we'll get there.
"All the bars and restaurants and showers and camping facilities are going to be on site and tickets are available both online and at the gate on the day. All trucks can register upon arrival from 6pm on the Friday evening through until 12pm on the Saturday."
The trucking community really have been starved of events like Full of the Pipe (not that there is any other event quite like it!) since 2019 and that has resulted in huge pent-up demand for the 2022 show. Suffice to say, there's a voracious appetite for a great show and Colin and Kevin are determined to deliver.
"One of the knock-on effects of no shows is that people in the trade have a lot of products and accessories to advertise and sell now, and the opportunity is here again to showcase some of these products," notes the former. "It's good for business, good for the industry and also a great opportunity for people who haven't seen each other for three years – from all over Ireland, Scotland and England – to finally renew acquaintances and get together once more.
"It's also a great time for first-time visitors to come along and see what Full of the Pipe is all about. We'd also like to place on record how pleased we are to see the Waterford, Tipperary and the Ossory Show all coming back. They are always there to support us and we are here to support them."
How great it is to see the truck show circuit back up and running! Full of the Pipe 2022 promises to be something extra special and this flagship event in Ireland's vibrant truck show calendar is clearly here for the long haul!