Reflect AutoCare continues its strong association with Full of the Pipe
21/06/2022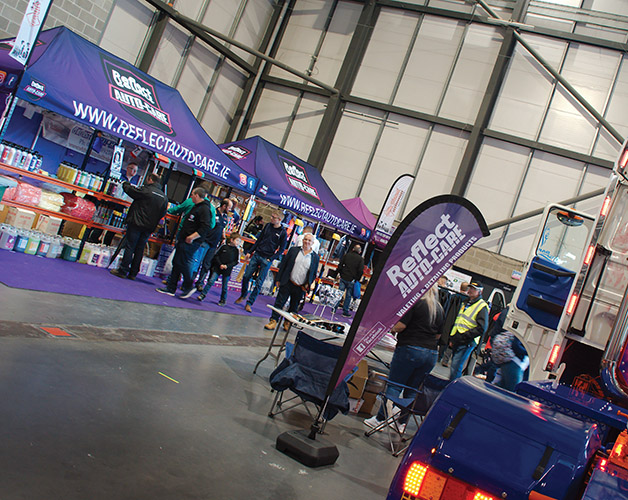 Celebrating ten years in business this year, one of Ireland's leading suppliers of valeting and detailing products to the motoring industry, Reflect AutoCare, is a loyal sponsor and supporter of Full of the Pipe. As the flagship truckshow makes its long-awaited return in 2022, Reflect AutoCare general manager Neil Kelly speaks of a proud association between two entities that have grown hand-in-hand.
From humble beginnings, the success stories of Reflect AutoCare and Full of the Pipe have been written in tandem over the past decade, with both going from strength to strength as they provide the general public – and particularly the trucking fraternity – with outstanding service levels.
Now firmly established as Ireland's leading supplier of vehicle valeting and detailing products, Reflect AutoCare offers an unrivalled and ever-expanding product range, invariably giving customers from across a wide variety of industries better price, better quality and better service.
Providing an exceptional, comprehensive selection of outstanding truck, bus and car detergents and cleaning supplies, Reflect AutoCare has taken the market by storm since its genesis ten years ago. Operating at the very forefront of the market, they supply many valeting companies, haulage operators, bus, car hire and car sales companies with a superb choice of high-quality, low cost products, with orders available in any size – from a single car to a fleet of trucks – and the same high level of customer service guaranteed at all times.
Reflect AutoCare's proven products are used by thousands of people across the island every day and their customer base is constantly growing. The highest levels of customer – and vehicle! – satisfaction are guaranteed on a consistent basis, resulting in a high volume of repeat trade.
Due to the nature of the products provided, it was natural that an enduring relationship should form between Reflect AutoCare and Full of the Pipe Truckshow Ireland. As FOTP finally returns to Punchestown in July, 2022, after two years of frustration due to the Covid-19 pandemic, this partnership is as strong as ever, Reflect AutoCare remaining on board as a key sponsor, while they will also be active on the ground at the show over the weekend.
"We've always supported Full of the Pipe and of course we are delighted to see it back," confirms Reflect AutoCare general manager Neil Kelly. "We're really looking forward to this year's show, not least because it ties in with our own tenth-anniversary celebrations."
Reflect AutoCare has new lines and new products coming on stream all the time and will be displaying some of these – as well as their more recognised products – at their trade stand at Full of the Pipe. Literally anything a trucker could possibly need to keep his pride and joy looking fantastic is available from Reflect AutoCare. Indeed, many of the trucks presented at this year's show will have used a range of their products to get their vehicles spic and span and looking like new.
For the discerning trucker, Reflect AutoCare's famous, all-inclusive Wagon Wheel Deal – currently available at a discounted rate! - represents magnificent value for money. Comprising one litre each of Cherry Bomb Shampoo, Super Vision Glass Cleaner, Pink Quick Clean, GPXT, Reflection Quick Detailer, Autofresh and Tyre Reflect along with 500ml of Ultra Glaze Polish plus White Diamond Metal Polish, Lint Free Glass Cloth, Microfibre Cloth, Applicator Pads, Upholstery Sponge, Polishing Sponge, Packet Gripster Gloves and Reflect Air Freshener, this is the ultimate all-in-one valeting and detailing pack for truckers – and can currently be purchased for a generous €85 inclusive of VAT and delivery nationwide.
"The Wagon Wheel deal is extremely popular as it provides everything you need to clean and shine your truck from start to finish," Neil notes. Like all other Reflect AutoCare products, the Wagon Wheel deal can be ordered online at reflectautocare.ie for next-day delivery, over the phone or indeed by dropping in person into the company's superb, state-of-the-art new building complete with walk-in shop, which was opened to the public at Unit 20, Millennium Business Park, Dublin 11 in October, 2020.
By providing an exceptional range of products at competitive prices, backed up by unrivalled service, Reflect AutoCare truly has come a long, long way in ten years. Director Gary Meaney and his wife Lorraine set the company up in 2012, while general manager Neil Kelly joined within a year. Today, the team has expanded to twelve.
Looking forward to Full of the Pipe 2022, Neil continues: "It's going to be a great weekend. We'll be there ourselves for four days in total, including setting everything up and tidying up afterwards. We're looking forward to seeing many familiar faces and hopefully some new ones too. It's been a long wait since 2019 and it's great to see Full of the Pipe back. We love truck shows and we actually run a couple of our own Scanias.
"We had more trucks on the road but downgraded to two again, opting to stick with the valeting / detailing products as or main products whilst continuing the trucking side more as a hobby. A lot of hauliers tend to order their cleaning products or AdBlue in bulk and we can deliver to them in bulk using our own vehicles."
Synonymous with their own extremely-popular, in-house Reflect brand, Reflect AutoCare - Ireland's exclusive distributor of White Diamond metal polish, which is at the very top of most hauliers' shopping lists - also import a vast selection of other top-quality brands from all over the world, with a full range of detergents and valeting products supplied to car washes, motor factors, motor dealerships, car rental companies, haulage companies, coach operators, etc.
As the leading supplier of professional cleaning products, equipment and accessories to the trade, the business has become an increasingly-important player in the haulage sector, supplying everything from polish, wax, alloy wheel cleaner, carpet / leather cleaners or conditioners to scented shampoos or cleaning accessories such as brushes, cloths, handles, disposable gloves, sponges, wipers or sprayers.
Highly Commended in the Retail category of the 2022 SFA National Small Business Awards, Reflect AutoCare is not only Ireland's premier supplier of detergents and other valeting, cleaning and detailing products to the automotive and truck industries but is synonymous with a vast array of products, including accessories (lighting, bulbs, brushes, cloths, wash mitts, handles, gloves, polishing heads, sponges); electrical (hoovers and pressure washers) products as well as safety boots, workwear, vehicle accessories, bodywarmers and jackets, high-vis jackets, lubricants and the renowned Tornador, Rotador, Vikan and White Diamond lines.
Just like Full of the Pipe, the name Reflect AutoCare is now synonymous with trucking here in Ireland!
Reflect AutoCare,
Unit 20,
Millennium Business Park,
Cappagh Road,
Ballycoolin,
Dublin 11.
Tel: 01 8649957
Email: [email protected]
Web: reflectautocare.ie