O'Hara Logistics celebrates 20 years 
08/06/2022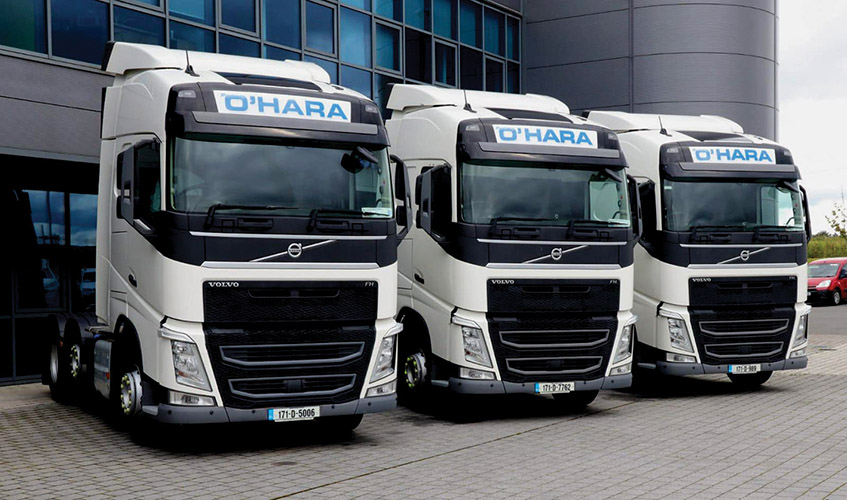 Celebrating 20 years in business, O'Hara Logistics has established itself as a leading transport provider specialising in fresh and frozen distribution as well as some curtainsider and general haulage work.
The Lough Gowna, Co. Cavan-headquartered company has come a long way since Padraig O'Hara started out in October 2002 with a single rigid lorry delivering frozen bread to shops and restaurants in the Galway area for Cuisine de France (ARYZTA Food Solutions Ireland). Padraig now runs a modern fleet of 22 trucks and 20 trailers, and employs 25 drivers on both a full-time and part-time basis.
The fleet consists of 13 tractor units, nine rigids and 14 refrigerated units with flat trailers and curtainsiders making up the balance. O'Hara Logistics is constantly upgrading its vehicles and recently took delivery of two pristine 2016 FE320 6x2 fridge units. They are manual shift with Day Cabs, Quinn Dual Temperature fridge bodies, Thermo King T1200R fridge units and two-tonne Dhollandia tail lifts. They were supplied by Irish Commercials with Volvo warranties and new CVR tests.
The investment comes after O'Hara Logistics also purchased three Volvo FH arctic trucks from Irish Commercials in 2020.
The new additions to the fleet have been put to work transporting everything from chilled and frozen produce to fertiliser and building products the length and breadth of Ireland. Maintaining a transportation temperature of -18oC or lower, O'Hara Logistics offers state-of-the-art temperature controlled and tracked vehicles which remain in operation at all times during transportation to ensure frozen goods stay at optimum temperatures.
The refrigerated haulage service provided is ideal for transporting frozen and ambient foods, fresh fruit and vegetables, dairy products, pharmaceutical and medical products. Padraig and his team of professional and competent drivers take great pride in the appearance of their vehicles which are always immaculately turned out. With their striking navy, sky blue and white livery and logo, they are a real head-turner.
"How your trucks look says everything about your company. If they're clean and well presented, it gives a good impression," says Padraig, who is a native of Ballinagh, Co. Cavan.
"We're currently running 11 Volvo, five Mercedes, three Scania, two Renault and one DAF. Eight of the Volvo are arctic's and the other three are rigids. I can't fault Volvo. They've given us great service over the years and continue to do so. That's why we bought three more in 2020.
"Our trailers reflect the type of work we specialise in, with 80% of it being fresh and frozen distribution. We have 14 fridge units that are tracked via a state-of-the-art temperature monitoring system. We also have a small number of flats and curtainsiders for general haulage. Our fleet is maintained and serviced by Liam Burke Commercials in Claregalway and DC Brady in Lough Gowna, while FD Refrigeration in Ballinasloe looks after our fridge and tail-lift maintenance."
Behind the wheel of every O'Hara Logistics truck is a reliable, experienced and courteous driver. "Our drivers are our greatest asset," Padraig asserts.
"We look after them and they look after us and our customers. Our reputation is built on service, reliability and value-for-money. Most of our business is secured through word of mouth and recommendations from our existing customers. We always live up to our slogan 'We'll take it from here'."
Shortlisted for a prestigious Fleet Transport award a few years ago, O'Hara Logistics has a depot in Oranmore, Co. Galway, dedicated to its extensive operations along the West coast for clients such as Cuisine de France and others. "I started out delivering frozen bread for Cuisine de France around Galway and I'm still with them," the affable Cavan man smiles.
"We're lucky that we work for a lot of companies in the food and grocery sector and the work we do for them actually increased during the pandemic because of the lockdown restrictions and limits on travel."
Padraig is a hands-on type of person. If he's not out and about doing a delivery, he's in the office looking after the administration and invoicing. He's always contactable and willing to go the extra mile for his customers.
He is a great supporter of local causes and takes part in an annual Christmas truck run in Galway in aid of the Kevin Bell Repatriation Trust, which has facilitated the repatriation of over 200 bodies of Irish citizens back to Ireland since 2013. The Trust aims to alleviate the financial hardship of bereaved families by repatriating the body of a loved one who has died abroad in sudden or tragic circumstances back to Ireland.
In summary, O'Hara Logistics prides itself on its first-class, dependable, trustworthy, value-for-money and unrivalled service. Padraig would like to take this opportunity to thank his clients and suppliers for their continued support as well as his drivers for their dedication, hard work and expertise.
Here's to the next 20 years!
O'Hara Logistics
Lough Gowna,
Co. Cavan.
Telephone: +353 (0)87 7622 373
Email: [email protected]
Published in Irish Trucker & Light Commercials magazine, April/May 2022, Vol 25 No 2