Marcon Tanks take to the road!
08/06/2022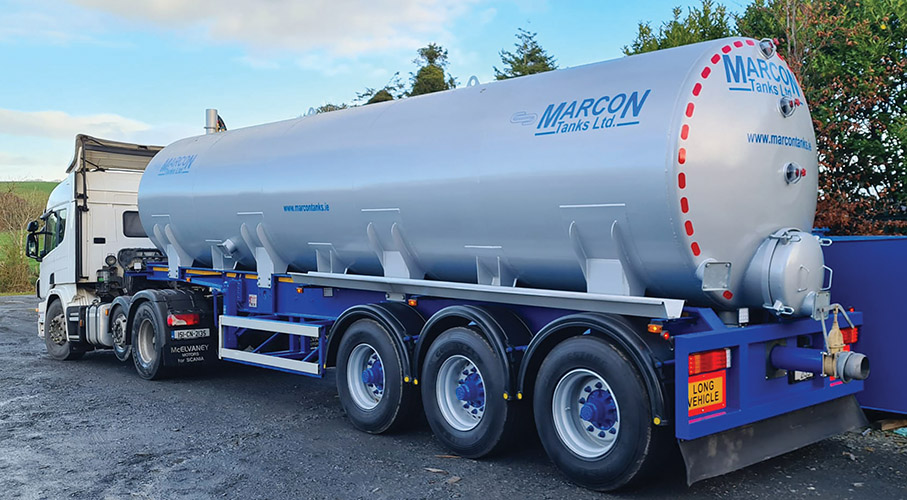 Marcon Tanks Ltd in Corduff, Co. Monaghan has successfully diversified from providing a range of domestic and commercial oil tanks into manufacturing bespoke mild steel road tankers. Owner Fergal Marron explains more.
Fergal identified a niche in the market for a tanker that can transport large volumes of animal slurry and various other liquids in the face of rising fertiliser costs. And he has been inundated with enquiries about his all-new Ferry King road tanker which features side-mounted pumps, full dome baffles, stainless steel pipe trays, slope chassis, rear floor discharge pipe and is internally lined to prevent corrosion.
"We originally manufactured storage tanks, which we still do, but due to the effects of Covid, had to diversify into something slightly different," he says.
"For seven or eight years, our core business was making storage tanks for oil depots up to 250,000 litres in size. But after initially experiencing a surge in demand for our tanks at the start of the pandemic due to a fall in oil prices and stockpiling, our business started to slow down which I would attribute to the rise in electric car sales.
"It led me to reassess things. It then occurred to me that no-one was making slurry or waste sludge tankers for tractor units, so I decided to give it a go and it has really taken off. Coming from an agri contracting / haulage background, it was always something I wanted to do, and I'm glad I did it now."
A sharp increase in fertiliser costs has been a big factor in the demand for Fergal's road tankers.
"Every farmer in the country has been impacted by the massive hike in the price of fertiliser. It has absolutely gone through the roof. It has increased from €350 a tonne last year to €750 a tonne this year," he explains.
"This has led to a serious demand for pig slurry and a demand for our road tankers as a result."
With orders and enquiries coming in from all over the country, mild steel road tankers now account for 50% of Marcon Tanks' business. This is some change from a year or two ago when commercial and domestic oil tanks made up 100% of the company's business.
Only the best materials go into making a Marcon road tanker which are fully certified and have a capacity of 6,000 gallons and over.
"We manufacture all tankers to meet our customers' needs," continues Fergal, who is a metal fabricator by trade.
"Most of the orders we have received to date have been for tankers for the back of a lorry, but there is also plenty of interest in tractor-drawn tankers. There is nothing that can't be made. We can fit pumps, parts, donkey engines, lift and steer axles, sludgegators or lights to any of our tankers. The 'Be Seen, Be Safe' message is foremost in the minds of many of our customers who want lots of lights!
"Our tankers can be driven with a donkey engine or with tipping gear off a lorry. Full dome baffles are supplied as standard. This means that when you brake, the liquid inside won't move or there will be no splashback. Our Ferry Kings are also internally lined with Tank Guard paint, which allows you to fill them with any chemical or fuel without the worry of decay.
"Customers can opt for a whole new tanker or a fully-refurbished trailer with a new tank on it. Either way, they can rest assured they are getting a tanker that is built to last."
In addition, Fergal offers a range of LED lights, slurry parts and hydraulic hose replacement, while an out-of-hours service is also available.
For the past few years, Marcon Tanks has specialised in refurbishing / rebuilding damaged slurry tanks or tanks with worn out cylinders. Fergal and his team completely remove the damaged cylinder from the chassis and replace it with a new cylinder. As part of this refurbishment service, they fully repaint the new tank with a two-part paint, thus allowing the client to have a brand new tank for a fraction of the cost of a new one.
The Co. Monaghan company continues to provide a full range of domestic and commercial oil storage tanks ranging from 50 litres to 250,000 litres. It also manufactures bespoke tanks of any size to suit your requirements.
To this end, Marcon Tanks' main products are overground tanks, underground tanks, bunded tanks, vertical tanks, AdBlue tanks and interceptors. All tanks are manufactured from steel to a design that meets the requirements for environmental guidance and legislation. Above ground fuel tanks are supplied in a double-skinned or totally enclosed configuration that provides secondary containment in the event of a leak or spillage.
They can be supplied as a single vessel or be compartmentised to contain other products such as diesel, gas oil, lubrication oil, hydraulic oil, waste oil and many other oil products. All pipework connections to the above ground storage tank system comply fully with environmental guidance and legislation, and are designed in such a way as to prevent tampering, leakage or spillage.
Due to continued expansion, Fergal is building a new unit which will house an assembly line and spray booth beside his existing state-of-the-art manufacturing facility in Corduff. He would like to take this opportunity to thank his customers, suppliers and staff for their continued support.
Marcon Tanks Ltd
Umerafree,
Corduff,
Carrickmacross,
Co. Monaghan.
Telephone: 087 9216130
Email: [email protected]
Web: www.marcontanks.ie
Published in Irish Trucker & Light Commercials magazine, April/May 2022, Vol 25 No 2