P Bradley & Sons welcome a new arrival
26/05/2022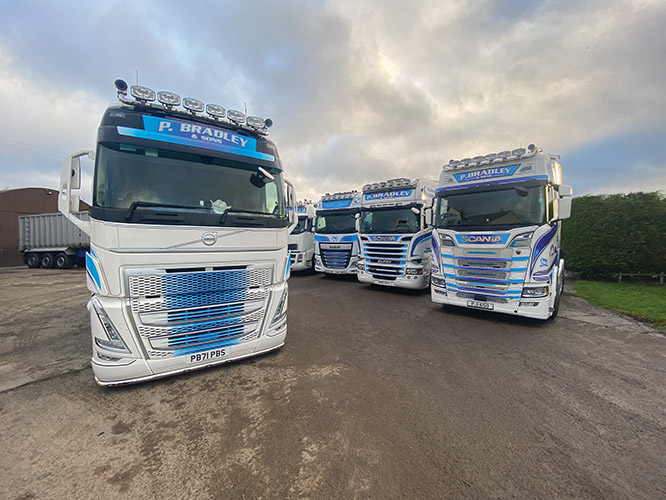 Progressive and long-established County Derry headquartered haulage contractor P Bradley & Sons Ltd. opened the new year with a firm statement of intent by adding a stunning new Volvo FH540 to their impressive fleet. We interrupted Damien Bradley's busy schedule to find out more about this exceptional, customer-focussed, family-run business which has been consistently delivering the goods for more than a quarter of a century.
The genesis of P Bradley & Sons Ltd. dates back 26 years to when founder Peter Bradley started out with one truck providing invaluable transportation services to local customers in Derry and beyond. Today, Peter runs the family business alongside his sons, Damien and Dermot, providing unrivalled haulage solutions across the island of Ireland and the UK.
On the back of providing exceptional services to an ever-increasing range of satisfied customers, P Bradley & Sons are experiencing steady growth. The Bradleys are extremely motivated, dedicated, passionate and professional truckers and their raw work ethic and application suggests that this small family-run company will continue to grow and improve over the coming years.
Twenty-twenty-two got off to a flying start when Peter and his sons bolstered their fleet size to six trucks by taking possession of a magnificent new Volvo FH540 6x2 with tipping gear from Dennison Commercials. The latest head-turning addition to the fleet is highly spec'd and looks every bit as impressive as it performs, replete with factory-fitted Alcoa alloys, top and bottom light bars and perimeter lights.
"We're looking to expand and keep everything up to date and as part of this we want to stick with Euro 6," reveals Damien Bradley. "We want to go further afield and to do that we need fresh equipment. We're covering Ireland and the UK at the moment but we'd love to break into the European market too if the right opportunity presents itself. If you are going to go out on the continent, then you need fresh gear that's warrantied so that you have complete peace of mind."
Third-generation truckers, Damien and his brother Dermot have been involved in the family business all their workings lives. "Our grandfather, Pat, would have had trucks before our father set the business up," the former recalls. "We grew up around them and knew nothing else. This is what we always wanted to do. As young lads, any chance you got you were away with your father in the lorry or you were helping out at weekends washing the lorries, etc."
Returning to the newest arrival, as a truck show enthusiast, Damien admits he is quite particular about how highly a truck joining the P Bradley & Sons fleet should be spec'd: "In fairness, I'd be fairly fussy and we made sure this one looked the part. It's our third time to buy a brand-new lorry and you want them to create the right impression on the road.
"We'd go to a lot of truck shows as spectators and my attitude would be that if you are going to take one of your own lorries along, then it has to be perfect." While shows have been few and far between over the past two years, for obvious reasons, P Bradley & Sons struck gold at the last one they entered, coming away from the Mid Ulster Truck Show in May, 2019 with the Best Small Fleet award!
"The new one ticks all the boxes. It's an all-rounder lorry really that can go to anyone so it will hold its value too, hopefully. When you order something, you want to make sure it's right – especially trucks and trailers, as you depend on them to provide your customers with the best-possible service."
The fleet currently comprises three Volvos, two Scanias and one DAF. Peter, Damien and Dermot all drive full-time and are joined in the team by a fourth driver, John Quinn. "John puts in a big effort and is a valuable member of the team," Damien notes. "We keep one truck as a spare and we're actively seeking a new driver as we speak. Good drivers are hard to get these days and that's another reason why you want to keep everything up to date. Nobody wants to drive bad plant any more – they're not prepared to do it. You have to keep it fresh – not just for your drivers but also for yourself … firstly because it gives you peace of mind and secondly because it will get the work done."
It goes without saying that every truck and trailer owned by P Bradley & Sons is kept in immaculate condition at all times: "90% of the work is done in-house. Dermot served his time as a mechanic and we also have two local mechanics – Darren Bradley and James Fullerton – who give us excellent service. They come into us regularly to do checks and maintenance and also make themselves available for breakdowns. This work is not 9-5, it's 24/7, and they are very good to us, making themselves available to us day or night, any time we need them. We'd be lost without their support."
While bulk tipper work – including aggregates for local quarries and tarmacadam for roads projects - accounts for a large percentage of their day-to-day activities, P Bradley & Sons provide a varied range of prompt and professional transport solutions. They've recently taken delivery of a new walking floor trailer for bulk and palletised loads and also do curtainsider work as well as subcontracting some tanker work from BP McKeefry. "You couldn't afford to have all your eggs in one basket in this line of work," Damien quite rightly observes.
The key to providing top-class haulage services? "Relationships are vital and it's a two-way thing. Especially since Brexit came in, you need your customer to be fully on board. We run our business literally from the lorry and we aim to run it 110%. We answer the phone when it rings and we want to provide a first-class service at all times.
"As I said earlier, this is not 9-5. We make ourselves available whenever we are needed. If a customer contacts us late at night or at the weekend, we will sort them out. We can provide a personal service that the big multinationals can't. When somebody calls, they are talking to the driver, the owner, the planner and the Transport Manager all in one phone call. As a family-owned company providing a personal service, we are in a position to make things happen and it's in our interest to do so. You have to make it work or you won't get paid."
Great equipment and skilled operatives are also vitally important. "Everything has to be as good as it possibly can be. To keep emissions low, we now run an efficient fleet of Euro 6 or Euro 5 lorries exclusively. That's where you need to be in order to keep things environmentally-friendly. The infrastructure for gas-powered trucks doesn't exist in Ireland yet but we will embrace that when the time comes. If you want to remain in business, you have to move with the times or you'll get left behind."
Haulage is a tough business and one must be imbued with a very strong work ethic. The Bradleys have worked incredibly long hours to get to where they are today and remain fiercely determined to invest as much as they possibly can into ensuring that the family business can continue to grow. Often this has meant long hours away from home – a sacrifice that Damien feels must be made if you are serious about retaining existing customers and attracting new ones:
"It's a hard industry compared to a lot of other jobs but this is what we love doing. The service facilities when you are away from home can sometimes leave a lot to be desired and you are probably out of the house more than most other professions. But if you want the business to work, you have to be prepared to put the hours in. Nobody realises the work that goes in behind the scenes.
"I remember once being away continuously for three months, when me and Dad were working on emergency jobs in London with Thames Waters. It wasn't ideal but I felt that if this is what I had to do to make it work, then I was going to do it. It's tough though and a lot of things are going to have to improve if we're to bring the next generation along. Also, our biggest running costs – diesel, AdBlue and tyres – have all taken a big price increase, so you'd be hoping that rates will go up to match these increases."
One of the real strengths of P Bradley & Sons is that it's a small family-run business which can give a personal touch backed by outstanding customer service. Peter, Damien and Dermot are helped out greatly by Peter's wife, Colette, who looks after invoicing, Damien's wife Mary, who handles customs GMRs, and his sisters Lisa and Ciara, who does the accounts. Ciara and Damien also hold Transport Manager certification.
"Everybody plays their part and we all work together," Damien concludes. "You don't finish up at 5pm on a Friday – even if you aren't out at the weekend, there's maintenance and washing to be done and keeping the trucks clean and tidy … we do that ourselves, every weekend without fail. I'm not complaining at all – we love this work and are happy to be doing it. Looking to the future, we want to keep growing the business, to take on new customers and to get an opportunity to prove to people what we can do."
P Bradley & Sons Ltd.,
90 Killygullib Road,
Swatragh,
Derry.
BT46 5QL.
Tel: +44 7860 506321 (Damien) / +44 7775 728556 (Peter)
Email: [email protected]
Published in Irish Trucker & Light Commercials magazine, April/May 2022, Vol 25 No 2