Matthews Transport deliver a professional service every time
10/05/2022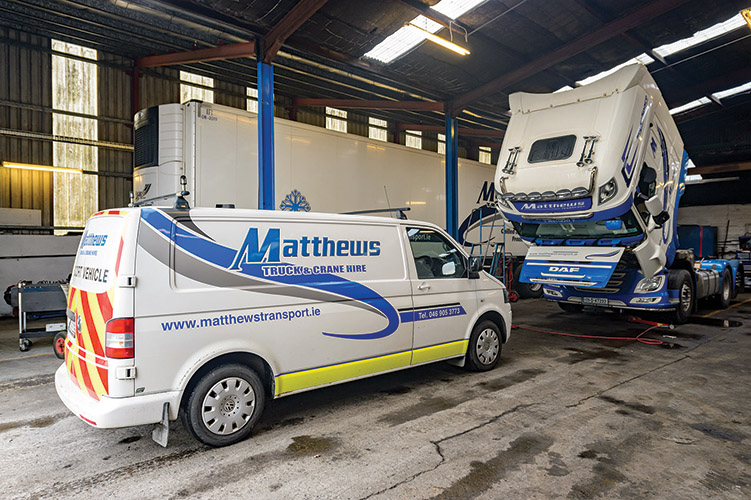 For a quarter of a century and counting, Matthews Transport have been providing a vast range of professional, prompt and cost-effective transportation and logistics solutions to an ever-expanding list of satisfied customers. We popped into their depot in Lobinstown, County Meath and interrupted director Henry Matthews' busy schedule to get an insight into this exemplary family-run business.
Specialising predominantly in chilled and frozen distribution but operating a flexible fleet to offer a comprehensive range of haulage solutions - including machinery transport, abnormal loads, cabins, truck and crane hire, walking floors, full and part loads – Matthews Transport have earned a stellar reputation as an industry-leading transportation company, invariably delivering reliable, secure, customer-focussed and value-added solutions, with the emphasis always on quality and service.
Headquartered in Lobinstown in County Meath, this highly-regarded family business recently bolstered their magnificent, immaculately-maintained, 25-strong fleet with the addition of two wonderful second-hand 182-reg Scania R450s, which were purchased from McElvaney Motors. Regarding the newest acquisitions, founder Henry Matthews, who runs the business alongside his brother Thomas, notes:
"We've been dealing with Scania for a number of years and we find them to be a good reliable product offering good fuel economy. We knew the previous owner of these trucks, so we were certain we were getting good quality, while we know from previous experience that McElvaney's give an excellent back-up service."
The Matthews brothers run a modern mixed fleet of Scania, Volvo, Renault and one Iveco, each one manned by a vastly-experienced and professional driver. Versatility is to the fore at Matthews Transport, where access to a comprehensive selection of trailers ensures that a diverse range of solutions is provided – 24/7, nationwide.
Twenty-twenty-one was a landmark year for Matthews Transport as they celebrated 25 years in business. "I set up in '96, jut myself with one tipper truck," reveals Henry, reflecting on the genesis of the business. "I went into refrigerated transport in '97, starting out with a small unit, and built it up gradually from there.
"The bulk of the work today is chilled and frozen distribution and we run 25 fridges. Meade Potatoes are beside us here and we have been working with them for over 20 years, distributing all over Ireland into main hubs and wholesalers, etc.
"We also do truck and crane hire as well as oversize and abnormal loads, including machinery and cabins and large switch units which we deliver into Intel, Facebook and Microsoft. We're doing some walking floor work for Agri Bio Fuel.
As well as investing in fleet replenishment and personnel, Matthews Transport are also upgrading their facilities to ensure that they can provide the most efficient transportation and logistics solutions possible – something which is of utmost importance especially when handling perishable goods, where the potential for delays must be kept to an absolute minimum.
To this end, they have opened a new distribution centre adjacent to the original premises, including a new cross docking facility to guarantee rapid, reliable and responsive turnarounds. "That will help things move along and is an important development as we are focussed on giving customers the best possible service," Henry adds.
Meanwhile, each truck is fitted with the latest satellite tracking and temperature monitoring technology to further add to customers' peace of mind, while allowing Matthews Transport to keep their finger on the pulse, so to speak. "We have installed cameras and GPS and also have a system in place for continually monitoring the temperature in the refrigerated units," Henry confirms. "The industry has really moved on in the last 25 years and you can now monitor where the deliveries are in real time, you can re-route them if necessary and you are notified when they hit their deliveries."
At the heart of the operation is a dedicated team of professionals, led by Henry and Thomas, who run the business as a partnership. "Between full time and part time, we have over 30 drivers and we also have two in planning plus girls in the office looking after accounts and administration," says the former. "We have a couple of mechanics as well and we do most of our own maintenance and servicing work in-house."
Good drivers are hard to come by in the current climate but Matthews Transport are fortunate to have some of the best in the business on their books. "We're very lucky to have a lot of lads here who have stayed with us long-term. They are very loyal to us and they have a real professional manner in how they go about their work. It's a small family firm at the end of the day and we try to keep that friendly family atmosphere in place at all times. There's a strong team spirit here and a good bond between all the lads."
Would Matthews Transport be in a position to expand further if they could source more drivers? "We could but it's not easy to get the right men. Having said that, I'd say we probably will expand a little bit in the coming year as we take on some new contracts."
An ethos of putting customers first has been instrumental in the development of Matthews Transport into a nationwide transportation provider of choice over the past 25 years and counting: "Haulage is all about looking after your customers," Henry confirms. "The customer is No.1 and you have to do whatever it takes to make sure their deliveries arrive on time and are delivered in a professional, courteous and safe manner – which obviously necessitates good staff and good equipment.
"Looking after the equipment and making sure it's in perfect running order at all times is a full-time job and preventative maintenance is a big part of that. The twelve-week checks are central to this because you know everything is in order. We are on the road 24 hours a day and this is made more manageable by the fact that we have two very good planners who are dedicated to their jobs, while the tracking systems are vital for timed deliveries, with no room for error.
"During the worst of Covid, it was transport that kept the country going and I don't know if the government or the general public realise how important drivers are. They are the ones who keep the country moving.
"To run a successful transport company these days, you are forever spending money," the Meath man concludes. "If an existing customer needs more work done, then you have to move with it and provide the service. It looks like we could have more customers coming on board soon and it will be full steam ahead."
Matthews Transport,
Lobinstown,
Navan,
County Meath.
Tel: 046 9053773 / 9053774
Fax: 046 9053776
Email: [email protected]
Published in Irish Trucker & Light Commercials magazine, April/May 2022, Vol 25 No 2