James Kernohan & Sons branches out!
03/05/2022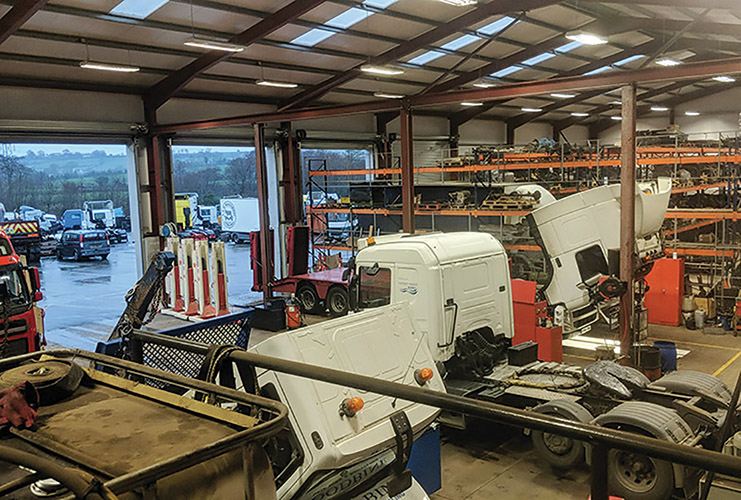 James Kernohan & Sons Ltd in Randalstown, Co. Antrim continues to go from strength to strength with the opening of a new state-of-the-art, security-monitored engineering workshop in nearby Ahoghill.
Opened in 2020, the engineering division is the latest service provided by the long-established family-run business which is best known as one of Ireland's leading commercial vehicle breakers. The company also specialises in maintenance and repairs of all trucks, including all PSV preparation, stocks a wide range of spare parts and provides a 24-hour breakdown recovery service for trucks and commercials.
The engineering workshop specialises in reconditioning vehicle cylinder heads in a huge milling machine. These fully-prepared and pressure-tested commercial vehicle cylinder heads are available off the shelf at the new facility. James Kernohan & Sons is also an expert at removing DAF hubs and is now offering dynamic balancing facilities at its Ahoghill depot.
"Our new workshop has really taken off, despite the challenges posed by the pandemic. We had only opened our doors when Covid hit, but it hasn't held us back. Our order book is full and long may that continue to be the case," explains Glenn Kernohan, who runs the business along with his father and founder James, brother Neil and 18 staff comprising highly-trained mechanics, yardmen and administration personnel.
"We have a good name in vehicle dismantling and servicing, but saw this as an opportunity to further our reach in the engineering end. We have got great support from truck and commercial vehicle owners for the new venture which specialises in overhauling cylinder heads and engine rebuilds. We offer everything from resurfacing and skimming engine heads to pressure tests, cylinder blocks and driveshaft balancing.
"Our aim is to become a one-stop shop for all your dismantling, maintenance, repairs, emergency breakdown and engineering needs."
In further exciting news, the company is about to implement the use of a new modern stock system where all major driveline components in stock will be available at the touch of a button, complete with records of what vehicle it is from, including mileage, year, etc.
Commercial vehicle breaking has been James Kernohan & Sons' bread and butter for over 30 years. Specialising in DAF, Volvo and Scania, the company dismantles all types of commercial vehicles. Its full dismantling service includes vehicle collection, end-of-life vehicle disposal and a depollution station. The family business is an environment agency approved (ATF) treatment facility for end-of-life commercial vehicle disposal and holds a full waste management licence to depollute and dismantle heavy goods vehicles.
The well-appointed premises in Randalstown consists of three buildings, one which houses a state-of-the-art workshop and engine store and two which are for storage. The facilities are fully-licenced to deal with the handling and processing of end-of-life commercial vehicles. Unlike many breakers' yards, Kernohan's is tidy and well-organised with parts meticulously stored away and readily available for the customer.
You can rest assured that your end-of-life vehicle will be dismantled to the highest standards at James Kernohan & Sons.
In addition, the Co. Antrim garage can carry out all necessary maintenance and repairs to your truck or commercial at its workshop, which boasts a full range of diagnostics for all makes and models. Among the services provided are PSV preparation, vehicle servicing, engine diagnostics, brake and clutch repair fitting, tyre fitting, engine and gearbox replacement and exhaust repair and fitting. The workshop also carries a wide range of spare parts and offers an under-lift damage free recovery service. The company runs three recovery vehicles, including a low loader, beaver tail and tilt and slide, and also specialises in vehicle hire and sales.
"We aim to service and repair your vehicle to a standard that will exceed your expectations," Glenn continues.
"We pride ourselves on our quick turnaround time and being a reliable, efficient service that you can count on. Our workshop caters for heavy and light goods vehicles and is stocked with all the latest equipment to carry out servicing, repairs and maintenance to the highest standards. We are here to keep the wheels of your fleet turning with routine maintenance, servicing and repairs."
Preparing your vehicle for PSV testing is all part of the service provided by the Kernohan team, who will answer any queries before and after the test. Their objective is to prepare the vehicle efficiently and assist the vehicle owner in getting a pass certificate.
"We have grown exponentially in recent years and stock many manufacturer parts. Our mechanics are competent with a wealth of knowledge and experience of the industry. They make sure that you get the right part for your vehicle first time, every time!" Glenn says.
"We are passionate about your business and are committed to providing complete customer satisfaction. As a family business, we're always flexible and available to discuss your needs."
Open from 8.30am to 5.30pm Monday-Friday and from 9am to 1pm on Saturdays, James Kernohan & Sons would like to take this opportunity to thank its suppliers, customers and top-class team for their continued support. Their engineering workshop is now open at 68A Cardonaghy Road, Ahoghill, Co. Antrim.
James Kernohan & Sons Ltd
18a Tamlough Road,
Randalstown,
Co. Antrim BT41 3DP.
Telephone: 028 9447 8228
Mobile: 077 10 613399
Email: [email protected]
Web: www.jameskernohanandsons.com
Published in Irish Trucker & Light Commercials magazine, April/May 2022, Vol 25 No 2