Ballyhea Readymix celebrates 25 years
28/04/2022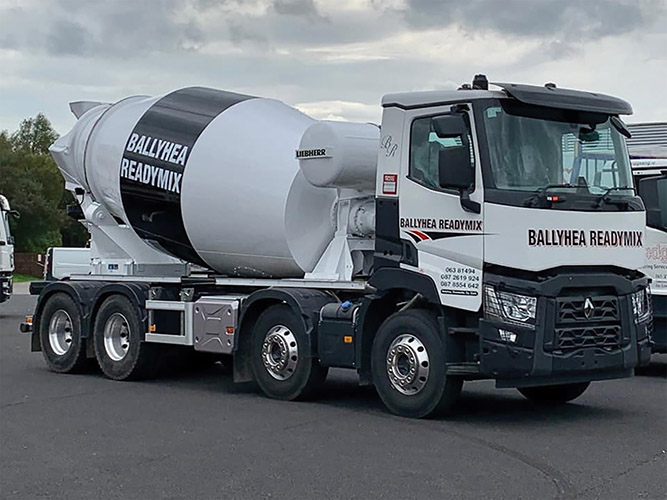 Celebrating 25 years in business, Ballyhea Readymix is a leading supplier of readymix and sand & gravel in the North Cork area. The family business operates its own quarry and concrete batching plant along with a stunning fleet of mixer and tipper trucks, including a new Renault C440 32 8x4, complete with a state-of-the-art Liebherr mixer.
Decked out in Ballyhea Readymix's trademark black and white livery, the new truck was purchased from Dennehy Commercials in Limerick, while the mixer body was supplied by Value Tech in Kanturk, Co. Cork. The new readymix lorry represents a substantial investment by the company which is constantly upgrading and replenishing its fleet. It is currently running seven mixers and two tippers comprising two Renault, two Hino, three Sino, one Volvo and one DAF.
"We're delighted with the new truck which has been put to work supplying readymix to our customers in Cork and Limerick," says Anna McNamara of Ballyhea Readymix.
"This investment underlines our commitment to offering customers unrivalled products and services. We've always prided ourselves on customer satisfaction and our quality and value-for-money products. We wouldn't be able to deliver on them without having reliable equipment and staff."
Based near the Cork-Limerick border outside Charleville, Ballyhea Readymix was established in 1997 by the late Tom McNamara and his brother Denis. Today, the business is overseen by Tom's son, Tommy, with Denis still very much an integral part of the operation.
"Denis and Tom had been supplying gravel to locals from their quarry before deciding to set up their own concrete plant," explains Anna, who is Tommy's wife.
"The business grew from there. The McNamaras are joined by five staff. They drive the trucks themselves and are very hands-on. All of our drivers and machine operators are professional, dependable and good at what they do. They also enjoy a great rapport with our customers which is very important. It's a real team effort which everyone buys into."
Ballyhea Readymix supplies a wide range of concrete products for all your domestic, commercial, industrial and agricultural needs. The McNamara's gravel pit produces aggregates for readymix concrete production. They also supply sand & gravel, 2" drainage stone and topsoil, primarily to the agricultural and construction sectors.
"There is a post-lockdown building boom happening at the moment which is keeping us very busy. There is a huge demand for building materials after Covid held everything up," Anna continues.
"We remained fully operational during the different lockdowns as an essential service provider to farmers who were in the middle of building slatted sheds and silage slabs. That work had to be finished, otherwise they wouldn't have been able to house their stock in the winter.
"Outside of farmers and builders, we have a number of private customers and have also supplied gravel and aggregates to various drainage works projects in our area. We get a lot of repeat business and have a very loyal customer-base in Cork and Limerick."
Ballyhea Readymix's modern fleet of mixers and tippers guarantee prompt, reliable delivery as well as flexible working times to meet customers' needs. The company also operates a wide range of quarry equipment, including dump trucks, loaders, excavators and a washing plant. Everything is maintained in house except for the new trucks which have service contracts.
The nature of the business means that it can be quite a challenge to keep the vehicles looking their best. But is an area in which Ballyhea Readymix has never been found wanting.
"The drivers take great pride in the trucks and their passion for them is reflected in their appearance. You need trucks that perform and drivers who know what they are doing and take pride in their work.
"To be fair to them, our drivers are excellent at looking after their trucks and they take the initiative themselves. We don't have to be getting on their backs. Each of them is assigned their own truck and they take personal responsibility for looking after them. They wash them and drive them carefully and keep them in very good nick. They're all experienced drivers who have played a big part in our success to date."
The increase in the size of the company's fleet in recent years is in response to a rise in the demand for its services. As it continues to go from strength to strength, Tommy, Anna, Denis and all the team at Ballyhea Readymix would like to take this opportunity to thank their clients and suppliers for their continued support.
Here's to the next 25 years of this exceptional family business!
Ballyhea Readymix
Ballinadrideen,
Ballyhea,
Charleville,
Co. Cork.
Telephone: 063 81494
Mobile: 087 2619924 / 8554642 / 6249195
Email: [email protected]
www.facebook.com/ballyheareadymix
Published in Irish Trucker & Light Commercials magazine, April/May 2022, Vol 25 No 2