A stunning new arrival at Patrick Larke Haulage
26/04/2022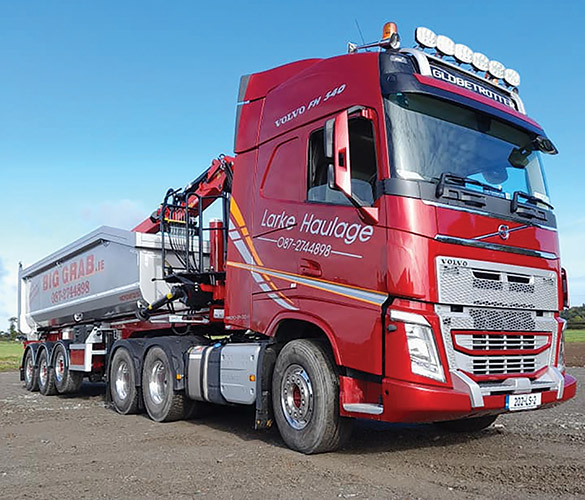 Providing professional grab hire and waste collection services to an ever-expanding range of clients across the greater Leinster region, Patrick Larke Haulage have bolstered their magnificent specialist fleet with the addition of a unique new high-capacity grab muck trailer. We contacted proprietor Patrick Larke to discuss the stunning new arrival and the continued success of this exceptional family-run business over the last 22 years and counting.
For more than two decades, Patrick Larke Haulage have been providing professional, value-added grab hire services, priding themselves on delivering an industry-leading service, with their top-quality trucks and trailers maintained to the highest standards and all cranes fully serviced and certified.
Excellent equipment is at the heart of this highly-regarded family-owned and –operated business and an already-wonderful fleet got even better in October, 2021 when eponymous founder Patrick took possession of a fantastic and rare new grab muck trailer from Robinson Trailers. With a generous 27-tonne payload, this new 'big grab' trailer is the ideal site clearance workhorse, perfectly suited to the fast and efficient removal of a vast range of materials, from topsoil and green waste to stone, rubble, concrete or tarmacadam.
As well as offering unrivalled performance levels, the new trailer also looks superb paired with Larke's striking 202-reg Volvo FM540. Having worked in the grab hire / waste removal field since before the turn of the millennium, Patrick boasts a wealth of knowledge of what ingredients are most vital in putting together a high-performance grab-hire set-up and, indeed, the Laois trucker's own ideas were behind the design and manufacture of the game-changing new trailer:
"It's a nice new artic grab lorry and you don't see too many like it," Patrick notes. "It was based on my own ideas and we got it built and had the crane put on it. It turned out really well and we are delighted with the end result. It's so unique that they are even talking about it in England and I'm sure there will be more people looking for something similar."
The advantages offered over a more traditional or conventional grab hire combination – with somewhere between 50% and 100% extra capacity afforded - suggest this will almost certainly be the case! "We already had the 202-reg Volvo and it was pulling a Schmitz trailer from Casey Trailers up until now. But the new trailer is bringing a much bigger load away – between one-and-a-half times or double a normal drop. If it's a more volume-based than weight-based load, such as concrete or broken tar, you could carry double the load."
Alongside the new unit, Patrick Larke Haulage also run a couple of eight-wheeler grab lorries – one Renault (purchased from Harry Nash at Setanta Vehicle Importers) and a second Volvo (from Jim Bergin at Irish Commercials in Naas). All three grab lorries are fitted with flexible, robust and compact Palfinger cranes.
Constantly prepared to move with the times and expand and / or improve his service offerings, Patrick has also recently acquired a Difco screening bucket. "We've started screening topsoil ourselves and selling it on. To this end, I bought a new screening bucket and put it onto a Hitachi excavator," Patrick confirms.
Offering a collection service for hazardous and non-hazardous materials, Patrick Larke Haulage has developed a large client base across Laois, Dublin, Kildare, Wicklow and surrounding counties, including many construction, civil and utility companies (having worked extensively in electricity, gas, water and fibre optics). They are fully-permitted and –insured (not to mention vastly experienced) to collect construction and demolition waste, waste timber and green waste across the 26 counties.
According to Patrick, grab hire accounts for 95% of the work, including removal of all types of waste from construction and roadworks sites. As well as muck away, rubble and green waste, Patrick Larke Haulage draw sand, aggregates and stone, with some of their clients including Cleary Compost & Shredding in Monasterevin, Bord na Mona in Kilberry and Shillelagh Quarries in Blessington.
Having been active in this particular line of work for most of his working life, Patrick has a great passion for grab hire: "I started out on my own with one truck, having done grab hire work in England for a utilities company, JP Fitzpatrick's in London. That went well and after I came home I bought my first grab lorry and started working straight away for RSK Ireland, which was owned by JP Fitzpatrick. I continued to work for him for two years here in Ireland before setting up Patrick Larke Haulage in 2001.
"We spent the first 17 years with GMC, which used to be Gerry McCloskey Ireland Ltd., and during that time we were also busy building up our own clientele, many of whom are still with us today. We're now working for a wide range of customers including local roadworks firms, builders, landscapers and utility companies as well as drawing green waste from sites."
Since day one, Patrick has been a hands-on owner, providing a personal, customer-focussed service. "I can't handle computers so I prefer to be out on the road or on site," he admits. "I've been driving all my life and that's what I enjoy doing. We also do a little bit of farming."
The fleet is kept in pristine condition at all times, with most repairs and servicing / maintenance work carried out in-house. Patrick is joined in the family business by his brother Brian, while his wife Marie plays a vital role in keeping the show on the road by looking after the accounts. "Brian did the same job as me in England and has been with me since around 2003/04. We're on the lookout for a new driver at the moment, actually, but we will make sure we get the right one – he has to be both a grab driver and a lorry driver."
What is the secret to providing best-in-class grab hire solutions? "It all comes down to service – the customer has to be able to depend on you. If you say you are going to be there, then be there and don't let people down. They are relying on you and are waiting for you to be gone so that they can move onto something else.
"You have to be dependable and if that means working seven days a week then so be it. You have to be there when the customer needs you and you need to do everything within your control to look after people. They are under pressure and you have to help take that pressure off."
Going forward, Patrick's objective is to continue providing a professional and personal service: "We could have expanded on many occasions in the past but it suits me better to stay at a manageable size and to keep giving a good, personal service," he concludes. "If it's not me then it's the brother who turns up on the job and we have customers going back 20 years who know they can depend on us. When you are getting so much repeat business, you know you must be doing something right."
Patrick Larke Haulage Ltd.,
Killenure,
Ballybrittas,
County Laois.
Tel: 01 5137380
Mobile: 087 2744898
Email: [email protected]
Web: biggrab.ie
Published in Irish Trucker & Light Commercials magazine, April/May 2022, Vol 25 No 2