Kieran McKay Ltd welcomes new trucks to fleet
26/04/2022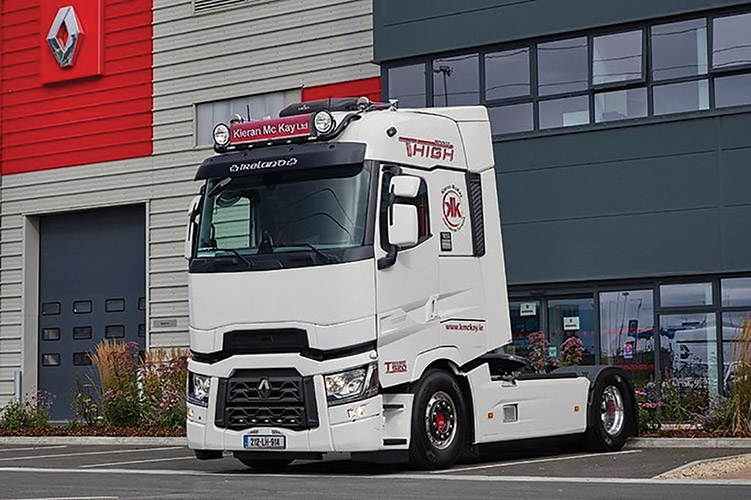 As Kieran McKay Ltd's business continues to grow, so too does its fleet which has been boosted by the addition of five new tractor units in recent months.
Operating from Dundalk since 2000 (it became a limited company in 2006), Kieran McKay Ltd has established itself as a leading continental transport provider specialising in ambient and temperature-controlled road freight services. Owner Kieran McKay and his wife Suzanne, who is financial controller, run an 18-strong fleet of trucks and a similar number of trailers which are a mix of Schmitz Cargobull refrigerated and SDC Euroliners.
With every load being precious, they're constantly upgrading their vehicles and recently took delivery of two new Scania from McElvaney Motors, one new Volvo from McDonnell Commercials and one new Renault from Setanta Trucks. Both Scanias are 650S 4x2 units, the Volvo is an FH 540 6x2, while the Renault is a T-High 520 4x2 boasting a 13-litre 520hp engine and all the extras, including Durabite alloy wheels, Kelsa lightbar fitted with Dutch headboard and two spots, front air suspension, driver comfort pack and leather seats.
The new tractor units have been put to work bringing consignments to and from the Continent, and represent a significant investment by Kieran McKay Ltd in its fleet and business. The Co. Louth haulage firm takes great pride in the appearance of its trucks. With their striking red and white livery, they are a real head-turner.
"How your vehicles look says everything about your company. If they are clean and well presented, it gives a good impression," Kieran says.
There are a dozen Volvo trucks in the McKay fleet with Scania and Renault making up the rest. "We find that Volvo suits our type of work. Scania are more expensive, but they're also the most luxurious. We bought our first Renault in 2014 and they're a reliable truck too. They're all good machines," he adds.
The older trucks that aren't covered by maintenance contracts are serviced by Hill Road Commercials in Banbridge, Co. Down. Each truck is fitted with satellite tracking, fleet management system and live CCTV which allows customers to track their products as they move, from anywhere in the world.
The refrigerated trailers can carry chilled and frozen produce at separate temperatures, ensuring maximum flexibility for customers. All of the refrigerated trailers are fitted with ThermoKing units and are tracked via a state-of-the-art temperature monitoring system.
The Euroliner trailers can be loaded through the back doors, the sides or through the roof, making loading easy. Each of the Euroliners are 13.6m in length and 2.7m in height.
Behind the wheel of every McKay truck is a reliable, experienced and courteous driver. "Our drivers are the best in the business. They always deliver the goods," Kieran asserts.
A member of the IRHA, Kieran McKay Ltd transports ambient dry loads, refrigerated goods and ADR shipments between Ireland and the Continent on a daily basis. All drivers are ADR qualified for the carriage of dangerous goods by roads. This ensures all your hazardous ADR cargo is handled safely and legally.
Furthermore, Kieran is a DGSA (Dangerous Goods Safety Advisor) who can provide expert and practical advice on road, rail, sea and air transportation safety legislation, prepare your annual report for you as required by legislation and monitor procedures / practices, and investigate and prepare reports on any accidents or emergencies.
Most of the company's consignments go to Italy, Spain, France and Holland through the UK via Dublin Port. It is much more common for the backloads to enter Dublin or Rosslare via Cherbourg or Dunkirk.
"We do a lot of groupage and ADR work to mainland Europe. We also do a small amount of domestic transport," the affable haulier explains.
Asked what gives Kieran McKay Ltd the edge over its competitors, Kieran replies: "When you ring the phone, you get me. We're able to offer that personal touch you just don't get from many other companies. Customer satisfaction has always been number one with us. We're big enough to cope and small enough to care."
Kieran's background is in transport management and he oversees the whole operation from Dundalk. He has a BSc Hons Degree in Transport, a Diploma in Industrial Studies, a Certificate in Transport Management and is the holder of a valid DGSA Certificate. Suzanne has a BSc Honours Business Degree in Finance and is a qualified Accounting Technician. Both have over 20 years' experience in transport and accounting / finance respectively.
Brexit, Covid, rising fuel costs and driver shortages are just some of the issues currently facing the haulage industry. "Every day brings a new challenge in this job. But you just have to get on with it and do the best you can."
In summary, Kieran McKay Ltd prides itself on its professional, dependable, trustworthy, value-for-money and unrivalled service. Kieran and Suzanne would like to take this opportunity to thank their clients and suppliers for their continued support as well as their drivers for their dedication, hard work and expertise.
Kieran McKay Ltd
Unit 44C,
Brewery Business Park,
Dundalk,
Co. Louth.
Telephone: 086 8370387
Email: [email protected]
Web: www.kmckay.ie
Published in Irish Trucker & Light Commercials magazine, April/May 2022, Vol 25 No 2