KCS offering streamlined transport and logistics solutions
20/04/2022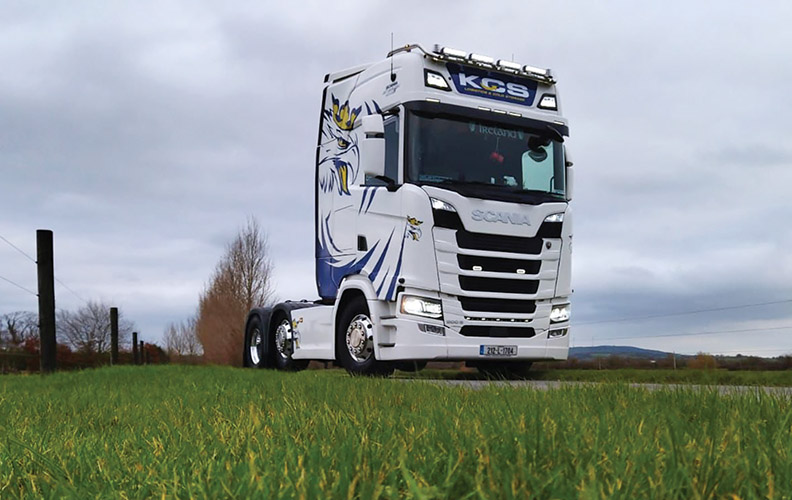 With depots in Limerick and Dublin, KCS Logistics & Cold Storage (formerly Cunningham Transport) is a rapidly-expanding warehousing and refrigerated transportation company providing full, part-load, groupage and multi drop services daily across Ireland, the UK and Europe. We touched base with Director of Operations Bryan Cunningham to get an update on this progressive, family-run operation, which is in the process of significantly upgrading both its fleet and facilities.
Although it is a relatively-new name, KCS Logistics & Cold Storage boasts decades of experience of invariably satisfying customer needs through the professional storage and transportation of chilled, frozen and ambient produce both at home and abroad. KCS results from the amalgamation of existing family-owned businesses – including Cunningham Transport & Rathcoole Cold Stores – which have joined forces to provide a comprehensive 3PL solution to new and existing customers alike.
To guarantee optimal service levels, KCS Logistics & Cold Storage are investing significantly in a structured programme of expansion, substantially increasing both their storage capacity and their fleet of trucks and trailers as well as hiring new personnel. As part of their fleet replenishment programme, they took delivery of three stunning new Scania S500s from T Nolans Scania in Castleisland last November, the first in the fleet to carry the new KCS logo and livery – landmark acquisitions and perfectly-timed as they arrived just in time for the Christmas rush!
"We have an expanding fleet and we have arrived at the stage where we need to forward-think for the next five years," states Director of Operations Bryan Cunningham, whose father Mike initially established Cunningham Transport in 2000. "We have a five-year plan in place now and we will change the entire fleet within that time period and will continue with a five-year fleet turnaround going forward.
"We've decided to go down the contract hire route because that offers you a fixed cost. We pride ourselves on giving customers the best possible service and to continue doing that you need a good reliable fleet.
"We have a long relationship with Nolans and find their service to be outstanding. The option at the time was three Scania and we went with S500s because they are going to be working internationally and it was a no-brainer as they are a very good lorry on fuel. I'm a big fan of the V8 but the S500 is the best all-rounder for international work. We made the decision in March to purchase these but due to the delay in getting trucks these days, they only arrived in November."
The fleet expansion / replenishment will continue in 2022: "We will both add and also upgrade a number of tractor units and rigids this year" Bryan confirms. "The way lead times are on trucks at the moment, we have already placed next year's orders with our suppliers and they are already aware of what's happening in the next four years. You have to be ahead of the curve and order them early.
"A trailer will generally give us 10-15 years' service. In 2021 we replaced and up-graded a number of trailers and this will continue over the coming years.
"Schmitz & SOR make up the majority of our trailer fleet. We run all multi-temp fridges, which gives us great flexibility. The bulk of our work is refrigerated. We also do work for a retail company and have a number of trailers fitted with tuck-away tail-lifts to cater for this work, which again brings some variety and flexibility to proceedings."
At the time of writing, the impressive KCS Logistics & Cold Storage fleet comprised just shy or 80 vehicles (from articulated trucks down to one-pallet vans) alongside 30 trailers. "Prior to joining the companies together to form KCS, we were running four fleets and had four separate identities but we have now amalgamated them with one shared vision to provide a complete transport and logistics service," Bryan continues. "With all the fleets working together, we have more options and increased capacity."
In May, 2021, a stunning new Iveco S-Way 510 was purchased from Longhaul Commercials in Tullamore. "Iveco are a step ahead of the rest when it comes to renewable energy fuels as an alternative to diesel," Bryan explains. "I'd never had an Iveco before but we went to Jennings' and did a deal with Conor. I'm extremely happy with what I got and could see myself going down that road again and introducing more Ivecos into the fleet in future.
"We are looking closely at the idea of venturing into using gas fuel in the coming years. We're very happy with that truck so far – it's diesel but we will definitely try one in gas as well. They are a good truck and they have definitely upped their game and are now up there punching with the best of them. Ideally, I would envisage that will have a nice mix of Scania, Iveco and DAF tractor units in the coming years, but supply is going to be a big problem – and, indeed, already is.
How important is it to constantly invest in the best equipment and also to maintain all the vehicles in pristine condition at all times? "It's a given. The cost of everything has gone so high now – from the vehicles down to the team members who drive them – you can't afford breakdowns. Customers won't accept them and drivers today will refuse to drive a truck that isn't of the highest standard. And that's what we want – we want to be better and to set the standard. We aim to be the benchmark … to achieve that you need the fleet, people, facilities and structures to provide the best service. The fleet has to be kept right; as a transport and logistics company, the best advertisement you have is the fleet itself."
By the summer of 2022, KCS Logistics & Cold Storage will be operating five sites, with a mix of storage, groupage, order picking and cross docking solutions available to our customers – two in Limerick and three in Dublin. They are currently in the process of constructing a new cold storage & distribution warehouse with associated offices and service areas in Kantoher Business Park, Co Limerick. How is this development progressing?
"All is going well, and we hope to have moved in by May or June," says Bryan. "It's a 7,500-pallet facility with Frozen, Chilled & Ambient storage. This will bring us to over 10,000 pallet spaces in total.
It will allow us to substantially increase all our services, but especially our order picking and assembly service, with a view to further expanding our 3PL multi drop work. In Dublin, we added 1,000 pallets of ambient warehousing adjacent to our two existing cold stores early in 2021, while we also have a new three-acre parking site in Rathcoole for our fleet."
KCS is now ideally placed to provide customers with a fully integrated solution to all their Warehousing and Distribution requirements.
Drivers are particularly hard to come by right now. How important is the team of drivers and other professional personnel to the success of KCS? Do they have a large number of long-term, experienced employees? Also, as they are recruiting at present, what qualities do they look for in an employee?
"From our drivers to our office or warehouse staff, we strive to provide the best possible working conditions and that inevitably results in staff loyalty and retention," Bryan replies. "We have a great mix of Irish and international drivers, who are professional and motivated. Many of them have been with us for ten years or more and it's re-assuring in the current climate to have drivers giving that level of commitment to one company. If they are happy in their work, they will stay and they will also let others know that KCS is a good place to work.
Driver facilities are a top priority for us, and the new staff facilities in our HQ building in Limerick was designed with the driver in mind. At the end of the day, we didn't build this business by ourselves but by having a great team."
Merging the tried-and-trusted pre-existing family businesses into one streamlined company offers many advantages, including economies of scale that contribute to a better service for customers. "They were all family-owned businesses sharing a common vision of what we wanted to do and, if you have four separate fleets operating independently then you are not optimising your resources," Bryan contends. "It made perfect sense to bring them all together. It's much easier and more efficient to have them working together.
"At the same time, this is no small undertaking. The Limerick depot represents a substantial investment by any standards, but it makes sense from a business point of view. As a company you are more efficient from a purchasing perspective as well as a huge consolidation of back office functions.
"We are also investing in a state-of-the-art warehouse management system for all our sites, which will work in real time. Our customers will also be able to log in to see where their stock is or to make bookings through our online portal."
Indeed, utilising the latest software to monitor, protect and track deliveries is vital, especially when handling chilled and frozen produce, where time is very much of the essence. "You wouldn't have a business without being efficient and embracing technology. It's a continuous learning curve. You must keep up with the latest technology and you cannot afford to stand still. We see investment in technology as an investment for the future.
"Every truck is tracked and every temperature is tracked," Bryan continues. "Driver hours can be seen by our planners. Nothing is left to chance. That is not just what our customers demand but also the level of service that we insist on providing. We aspire to offer simple logistics and storage solutions with no hassle – a smooth and seamless experience where customers don't ever need to phone us to find out what is happening with their product. They can log in at any time and access all the information they need."
Between Brexit, Covid and labour shortages, these have been difficult and volatile times for the haulage sector. How have KCS Logistics & Cold Storage Ltd. managed to navigate these decidedly choppy waters, and to not just survive but thrive? "Really, with all those variables, you are after taking 24 months of a hammering," Bryan concedes. "Covid came as such an unknown and the additional costs that brought in terms of compliance and precautions were significant. For example, our drivers had to be supplied with ready-cooked meals for the first two months, as they couldn't access food on the road. The haulage sector was vital to keeping the country going but this wasn't recognised initially. As Covid evolved, people started to realise this and attitudes started to change in the last twelve months and people became a little bit more respectful – although I'd still contend that the recognition is still not at the level it should be at as drivers deserve the utmost respect. If they got it, more people would be attracted to haulage. I drove myself for years and the way I was treated sometimes wasn't nice, but it is changing now, thankfully. That change can't come quickly enough.
"Brexit also brought its challenges, with delays, paperwork and extra costs but as a company you can't just stand around giving out about things," the Director of Operations at KCS Logistics & Cold Storage concludes. "You need to adapt and re-organise. The Brexit puzzle balanced out quicker than I thought it would. Things do tend to find a new balance as you navigate through them. This industry continually brings new challenges, we as a team are looking forward to these challenges, and to finding workable solutions for our customers."
KCS Logistics & Cold Storage Ltd.,
Kantoher Business Park,
Ballagh
Co Limerick.
Tel: 069 72839
Mobile: 087 4130380
Email: [email protected]
Published in Irish Trucker & Light Commercials magazine, April/May 2022, Vol 25 No 2