'Your Friend in Logistics'
07/04/2022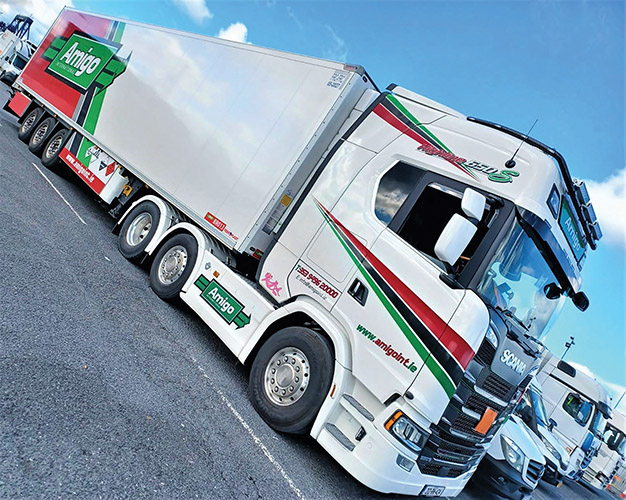 Amigo International in Ballinlough, Co. Roscommon is a leading specialist in international refrigerated transport and E-commerce. Established in 2017, the company has grown exponentially by providing efficient and sustainable transport and logistics solutions for its customers.
Fronted by Thomas Murphy and Mark Finneran, Amigo International's core business is the transportation of fresh and frozen produce to and from Ireland, the UK, mainland Europe, Scandinavia and North Africa on behalf of blue-chip clients. The haulier is constantly investing in its staff and fleet, and recently took delivery of seven new articulated trucks from Westward Scania and A&M Commercials as well as five new refrigerated units from Schmitz Ireland.
The stunning new Scania S650 and S660 4x2 tractor units have been put to work on the roads of Europe along with the other Scania and Volvo trucks in the Amigo fleet and its refrigerated trailers which can carry both fresh and dry cargo. The company's modern refrigerated units consist of Euroliner, Twin Evap, Bi Temp and Dual Evap trailers, while its low loader division is perfect for the safe transport / movement of large machinery.
"Our commitment to quality, high standards, value-for-money and customer service has seen us become one of Ireland's foremost refrigerated transport companies," general manager Mark Finneran says.
"We specialise in all aspects of transportation and logistics to and from Ireland, the UK and Europe. We're equipped to safely transport fresh and frozen produce, and are highly experienced and trained in the handling of ADR goods.
"In addition, our fleet is regularly maintained by main dealers to ensure there is no such thing as breakdowns or downtime. For example, our Thermo King fridge units are serviced by our neighbours, Ballinlough Refrigeration. All of our trucks and trailers are fitted with GPS and CCTV which enables us and our customers to track their location in real time."
Mark is full of praise for Amigo International's team of drivers and administration staff.
"Our people are our biggest asset," he asserts.
"They are loyal, professional, hard-working and very good at what they do. We have a very low driver turnover which is something not too many haulage firms can say in the current climate. If the right driver comes along, we'd rent a truck to keep him on board. You can have all the machines in the world, but they mean nothing if you haven't got people who can drive them and operate them. Our drivers work quickly, efficiently and safely.
"We also have 10 people in the office who look after transport documents, POD and oversee the smooth running of the fleet. At our state-of-the-art office, we used the latest up-to-date technology which provides 24-hour-a-day monitoring of live tracking of all our vehicles and trailer temperatures. Our office is manned 24/7 to ensure everything is running smoothly at all times."
Amigo International offers a next-day collection and delivery service to customers all over Europe and beyond. "We work with our clients' scheduling to ensure goods are collected and delivered when needed. We offer a bespoke service to each customer and work with them individually.
"We collect and deliver goods all over Europe, from Norway, Sweden and Finland down to Germany, the Benelux countries, Spain, Portugal and Italy. We also do ad hoc loads to Greece and North Africa," Mark continues.
The main services provided by the Co. Roscommon transport operator are: next-day collection and delivery; day defined collections and deliveries; full and part load transportation; pallet and cases transportation; vehicle and consignment tracking; order picking and combining; administration of client documentation and papers; pallet control and racking service; Ireland, UK and Europe transportation; secure and safe warehousing; hazardous loads and dangerous goods (ADR).
Amigo International has continued to grow in the face of Brexit and Covid-19.
"Brexit and the pandemic have been very challenging," the affable general manager admits.
"Brexit has cost everyone money and caused lots of problems. There is an endless list of rules and regulations coming down the line which are causing many hauliers to lose faith in the system. Since Brexit happened, we have been using Rosslare Harbour a lot more. Both DFDS and Irish Ferries have been very good to us down there. No trucker going through Rosslare has been delayed because of a shipping issue."
Mark and Thomas both have a wealth of experience in the transport industry and are committed to providing the best service possible for their growing customer-base. Please feel free to get in touch with Amigo International to see how they can help you today.
Amigo International
Ballinlough Industrial Estate,
Ballinlough,
Co. Roscommon,
F45 TY77
Telephone: +353 (0)94 962 0000
Email: [email protected]goint.ie
Web: www.amigoint.ie
Amigo International - YouTube
https://www.instagram.com/amigoint/
www.facebook.com/Amigo-International
https://twitter.com/AmigoInternati3
Published in Irish Trucker & Light Commercials magazine, April/May 2022, Vol 25 No 2