The recycling transport specialist
29/03/2022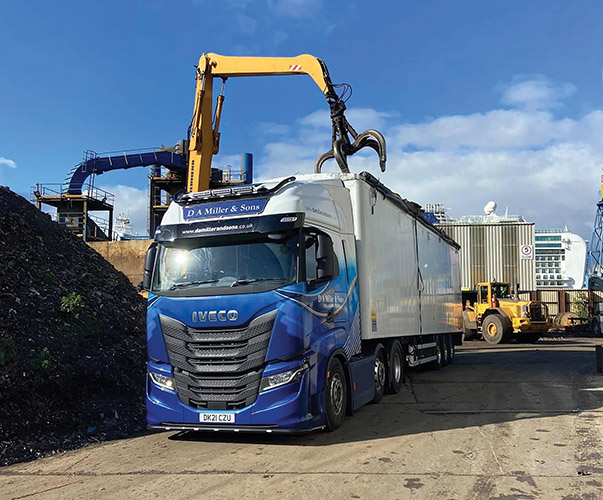 Offering cost-effective haulage solutions for the recycling industry throughout the UK and Ireland, D A Miller & Sons (Transport) Ltd continues to go from strength to strength as director Ryan Miller explains.
These are exciting times for the Claudy, Co. Derry / Londonderry-based company which provides walking floor solutions, end-of-life collection and specialist hire equipment to a growing customer-base on both sides of the Irish Sea. It recently took delivery of two new Iveco tractor units from NI Trucks in Mallusk and two new Scania tractor units from Road Trucks in Larne. The family-run business has also purchased four walking floor trailers direct from the Knapen manufacturing plant in Holland in the past year and has two more ordered for delivery in January 2022.
In all, D A Miller & Sons runs a top-class fleet of 22 trucks and 36 trailers. In addition, the company plans to extend its Claudy headquarters after recently purchasing a piece of adjacent land, while its operating centre at Ellesmere Port near Liverpool has been a hive of activity since opening in 2018.
D A Miller & Sons also incorporates Miller Bedding which was formed in 2014 to offer a full range of bedding products to the agricultural sector, including bagged, baled and bulk sawdust. DA Miller & Sons itself was established in 2004 and has since grown to employ 32 people.
"We're extremely busy," says Ryan, who runs the successful haulage firm along with his brother Glen and father Drew (also known as David Andrew).
"We're transporting more recyclable material than ever, including end-of-life fridges, freezers and televisions. Neither Brexit nor Covid have had a negative impact on us. We've also branched into shipping TDF (Tyre Derived Fuel) for the PPP Group to cement kilns across Europe. We're always diversifying and looking at ways to improve our business. We're constantly investing in our fleet and people."
The new trucks and trailers are part of an ongoing investment programme aimed at keeping D A Miller & Sons ahead of the competition. Indeed, another new Scania 650S had just been ordered from Road Trucks at the time of writing. The company takes great pride in the appearance of its vehicles. With their trademark blue, white and grey livery, they're a real head-turner.
"We try to keep our trucks and trailers as new as possible and also insist on having them immaculately turned out as it gives a good impression of our business and what we're about," continues Ryan.
"We're currently running 22 trucks, including 10 Scania, nine DAF, two Iveco and one Mercedes-Benz. We have 24 walking floor trailers, five urban curtainsider rear steers which are used for end-of-life fridge and television collections, two double decks which transport the televisions to the UK, two steel bulk tipping trailers for transporting scrap metal for local dealers in our area and three curtainsiders for animal bedding and baled tyres, which are collected across Ireland and the UK."
D A Miller & Sons operates large volume walking floor trailers which have a capacity of 112m3 with the ability to reach pay loads of up to 27 tonnes – even with lightweight materials such as alloy wheels, farm plastic and dry mixed recyclables. As a result, the company is more cost-effective than its competitors, transporting more material per load and therefore reducing the cost per tonne of transport. Also, as the material is moved with fewer loads, it reduces the carbon footprint of the recycling process, making D A Miller & Sons one of the most environmentally-friendly transport providers in the industry.
"Our large volume walking floor trailers provide 20% more capacity than standard walking floor trailers and up to 50% more than bulk tipping trailers," Ryan notes.
"Knapen have been our walking floor trailers of choice since we bought our first one off them in May 2010. We've forged a strong relationship with them since then. Between December 2020 and January 2022, we will have taken delivery of 22 bespoke walking floors from them."
Contracts for the collection of end-of-life fridges, freezers and televisions across Northern Ireland have contributed to D A Miller & Sons' growth in recent years. The Enva fridge plant in Toome, Co. Antrim is the only authorised waste refrigeration recycling facility on the island of Ireland.
"We won the contract to collect end-of-life fridges and freezers in February 2018. The contract runs until February 2022 when we hope to renew it for another two years," the affable company director explains.
"We secured the contract to collect end-of-life televisions in December 2019 and also hope to renew that in the near future."
D A Miller & Sons is proud to be associated with the PPP Group in Portglenone, Co. Antrim. The Group has the distinction of being the only Tyre Recovery Association member in Northern Ireland that produces products from recycled tyres. As such, its facility is audited in accordance with their exacting standards in relation to environmental compliance, definition, transportation, duty of care, reach and PAS107/108.
"We recently shipped 10,693 tonnes of TDF in a week for the PPP Group with the help our sub-contractors who worked brilliantly alongside us. Building relationships with competent sub-contractors is key," Ryan says.
"Furthermore, we operate out of a licensed waste facility near us in Campsie where everything is segregated and palletised before it is sent to the UK to be processed. Our operating centre in Ellesmere Port is also fully licensed and has the capability for 20 trucks. We're currently running 14 out of there."
Drew concentrates on running the animal bedding side of the business which was set up to source and supply quality bedding primarily for dairy farmers. Bagged, baled and bulk sawdust as well as wood pellet fines are distributed to farmers across Ireland.
"We were working for a wood recycling company in the UK called Plevin when they asked us if we'd be interested in becoming Irish distributors for their Snowflake and Woodpecker brands. We have trucks coming back and forth every day so it made perfect sense," Ryan reveals.
Like Miller Bedding, Plevin is a family-owned company with a proven record for producing high-quality, sustainable products. It manufactures animal bedding, sawdust and wood shavings that are suitable for agricultural livestock, horses and small pets such as rabbits and guinea pigs. All of Plevin's products are subject to rigorous quality and control checks, and are produced in a state-of-the-art dust extraction system.
Employing 21 highly-trained and professional drivers, the Co. Derry / Londonderry operation prides itself on the courteous, reliable and value-for-money service it offers. From enquiry to payment, it aims to be as friendly and efficient as possible. It strives at all times to respond to quotation enquiries within 24 hours and be as flexible as possible to cater for its customers' requirements.
Ryan and Glen are joined in the business by their wives Charlene and Stella. The Miller family would like to take this opportunity to thank their customers and suppliers for their continued support as well as their staff for their dedication, hard work and expertise.
D A Miller & Sons (Transport) Ltd
330 Glenshane Road,
Claudy,
Co. Derry / Londonderry,
BT47 4HP.
Telephone: 028 7133 8383
Email: [email protected]
Web: www.damillerandsons.co.uk
Published in Irish Trucker & Light Commercials magazine, April/May 2022, Vol 25 No 2