Professionalism the key driver at Open Road Logistics
24/03/2022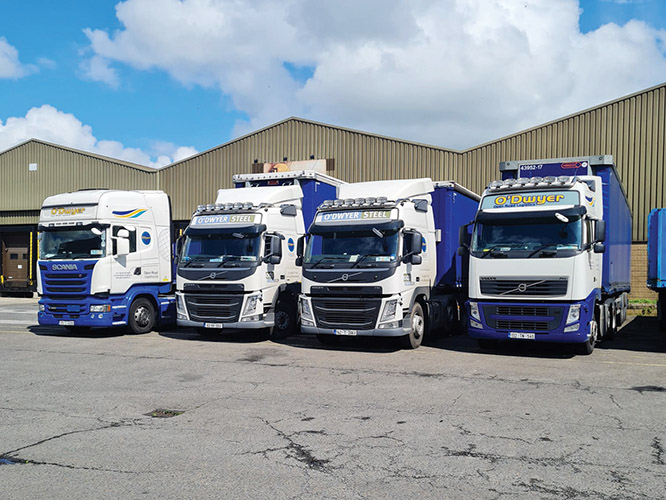 Since its inception in 2014, Open Road Logistics has earned a stellar reputation for invariably delivering professional, dependable and value-added transportation solutions, with a keen emphasis on achieving absolute customer satisfaction. We took the long road to Tipperary and interrupted hands-on proprietor Peter O'Dwyer's busy schedule to get the inside track on this industry-leading, family run haulage company.
As a vastly experienced and dedicated operator, Peter O'Dwyer has developed Open Road Logistics into a successful transport and logistics operator, providing a wide range of haulage solutions across Ireland and the UK from its well-appointed base in Thurles, County Tipperary. Following in the footsteps of his long-distance-lorry-driving uncles, Peter had already been involved in the industry for all his working life prior to establishing his own business in 2014.
Open Road Logistics has grown steadily from modest beginnings and today Peter runs five trucks and a diverse selection of trailers, serving the agricultural and industrial sectors predominantly.
Contemplating the reasons why the company is in big demand and benefits from so much customer loyalty, the Tipp man is quick to attribute much of the credit to his vastly-experienced, fully-trained, highly-skilled, motivated and friendly drivers:
"Drivers are the key in haulage and in many cases engage more with customers than I do, I'd have to say we have great drivers here. Good drivers account for 99% of a successful service and if you have guys who are committed to their work, diligent and happy in what they are doing then that is as good as any marketing campaign. I'm lucky in that regard - we have a very strong team here and all the lads are extremely professional. While I have great lads here, there is a shortage of drivers in Ireland at the moment and that is going to present problems for the industry going forward. "Communication is also vital. When you are talking to customers and they are depending on you, then the least you can do is be upfront with them -tell the truth, be honest at all times and don't try to sugarcoat it. If an issue arises - which can sometimes happen - explain exactly what is going on and come up with a solution. If you work with your customers, they will respect you for it."
Peter had a keen interest in road transport from an early age. He worked as a planner and transport manager for a few larger companies and gained the base experience in those roles. Eight years ago, he opted to invest in a truck and trailer and started out on his own. He quickly realised that no matter how much experience or good contacts you have, you will need to start from scratch and put in the long, hard hours to build up your reputation ... something he was more than willing to do!
"I drove for a few years for myself and then did some traction," he reflects. "I was able to make a wage for myself in those early years. Yet, despite having experience and contacts, it didn't really mean a lot when you started on your own. I found that it didn't work that way at all. You have to work hard and build your business up from the ground.
"To that end, the greatest education I got was going out on the road myself and getting practical experience of how things work. I'd always been around trucks and had a licence but suddenly I was seeing first hand what was out there, driving into industrial estates, dropping off business cards. It was tough but that was a great learning curve for me."
When Peter secured a contract with nearby O'Dwyer Steel in 2019 that provided the catalyst for Open Road Logistics to start to expand in a meaningful way. "That enabled me to jump from one lorry to five-trucks and other opportunities sprang from there and have progressed steadily," he recalls. "But it's a tough game, margins are tight and you have to work hard. When you look at rising fuel prices and the looming threat to the industry with carbon compliance and the cost of upgrading fleets, these are worrying times for hauliers. We are in a precarious position despite the fuel rebate scheme, which doesn't go anywhere near meeting the costs incurred. Whilst fuel prices have soared across Europe the reba te is not enough, Ireland has the lowest rebate figure in the EU."
The immaculately-maintained trucks in Open Road Logistics' fleet comprise two Volvos plus a couple of Scanias alongside a DAF. Ideally, Peter would like to add brand-new vehicles as part of his fleet replenishment programme but he admits this might not be possible in the current volatile economic climate:
"I had hoped to go new next year but there is a shortage of available equipment, while the second­ hand market has gone very expensive as a result. I believe new trucks are the way to go now as it's very hard to pin down the cost with second-hand equipment. You can carry out all the preventative maintenance you want but you don't know what's around the corner and a bolt can come out of the blue - that bolt could cost you €3,000-€5,000. New trucks are the way forward especially in the area of fuel technology as miles per gallon will make or break you."
Measures to reduce carbon emissions will inevitably have a huge impact both on agriculture (which is a key sector for Open Road Logistics} and haulage. "I'm not sure the Government realise the repercussions of their decisions," Peter states. "Right now, what is the alternative to fuel? We are hearing all these soundbites but that's all they are. I'd embrace the alternative to diesel if it existed but it doesn't. Any time fuel goes above 95c or 96c a litre the alarm bells have to sound but right now we are gone 30 cent above that and the silence is deafening. Nobody is asking who keeps food and essential commodities on the shelves. As an industry, haulage helped keep the country going during the darkest days of Covid, but t hat app recitation was temporary only.
"Meanwhile, farmers are being threatened with a potential reduction in the national herd after all the money they have invested in their businesses based on encouragement from Government and indeed the EU. Coupled with that we have closed peat bogs and peat powered stations and decimated the economy of the midlands. Closed them for what? The infrastructure for alternative wind power is years away."
There are up to 15 trailers in the Open Road Logistics fleet. "We use flat trailers for the steel and have a couple of short flat trailers for accessing farms. I also have a new rear steer flat on order from SOC, which will be ideal for accessing awkward spaces. We use Euroliners for the UK work, exporting steel." Meanwhile, extendable flat trailers can accommodate any oversize and abnormal loads.
By looking after his customers, Peter gets a steady flow of repeat business and that is what keeps the wheels turning at Open Road Logistics. "We don't bite off more than we can chew. We have a few very good customers and we are at our max right now in terms of what we can cover. We're at the right size to give the best possible service.
"We've invested substantially in equipment over the past couple of years and we have the Big Red Book accountancy package in place, with our accountant doing a good bit of the heavy lifting," the amiable Tipp operator concludes. "Freshford Garages look after our fleet maintenance and they do a brilliant job. We have a plan in place with them for 13-week checks on the trucks and trailers. They are only a phone call away and that's a big plus when you have second-hand trucks. They have an excellent set-up there and a testing station and as much on the shelf as any main dealer. You couldn't ask for better."
Open Road Logistics Ltd.,
Cabra Business Park,
Thurles,
County Tipperary.
Tel: 086 7866702
Email: t ransport @openroadtrans.ie
Web: openroadtrans.ie
Published in Irish Trucker & Light Commercials magazine, February/March 2022, Vol 25 No 1