Brian Cunningham Transport's investment in innovation is paying off
15/03/2022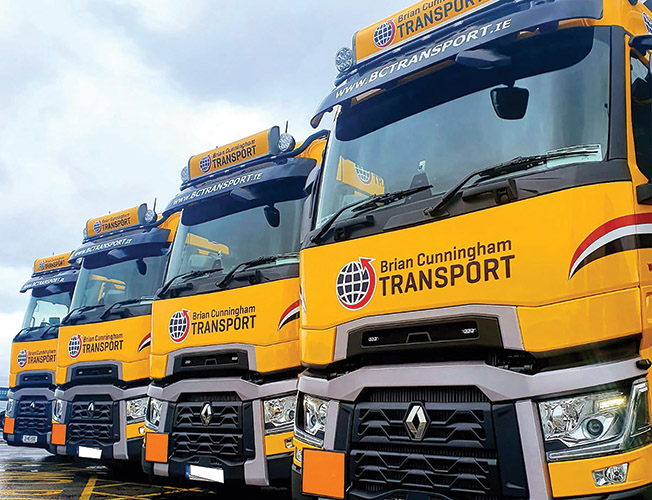 Brian Cunningham Transport deliver reliable, safe, innovative and cost-effective transport and logistics solutions throughout Ireland, the UK and Europe. We touched base with director Adrian Cunningham to find out more about the Mayo-headquartered company's industry-leading fleet, experience personnel and cutting-edge fleet management systems.
During the summer of 2021, Brian Cunningham Transport's stunning, immaculately-maintained and regularly-replenished fleet was bolstered by the acquisition from Shaw Commercials of five magnificent new Renault T High 480 6 X 2 ADR spec tractor units, four of which are being operated across Ireland and mainland Europe while the fifth has joined Cunningham's impressive UK-based fleet at Ellesmere Port.
As part of the policy of consistently expanding and upgrading the fleet, another new Renault T truck was added to the UK fleet in early September. Further additions are always imminent.
With an extensive, striking fleet numbering 50 trucks (15 of which are operated out of the UK) and up to 130 trailers - and a dedicated team of experienced, professional personnel - Brian Cunningham Transport are ideally placed to cover all transportation needs including container, refrigerated, tanker, waste, hazardous goods, oversize loads and general haulage, whilst also offering an onsite shunting service. The company operates from three strategically-located depots in Castlebar, Dublin and the UK.
Is the outstanding success of this family-run business since its inception in 1999 due to an optimal combination of exceptional equipment, people and systems? "Yes - and also the dogged determination and hard work of Brian, who has been totally dedicated to the company since he set it up 22 years ago," states finance director Adrian Cunningham, who joined the business when it was incorporated as a limited company in 2003.
"We are very lucky in some respects in that, even though we are brothers, we are as different as chalk and cheese," the Mayo man continues. "That dynamic works out very well as I can do the things he hates while Brian takes care of the things he enjoys doing. As we have complementary skillsets, we focus on our own tasks and aren't tripping over one another. At the end of the day, while we will have our battles, the way we were brought up means we are not going to fall out."
Constant investment in the fleet has enabled Brian Cunningham Transport to enjoy extraordinary growth over the past 22 years. Founder and MD Brian started from humble beginnings, with just one vehicle serving the needs of local businesses in Castlebar; today, the company's stunning fleet – providing bespoke haulage solutions to the agricultural, construction, engineering and manufacturing industries, invariably to exact customer requirements - covers the roads of Ireland and the UK on a daily basis and can regularly be spotted as far away as Spain, France, Malta, the Netherlands, Sicily, etc.
Brian Cunningham Transport UK was established in 2012, providing predominantly tanker, bag-in-box and dedicated services, while the third depot at Swords North Business Park was opened in 2016.
As part of the constant replenishment programme, fifteen new trailers were purchased from Dennison's in Q1 2021, while the UK division added a specialist rear-steer IBC vehicle - equipped with twin pumps, twin meters, and twin hose reels – at the start of the current calendar year. This highly-manoeuvrable vehicle carry 14 grades of bulk product, which can be pumped off at customer facilities with limited storage space.
Every unit in the fleet is maintained in optimal condition at all times. "To keep them fresh we have our own workshop in Mayo to oversee servicing and repairs for Ireland, while all the trucks in the UK are bought under contract hire with maintenance agreements," Adrian points out.
Of course, the best vehicles money can buy would be of little use without the right personnel and systems to coordinate and operate them. Including management and drivers, Brian Cunningham Transport employs a loyal, motivated and experienced team: "We have very good people here and they are key to our success," Adrian confirms. "We have two great men running the depot in the UK and the same applies in Dublin and here in Castlebar.
"Operationally, the business is divided into the three depots but there is a significant overlap between all three. We have 60 on the payroll at the moment and there could be opportunities for further growth as the economy is fairly strong at the moment and there appears to be plenty of work out there."
Embracing the latest technology, the company has cutting-edge fleet management systems in place to ensure maximum performance levels with a minimal carbon footprint.
ISO-9001-certified for quality management, Brian Cunningham Transport run Blue Tree fleet management software, telematics and vehicle tracking solutions. "We use the information gathered to make decisions on upgrading and managing the fleet in order to reduce our CO2 emissions and our goal is to become the most CO2-efficient haulier," Adrian continues. "We're looking closely at driver behaviour as well vehicle performance and upkeep. We also use Aptarus' telematics-led system for online driver training and that has resulted in further improvements in driver performance.
"The Transport Management software we use is MoveIT by Eureka and we are going to update and integrate these telematics systems so that we will have all the information on one platform. The reality is that if you don't utilise all the available technology then you won't survive in haulage anymore."
Meanwhile, further eliminating the need for paperwork and prioritising compliance, the Check-It walk-around app logs vehicle information in real time, which is electronically fed to the workshop and operations manager.
Between their stunning fleet, exceptional personnel and advanced telematics / fleet management systems, Brian Cunningham Transport have all the structures in place to consolidate and strengthen their position at the forefront of the haulage sector in Ireland, the UK and Europe. This innovative, progressive, customer-focused family business boasts an unrivalled track record for excellence and have set their sights on continuing to deliver improvements moving forward.
Brian Cunningham Transport Ltd.,
Unit 1,
McHale Road Retail Park,
Castlebar,
County Mayo.
Tel: 094 90 38935
Fax: 094 90 389999
Email: [email protected]
Web: bctransport.ie
Published in Irish Trucker & Light Commercials magazine, February/March 2022, Vol 25 No 1