Corcoran's Vehicle Repair Centre celebrates 45 years
10/03/2022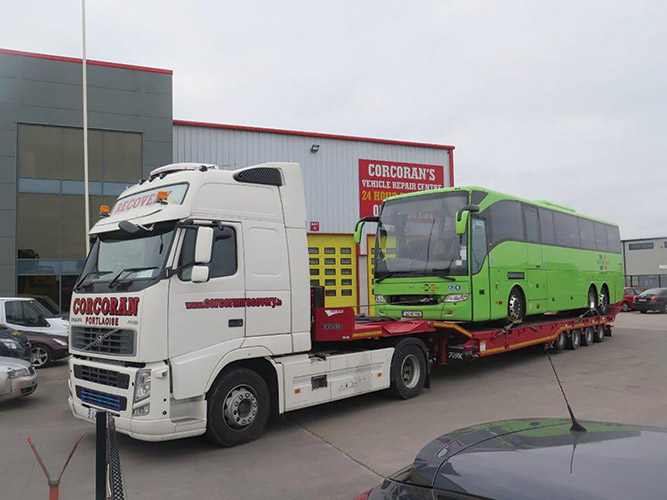 Celebrating 45 years in business, Corcoran's Vehicle Repair Centre in Portlaoise is one of Ireland's premier accident and repair centres. The company is run by Gerry and Ann Corcoran along with their son Gerard Jnr and 32 staff.
The family business has come a long way since Gerry opened a small repair shop on Church Street in the Co. Laois town in 1977. Corcoran's Vehicle Repair Centre relocated to its state-of-the-art crash repair centre in nearby Clonminam Business Park in 2008 and opened a second depot a few years later in Naas Enterprise Park, which is dedicated to its recovery work on behalf of the Kildare Garda division.
"A lot of hard work and long hours has gone into it," Ann Corcoran says of the company's continued growth and success.
"Many similar businesses have come and gone in the last 45 years, but we've stood the test of time thanks to our fast, reliable, friendly and value-for-money service combined with our wide range of services and the quality of our recovery vehicles and equipment. We're constantly reinvesting in our vehicles, technology and staff to ensure we're the best in the business.
"We're a one-stop shop for all your motoring needs."
Services provided by Corcoran's Vehicle Repair Centre include a passenger accident repair and commercial crash repair body shop, 24-hour light and heavy vehicle recovery and mechanical repairs. With its team of qualified technicians, which includes body repair / spray painting technicians, mechanics, vehicle tow operators and estimators, the company is able to offer an exceptional and unrivalled vehicle repair service.
Furthermore, the crash repair specialist's location just off Junction 17 on the M7 and in the centre of Ireland allows for it to provide a nationwide service.
"That's the beauty of being based in the middle of the country – nowhere is more than two or three hours away. We're located beside the M7 and are only a stone's throw away from the M8 and M9 as well. Our location is one of our biggest selling points," Ann adds.
Corcoran's Vehicle Repair Centre operates a wide range of vehicles for recovering trucks, buses, commercials and cars, including three heavy tow trucks, an articulated unit with HIAB and low loader as well as 10 smaller recovery trucks. Regardless of size, weight or location, the recovery division can fulfil all of its customer's heavy towing requirements.
The Portlaoise concern boasts an impressive customer-base which includes Dublin Bus, Bus Eireann, Department of Defence, An Post and An Garda Siochana Laois/Offaly and Kildare divisions. It is also an approved repairer for all the leading insurance companies, including AIG, AXA, FBD, Travelers and Liberty Insurance.
Corcoran's 24,000 sq. ft. premises is a state-of-the-art facility kitted out with the latest technology to help their technicians carry out their work quickly and efficiently. The crash repair centre offers the following: Heavy & Light Vehicle Recovery Mechanical Servicing and Repairs, Commercial Body Shop, Commercial Spray Painting, Truck & Bus Diagnostic Repairs, Commercial Anti-Corrosion Treatment and Commercial Chassis Repair. Wheel alignment, fleet maintenance and an ELV (end of life vehicle) service are also provided.
When it comes to mechanical servicing and repairs, the company caters for everything from servicing and breakdown repairs to RSA 13-week inspections and pre-CVRT test inspections to ensure your commercial vehicle keeps moving.
Corcoran's Vehicle Repair Centre's commercial and passenger body shops, which are SIMI steel standard (CSS) accredited, provide a crash repair service for all major insurance companies, while its specialist collision repair equipment and highly-trained staff ensure your vehicle is returned to its pre-accident condition in a cost-effective and time-efficient manner.
The company specialises in the spraying of all commercial vehicles, including trucks, buses, horseboxes and vans. With its low bake commercial spray-painting oven and skilled body repair technicians and painters, it can provide a factory-finish for your vehicle to suit your company's colour scheme and branding requirements. It goes without saying that only the best products and painting materials are used.
Corcoran's Vehicle Repair Centre's commercial body shop provides anti-corrosion wax undersealing for all trucks and buses. Using computerised measurements and specialist chassis equipment, it can also repair bent, twisted or cracked truck and bus chassis, and can also issue an engineer's report for the work done if required.
"About 25% of our business is recovery with heavy vehicle and car repairs and servicing plus spray-painting accounting for the rest," explains Ann, who stresses how customer satisfaction has always been the family business' number one priority.
"The customer is king as far as we're concerned. We listen to them and are committed to offering a top-class service. Our staff are here to help with taking the stress and hassle out of having an accident, providing advice on the insurance accident report claims process and helping you make an informed decision for your vehicle."
As an essential service, Corcoran's Vehicle Repair Centre remained fully operational during the different Covid-19 lockdowns.
"We didn't lose any staff thanks to our contracts with An Garda Siochana, Dublin Bus, Bus Eireann and the Department of Defence, which were all deemed essential. It was, however, challenging to ensure that everything was done in a safe manner. Thankfully, our workshop was big enough to allow for social distancing."
As Corcoran's Vehicle Repair Centre continues to go from strength to strength, the family would like to take this opportunity to thank their clients, suppliers and staff for their continued loyalty and support.
Here's to the next 45 years!
Corcoran's Vehicle Repair Centre (Portlaoise)
Clonminam Business Park,
Portlaoise,
Co. Laois.
Telephone: 057 862 1151
Corcoran's Vehicle Repair Centre (Naas)
2 Pine Road,
Naas Enterprise Park,
Ladytown,
Naas,
Co. Kildare.
Telephone: 045 409 536
Email: [email protected]
Web: www.corcoransvehiclerepairs.ie
Published in Irish Trucker & Light Commercials magazine, February/March 2022, Vol 25 No 1