Kearys Renault PRO+ are ahead of the posse
03/03/2022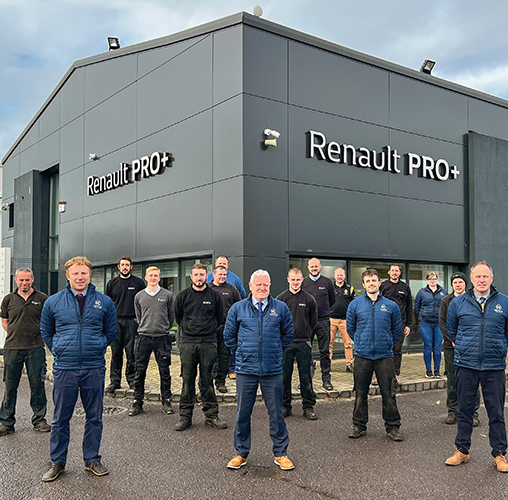 In 2016 Bill Keary made the decision to open Ireland's first dedicated van dealership at Kearys Renault PRO+ Van & Fleet Centre on the Sarsfield Road in Cork. Kearys PRO+ Centre is dedicated to the Business and Fleet customer where we cater for all your LCV fleet needs and also any Passenger Car fleet requirements. The dealership is a one stop shop for all your commercial needs where you will find great value on our range of new and used Renault LCVs.
With the latest unmissable offer from Kearys Renault PRO+, the commercial customer can avail of 3 Months' Deferred Payments, 1 Hour Decision Time, and all at a rate of 3.9 % APR. All new LCVs come with a 5 Year 200,000km manufacturer's warranty + roadside assistance. This simple offer with low APR helps with the cost of change, delivers more savings, and gives business customers at Kearys the option to defer their payments for three months, supporting them with their cashflow and giving them the potential to earn revenue for three months without any payments.
Kearys Pro+ Aftersales Department consists of a state-of-the-art workshop along with our fully trained Renault technicians who are there for all your service and technical requirements which is backed up with a fully stocked parts department.
Renault was the number one LCV brand in Ireland in October, and the Pro+ LCV range including the large Master van, medium-sized Trafic, which is celebrating 40 years and the Kangoo small van, is available for 212 orders with a continued offer saving at least €3,000 vs high-street banks.
"Our customers are spoilt for choice, but we have the choice thanks to the vision and foresight of Bill Keary and the team, working closely with Renault Ireland," stated General Manager Jim O'Keeffe in conversation with Irish Trucker & Light Commercials.
"When you consider the circumstances that we are all in now, business has been very good, we certainly can't complain. There is a well-documented shortage of vans right across the whole motor industry due to the pandemic, added to the the fact that production had been out of action for a while. At Kearys, we have been fortunate to keep the supply going, not only in PRO+ but throughout Keary Motor Group, that has allowed us to keep the doors firmly open for business."
Sales Manager Julian Boylan added: "Kearys as a group had a plan in place. We work hard on our stocking lines as well as customer retention and trade-ins. It is all about providing the best product and service to our customers.
"As a result, we have had a steady stream of vans which meant we were able to meet our targets. We are probably the busiest LCV dealer in the country because of that."
The Renault Van range is another key ingredient in Kearys winning formula. Renault enjoys a reputation for the design and build of a range of hardworking and reliable commercial vehicles.
Practical, compact and ideal for inner-city driving, it's no wonder the Renault Kangoo is a one of the most popular vans from this marque. Available in two body lengths – Standard and Maxi – as well as various specs including Business and Business+, this ride is highly customisable. While the standard van has a three-cubic-metre load capacity, the Maxi has a four-cubic-metre load capacity.
The new Renault Trafic in its various versions, from the Panel Van to the Crew Van to Minibus, Kearys Renault PRO+ will find the one which will help you achieve the best performance. In addition to its remarkable loading capacities, it now has an updated design, a 2.0l engine with the option of an automatic gearbox which makes for an even smoother driving experience. More than a van, the new Renault Trafic is designed to improve your comfort and safety.
Kearys Renault PRO+ is also proud to present the new Renault Master which reasserts its expertise in the field. The Master offers a combination of style and practicality, boasting over 105-litres of spacious storage and benefiting from various features to make loading easier, the vehicle is suitable for professionals. Furthermore, the Master is equipped with innovative technology to enhance the vehicle's safety including, but not limited to, rear vision assist and lane departure warning.
Designed for professionals, the new Master is packed with intelligent solutions and provides the opportunity to benefit from a mobile office thanks to the passenger bench seat with a pivoting seatback table and adjustable seat.
A complete multimedia experience offers the ability to be fully-integrated with smartphones and Renault EASY CONNECT enables a peaceful and enjoyable journey.
"The new Kangoo is due out in April 2022, and we are very excited about that because the Kangoo as a small van is proven to be the best van on the road," outlined Julian Boylan.
"Customers can also electrify their business and drive into a more sustainable future with Kearys and Renault the number one EV manufacturer in Ireland."
Electric and hybrid vehicles offer many advantages to businesses. Companies who invest in a green fleet can benefit from a significant reduction in the monthly operating costs of their fleet. They will be protected from fluctuating fuel prices and pay much less tax on the registration of a green vehicle.
Over the past two years, electric Light Commercial Vehicle (LCV) registrations in Ireland have increased by 580% while EV car registrations have increased by 215% over the same period.
Kearys Renault PRO+ are in a unique position to meet your current and future vehicle fleet needs and their range includes ZOE Commercial (Europe's No.1 selling EV), Kangoo Z.E., Master Z.E., Captur PHEV and Megane Sport Tourer PHEV.
"The Commercial EV market is also one to watch, it's a market that is growing and growing when PRO+ opened its doors in 2016 we had 5 Kangoo EV vans coming into our service department, fast forward to 2021 that number have risen to 350 plus," revealed Jim O'Keeffe.
"There is a stream of EV chargers all over Ireland and everywhere you go now there is a charger outside so it makes life a little bit easier for people who are investing in electric. There are the obvious green benefits and doing your bit for the environment but the customer is saving money as well on maintenance and fuel costs which are huge factors in favour of electric vehicles."
Customer service is of paramount importance to Jim and the Kearys Renault PRO+ team and they take great pride in offering the highest standard of sales and after-sales. They are three-time winners of Renault Ireland's Semi-State Van Dealer of the Year accolade (2016, 2020 & 2021) and were crowned Renault PRO+ LCV Dealer of the Year in 2017.
"We always strive to keep our customers on the road in hail, rain or snow," Jim enthused. "We are always mindful of the fact that our customers' van is their toolbox or shop, and they need to stay mobile at all times. Our business has grown completely because demand has really gone through the roof in the last 12 to 18 months."
Rob Jermyn (Sales & Finance) pointed out: "We are getting enquires from all over the country, we are getting calls from Donegal, Dublin to buy vans. It's amazing and that is testament to the fact that we must be doing things right plus, most importantly, we have the vans in stock."
With over 30 years' experience in serving motorists in and around the Cork region, Kearys Motor Group represent some of the automotive industry's most acclaimed vehicle brands including BMW, MINI, Motorrad, Renault, Dacia, Hyundai and Nissan as well as their Carstores in Dublin and Cork.
Their award-winning reputation has been built on providing exceptional standards of customer care combined with vehicles that are stylish, technology packed, and which deliver impressive performance every time.
Kearys Renault Pro+
Doughcloyne Industrial Estate
Sarsfield Rd]
Wilton
Cork
Tel: 021-2340400
Website: www.kearys.ie/renault
Published in Irish Trucker & Light Commercials magazine, February/March 2022, Vol 25 No 1