Trucking is a labour of love at Dunne Haulage
24/02/2022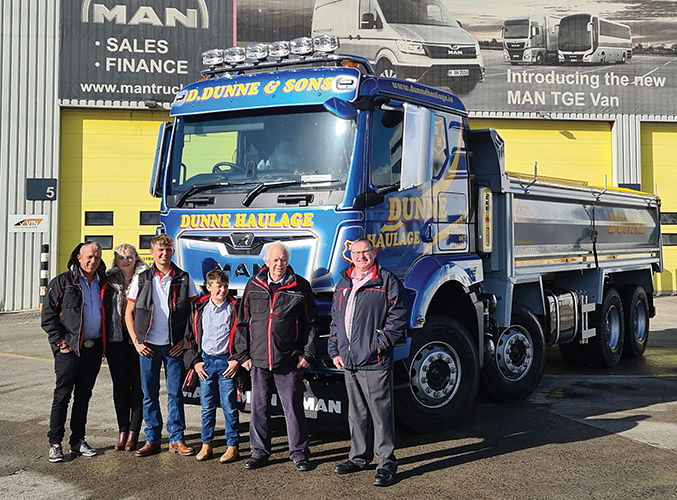 Operating out of Kilmeague, Naas, County Kildare, Dunne Haulage is an exceptional family-run business fronted by Damien Dunne and his wife Eileen, with more than a little help from their children DJ and Ned, all four of whom are imbued with an infectious passion for all things trucking. As the Dunnes took possession of a stunning new MAN TGS in early October, we touched base with Damien for an update.
Friday, October 1st, 2021 was a landmark day in the history of Dunne Haulage as the Kildare-based operator collected a magnificent new MAN TGS from MAN Truck & Bus Ireland, complete with tipper body from Alloy Tip in Carlow – the first brand-new truck to join their fleet since the acquisition of an '06-reg MAN some 15 years previously!
The striking new blue and gold lorry looks magnificent, with artwork by Any Signs in Allenwood while all the paintwork, light wiring and other extras were carried out painstakingly in-house by Damien Dunne and his sons DJ and Ned, with assistance from staff members Ray Grainger and John Higgins.
After a decade and a half of sourcing pre-owned vehicles, why did Damien decide to go new once more? "We used to buy out of England but the price of second-hand lorries has gone up plus, since Brexit, there is also a 22% tariff on tippers on top of the purchase price. So, while all of our most recent lorries had been bought second-hand, we realised that there is now more value in buying new.
"With the more up-to-date lorries, when you get them second-hand, if you have an issue with one of them, it could be very expensive to repair. A few years ago, €1,000 went a long way but you could nearly pay that for a new sensor now! For complete peace of mind, we took a three-year bumper-to-bumper warranty with the new MAN and we are absolutely delighted with her. We did a lot of the work on it ourselves as it was important to us that it turned out exactly the way we wanted it."
With Damien, his wife Eileen and their two sons leading by example, teamwork is very much to the fore at Dunne Haulage, which is in every way the archetypal self-sufficient, hands-on, family-run haulage business. Following in the footsteps of his father, Noel, who drove for 40 years and is a legendary figure in the Irish haulage fraternity, Damien knows trucks inside out and has a passion for haulage that is shared by his nearest and dearest…
"I drive every day and would be on maintenance on Saturdays and Sundays," he confirms. "That's what I love doing. But this business would not be where it is without Eileen, who looks after all the paperwork. I'd say she is even bigger into trucks than I am. We have complementary skillsets in the business and it's great that we have that connection."
It was inevitable, really that DJ and Ned would also develop a keen interest in trucks. "DJ is 17 now and he drives the dozer and is big into it. Ned, who's eleven, is fanatical. All the talk around the dinner table here is lorries seven days a week."
Dunne Haulage have also invested in a brand-new Volvo FM 8x4 from Irish Commercials, which was due to arrive imminently at the time of writing, bringing the fleet size to twelve in total, including a beavertail recovery truck and a Hino grab lorry.
Specialising in delivering a wide range of services, Dunne Haulage cover tipper work, grab hire, muck shifting / groundworks / site clearance and also supply and deliver topsoil, concrete, sand and gravel, and all grades of stone. They are exceptionally busy at present but materials shortage is of concern to everybody associated with the wider construction industry:
"There was one site we were drawing into this week and they couldn't get timber for the houses. Materials are a problem. The rising cost of materials is killing everything at the moment and it could become a serious issue," says Damien.
"The loads are going into sites but materials and labour are a problem and they can't really increase the price of houses much more because they are already too dear. Irish Water are really holding things up as well and they need to get their act together. It's not good enough that so many housing estates are waiting for months on end to get over the line because they can't get connected to water and sewage.
"We do all site work and you have to carry a large volume of trucks or you won't get the jobs. You are expected to be ready to get in and out of site immediately so you simply must have the trucks to get to them straight away and you have to keep them all serviced and in top condition. That's why we carry a surplus of lorries here, so that we can cover the work when it gets especially busy.
"Some days you can barely cope and there are other days where you are scratching your head, but generally we are very busy. I haven't forgotten the last recession – we bought the brand-new '06 MAN and it all went belly-up in '07. These are certainly unusual times. A lot of the foreign nationals have gone back home and artic drivers are very hard to get – but it's not as bad with tippers.
"We have lads here who have been with us long-term, although I think the days of lads staying in one job for ten or 15 years could be gone. We're employing all Irish drivers as a lot of the work is in rural areas where local knowledge is very important. Good lads are scarce these days but I'm very lucky to have some great help."
Considering how unforgiving the work is, the Dunnes keep their fleet looking remarkably fresh. "You always try your best to keep them clean and looking well," Damien continues. "In construction, it's obviously hard to keep them 100% appearance-wise as you are going into a lot of muck and slop every day."
However, when it comes to the mechanics of the fleet, everything is firing on all cylinders around the clock! "I used to work in spray painting and I'm quite mechanically-minded, so we can do most of that work ourselves. If you ever do have an issue it can be difficult to get anybody to look at it at short notice so this would be a tough game if you didn't know a bit about it yourself."
MAN trucks have always been prominent in the Dunne Haulage fleet. What is it about this marque that appeals to Damien? "If you stick to one brand, like MAN, you get to know them inside-out and one model isn't that much different from another. The driveline in them is very good. I have one here with 900,000 miles and the original back-end is still on it – that's very rare with tippers. Today they are making new trucks a bit over the top with all the technology that's going into them, whereas they haven't really managed to make them any more economical on fuel. Because we are pulling a lot of weight and driving on backroads a lot, we average six-seven miles to the gallon with the tippers, which is a lot less than what you get with an artic."
It would be no exaggeration to suggest that Damien eats, sleeps and breathes the family business. And the Kildare trucker wouldn't have it any other way! "When you are not driving, you are thinking about it – you never switch off," he concedes. "Even if you go on a holiday, you still have to man the phone because providing a personal service is so important.
"If you are customer, it's nice to be able to get the boss on the other end of the phone. They like to see you on site as well. Customers really appreciate a personal service and that is something we have always prided ourselves on."
Just one of the many attributes Dunne Haulage are renowned across Kildare, neighbouring counties and even further afield!
Dunne Haulage,
Pluckerstown,,
Kilmeague,
Naas,
County Kildare.
Tel: 045 845851,
Mobile: 087 2707061 / 2866067
Facebook: www.facebook.com/DunneHaulage
Published in Irish Trucker & Light Commercials magazine, February/March 2022, Vol 25 No 1