Servicing the transport industry
27/01/2022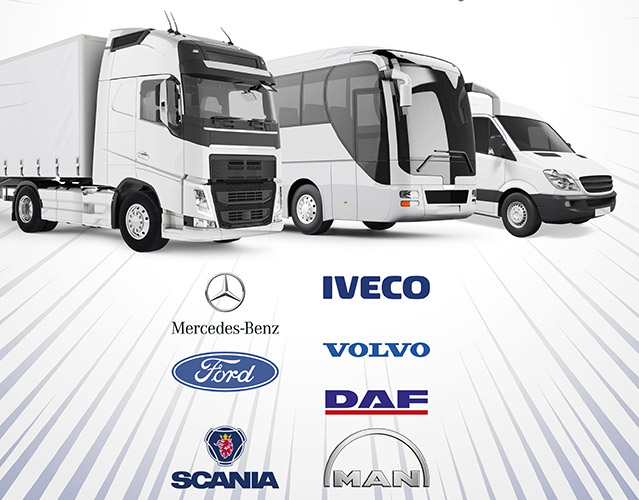 Galway Coach & Truck Repairs has enjoyed a very successful first year in business, despite the challenge posed by Covid-19.
While still in its infancy, the company's co-directors Paul Norton and Ray Murray have a wealth of experience and expertise in the transport industry. As owners of Galway Tour Company, which operates private and public tours throughout the West of Ireland, they saw an opening for bus and coach service and repairs in particular. This has become a crucial part of their Oranmore-based business along with truck, commercial and private vehicle service, repairs and diagnostics.
"We decided in 2019 that we would open a commercial garage," Paul recalls.
"We had a lot of experience in nearly every sector of the industry. As well as operating a tour company, we ran a garage for a Galway Tour Company for the last 10 years, and Ray had his own haulage company in the 1990s and, more recently, was engaged in continental transport.
"We officially opened our doors in March 2020, which, as everyone remembers, was the start of Covid. But despite what was on the horizon, we had to go for it. Thankfully, the business took off, and we haven't looked back since."
Ray has also been delighted with the garage's success to date.
"We set up the business with the needs of the bus and coach industry in mind," he explains.
"From our experience as tour operators, there weren't too many garages in the West of Ireland that specialised in bus servicing and repairs. Coaches differ from trucks because they tend to be more complex, and there is far less room around the engine to work. So, for example, there is a much greater emphasis on air conditioning systems in buses than in trucks.
"But as it transpired, our first customers were truck owners. About 50% of our business is truck maintenance and repairs, with vans and cars (30%) and coaches (20%) accounting for the rest. The business has grown rapidly, so much so that we have gone from employing two mechanics to four and have almost outgrown our existing premises."
Strategically located in Deerpark Industrial Park, Galway Coach & Truck Repairs provides complete truck, bus, coach, commercial and car service and repairs, including full service and inspection, computer diagnostics, CVRT / NCT repairs and pre-checks, chassis wash, service and maintenance plans, brake – ABS, EBS repair, steering and suspension, coach and truck wash as well as hydraulic and tail lift repairs.
The garage's experienced team of technicians have a wide range of knowledge and expertise in the servicing and maintenance of commercial and private vehicles. They can also repair and service all makes of truck and trailer, bus and coach. The workshop is equipped to undertake minor or major mechanical and structural repairs five days a week at a competitive price.
"We have three diagnostic systems – Jaltest, Launch and Connex – which cover 95% of what we need. You're talking about dealer level diagnostics after that," Paul says.
"Our workshop has three large bays, 30-tonne lifts and a 3.5-tonne mobile car lift. We also have a large wash bay outside. While our opening hours are 8 am to 5 pm Monday-Friday, we're very flexible and will often make exceptions for our regular customers outside of those hours. Coming from a transport background ourselves, we fully understand the importance of getting your vehicle back on the road as quickly as possible and avoiding any downtime."
Speaking of customers, Galway Coach & Truck Repairs boasts a growing client base that includes Sweeney Oil, Keith McDonagh Haulage, Easy Living, Atlantic Stone and Brothers of Charity, to name but a few.
"With many of our customers involved in haulage, fleet servicing is a growing area for us," Paul continues.
"Through word of mouth and referrals, we've forged strong relationships with hauliers, bus operators, builders and even farmers. There is very little that we can't tackle or fix. We have welders and body paint technicians within our team. We have a lot of engineering knowledge.
"We'll trace the tiniest faults and won't give up until we find them. We're a very tenacious solution-based business and love a challenge."
Paul is full of praise for his technicians, who, he points out, have played a significant role in the garage's success to date.
"I can't praise them enough. Our staff are our greatest asset. The quality of our staff is what we rely on, and their competence has enabled us to grow quicker than we could have ever imagined. The technicians are knowledgeable, dependable and hard-working. Ray and I firmly believe that if you look after your staff, they will look after you and spread the word at the same time.
"By building relationships with customers, our mechanics gain their respect. We always put our staff first, so they put our customers first, and we work together to ensure they enjoy the right work/life balance."
Paul and Ray are focused on growing and expanding Galway Coach & Repairs further while at the same time getting Galway Tour Company back on a solid footing after the pandemic severely impacted it.
Specialising in daily tours to the Cliffs of Moher, Aran Islands, Connemara and The Burren along with bespoke tailored tours, school services on behalf of Bus Eireann and airport transfers / private hire, Galway Tour Company runs a modern fleet of vehicles, ranging from 61-seat Neoplans and Volvo luxury coaches all the way down to a three-passenger Mercedes S-Class executive car.
The tour operator is committed to providing its passengers with the highest safety standards, with each coach fitted with seat belts and the latest safety features. In addition, all drivers/guides are thoroughly trained, courteous and professional in every aspect of their job.
Galway Coach & Truck Repairs would like to take this opportunity to thank its customers and suppliers for their continued support.
Galway Coach & Truck Repairs
Deerpark Industrial Estate,
Oranmore,
Galway,
H91 D6V2.
Telephone: 086 272 6791
Email: [email protected]
Published in Irish Trucker & Light Commercials magazine, October/November 2021, Vol 24 No 6