McNally Logistics showing no signs of slowing down
11/01/2022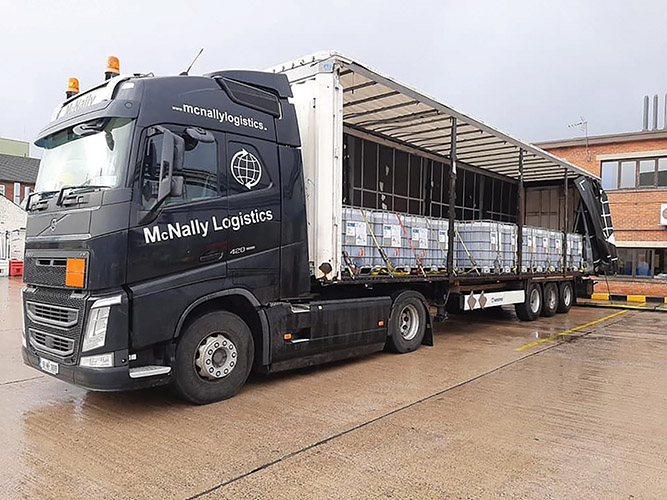 A policy of continuous investment in their impressive fleet is a cornerstone of McNally Logistics' commitment to satisfying the needs of their loyal clients. Transport Manager Alan Reilly informed us that there are ambitious plans for future expansion in the pipeline.
McNally Logistics was established in 2013 and commenced trading with two trucks. Fast forward eight years and the ever-burgeoning company has expanded its fleet to 20. That's impressive growth by any standards!
In March, 2020 they received the keys of three brand-new DAF XF 480 4×2 tractor-units, with 12-speed ZF TraXon automated gearbox.
The vehicle specifications on the company's new DAFs include: SuperSpace Cab, Adaptive Cruise Control, Forward Collision Warning, Advance Emergency Braking System, Reverse Warning, MX Engine Brake and full DAF 3-year unlimited mileage, factory warranty.
The company's Transport Manager Alan Reilly revealed in conversation with Irish Trucker & Light Commercials that the current demand for their services is high and they are planning for further expansion of their well-maintained fleet in the not-too-distant future.
First of all, we asked him why they took the decision to go down the DAF route?
"The price is good," he answered. "As well as that we have dealt with Paul O'Reilly (DAF Trucks Ireland Sales Manager) in the past and he's always in and out to us. They provide a good service.
"Initially, we said we'd go with them on a trial. We have them a year now and we're more than happy with them and the drivers are very happy with them. We're thinking of going more down the line of DAFs in the future and we'd be expecting to add more DAFs to the fleet in 2022."
The addition of the three DAFs brought the total number of trucks in McNally Logistics' fleet to 20 and complimented the existing 14 Volvos and three MANs.
Their solution fleet includes articulated tractor units and curtainside trailers. Their trailers are custom made high curtain sider trailers to ensure maximum value for your transport costs.

All tractor units are fitted with a GPS navigation tracking and fleet and a fleet management system. All trailers are 45ft long and 3m internal height for easy loading. In addition, they have fleet depots in both England and Ireland for speedy dispatch.
McNally Logistics is a small business with many years' experience in specialising in national and international haulage and are at the cutting edge of our industry.
The ever-burgeoning company is renowned as one of the leading logistics and distribution companies in the North-East. They provide cost effective, European, UK and Ireland transport and haulage solutions that you can trust with premium performance guaranteed.
Their warehousing and distribution services are regularly audited and analysed to ensure that it meets the contemporary business models, and any and all upgrades are made to ensure their services continue to help their clients meet their logistic requirements efficiently.
Their logistics team have years of experience in this business and can handle long term and large scale assignments with utter professionalism, and their customer service helps the clients to stay in the loop throughout the process, whenever they require any assistance.
Pallet distribution and cross docking services are also provided and they currently have 25 employees on their weekly payroll, including 21 drivers. Their valued client list includes the likes of Xtratherm and Geodis Dublin to name but two.
Like a lot of companies in the transport industry, McNally Logistics was adversely affected by the onset of the Covid-19 pandemic but the company's Transport Manager reports that they have made a strong recovery and all current indicators point to their graph continuing on an upward trajectory.
"Last year it went very quiet like it did for everyone," stated Alan who has been with the company since Day 1, "but we are coming back strong. It's getting back to where it was or even better. Brexit too was a big thing in January of last year but we have been able to overcome those hurdles and now we were are doing a lot more shipping direct to the continent. I'd be confident that business will continue to pick up going forward."
If you are in need of a reliable and punctual transport partner, then look no further than McNally Logistics. Consult with their experts today for your logistics, warehousing and distribution services requirements. Allow them to make a positive difference in your business.
They are showing no signs of slowing down and work in partnership with their clients to provide quality, cost-effective solutions to enhance their supply chains.
"We always strive to provide a good service and on time delivery," Alan concluded.
McNally Logistics
Ardbraccan
Navan
Co. Meath

Office: +353 46 9028292
Email: [email protected]
Website: www.mcnallylogistics.ie
Published in Irish Trucker & Light Commercials magazine, October/November 2021, Vol 24 No 6