Safety comes first at Johnny Barry Commercial Repairs
06/01/2022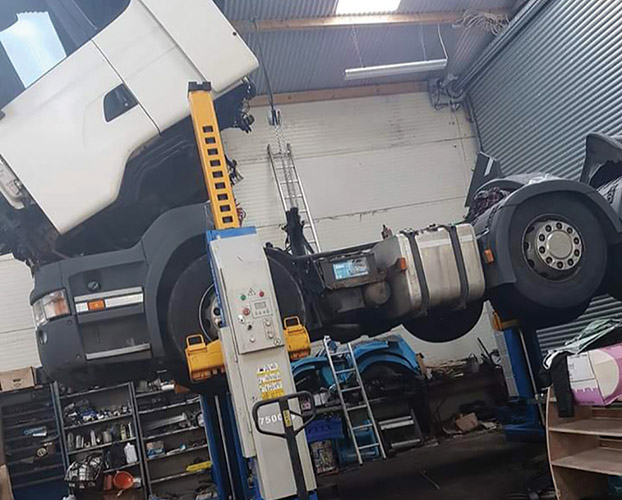 Since its inception three years ago, Johnny Barry Commercial Repairs has developed an unrivalled reputation for delivering a full range of exceptional solutions to commercial vehicle owners across Leinster. Irish Trucker interrupted the proprietor's busy schedule to discuss the services provided and his plans to expand the business.
Johnny Barry Commercial Repairs are busier than ever. Providing a full suite of services on all makes and models of trucks and vans, including 24-hour breakdown recovery, from his modern workshop in Drumree, County Meath, the eponymous Johnny is so busy in fact that he is planning to take on two new suitably-qualified and –motivated HGV technicians to cater for a steady rise in demand for said services.
By invariably giving customers thorough, safe, professional and value-added solutions, Johnny has built up a strong volume of repeat business and is constantly picking up new clients through positive referrals as word spreads fast that Johnny Barry Commercial Repairs are providing exceptional servicing, diagnostic, repair and breakdown services to commercial vehicle operators across counties Meath (including a lot of local operators in and around Trim and Dunshaughlin), Dublin, Kildare and Louth.
Johnny has had a keen interest in trucks and commercial vehicles all his working life – a passion he inherited from his father, Michael – currently a Mechanical Engineering lecturer at Bolton Street.
"We have been in business for three years now and things are going really well," the Meath mechanic confirms. "We have a number of regular, loyal customers who keep coming back but we also get new lads ringing all the time. We tend to look after our customers and their vehicles and I suppose this is why the phone is always ringing.
"I've been interested in trucks for as long as I can remember, since I was a kid. My father worked with trucks all his life and everything I learned, I learned it from him. From the word go, this has always been a big part of my life and it was always what I wanted to do.
"Going back 25 years, Dad would have had two trucks on the go – a Scania 111 and a 142. I can remember as a young lad helping him rebuild the engine on a 143. I grew up with Scania, Volvo and DAF and have a good knowledge of them at this stage."
Since establishing Johnny Barry Commercial Repairs in 2018, he hasn't looked back! "I served my apprenticeship in North Dublin Commercials, who have DAF, Isuzu and LDV vans dealerships, and I learned a great deal off them," Johnny continues. That education proved invaluable in providing all the skills Johnny needed to set up on his own.
Today, Johnny Barry Commercial Repairs provides a comprehensive range of services from a modern three-bay workshop furnished with the latest tools and diagnostic equipment. Johnny knows Scania, DAF, Mercedes-Benz and Volvo operating systems inside out but has the capacity to work diligently and expertly on literally any make or model of truck, light commercial or passenger car.
"We specialise in engine and gearbox repairs and rebuilds but provide any service on any truck, van or car. This includes general servicing, DOE failures, stationary inspections, diagnostics and repairs, 24/7 breakdown recovery, and we will check tyres, lights, oil, brake pads, etc. while the vehicle is in the garage in order to make absolutely sure that the vehicle is 100% safe and performing to its maximum when leaving.
"No job is too big or too small for us. While we can take on complete engine and gearbox rebuilds, if an owner has a tyre or light bulb that needs to be looked at, we certainly won't turn it down." One thing that's guaranteed is that every job will be completed properly, to the highest standards, and no vehicle will leave the workshop unless it is 100%.
Diagnostics, of course, have a vital role to play in truck repairs and Johnny Barry Commercial Repairs boasts all the latest software to help with troubleshooting including DELPHI, TEXA and Scania SDP2 and SDP3.
Johnny is extremely safety conscious in everything he lifts his hand to and his workshop facility in Drumree is both modern and spacious, with only the best and most efficient tools and equipment present. "I like to keep things up to date," he states. "I have two lift columns and a pit here but I tend to use the lift columns wherever possible as you can lift the lorry straight up and get better access that way. It's just a handier way to work."
Although he is never stuck for help, demand is such that Johnny intends to add a couple of new truck technicians to his team: "We're definitely getting much busier and I'm hoping to hire two new technicians," he confirms. "Going forward it's not sustainable for me to keep taking on all of the work myself. Even though I enjoy the work, it is tough going at the minute with all the hours and I'd prefer to work 9-5 and to have two qualified and dependable men working alongside me. Any suitable candidates should give me a shout. I'm very particular, though, and they will have to be excellent technicians as we are not going to let our standards drop."
It would be fair to say that Johnny Barry Commercial Repairs are responsible, rigorous and meticulous at all times. Regarding his insistence on going above and beyond the call of duty in terms of treating safety as a prerequisite, Johnny explains: "We always do a safety check on every vehicle – that's No.1. After that, we will give the customer all the knowledge we have on whatever faults come up. This is very important. We like to give 100% and I'm simply not going to have something that's not right going back out onto the road.
"I won't send it back out if it's not right. Whether it takes an hour or the whole day, it won't go out until I'm 100% happy with it. You want to avoid breakdowns and the best way to do that is to make sure the truck gets the attention it needs while it is in the garage. When a truck is doing 1,000 km a day, then naturally they are going to give trouble, so you have to look after them while they are here.
"Business is picking up all the time. As we are only starting out, really, we are not going to turn anybody away. We're not afraid to take on any job for any owner – be that a car, van or truck – and we will make sure we sort them out 100%. Satisfied customers are more likely to come back, but safety comes first and all our services are geared towards ensuring the continued safety of vehicles and their drivers."
Johnny Barry Commercial Repairs,
Augherskea,
Warrenstown,
Drumree,
County Meath.
Tel: 087 4211101
Email: [email protected]
Published in Irish Trucker & Light Commercials magazine, October/November 2021, Vol 24 No 6