Through the generations with Kieran Kelly Haulage
22/12/2021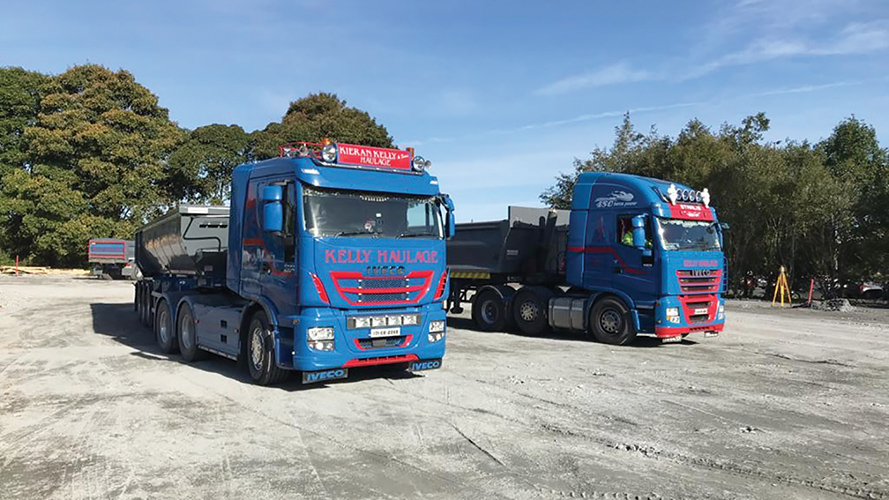 Kieran Kelly Haulage Ltd. is an exceptional, vastly-experienced family-run bulk haulage company operating out of Ennis, County Clare and specialising in site clearance, stone, subsoil, topsoil, sand, gravel and readymix concrete. We touched base with Shane Kelly the transport manager to get an update on this progressive business which runs a magnificent fleet of 30 vehicles and generates direct, full-time employment for a crew of 24.
Going strong since its inception in 1990, Kieran Kelly Haulage is an industry-leading, third-generation, family-managed company that moves with the times in order to invariably provide its clients – be they construction companies, businesses, local authorities or private individuals – with unrivalled service levels. At the heart of the operation – driving its success – is a fresh, immaculately-maintained fleet and excellent personnel.
"Good drivers are hard to get but we have some great men here, many of whom have been with us six or seven years or even longer," notes Shane Kelly, son of the eponymous Kieran. "It's important to have drivers who are experienced and professional and who know what they are doing.
"There are three Renault rigid tippers in the fleet now coming from Martin Hough and the rest are Hino and Iveco. The first Renault we got was 191-reg to work with Roadstone and we added a new one this year as well. We have Ivecos coming through Longhaul Commercials which we are still adding new ones every few years. We have six artics on the road full time – all Ivecos. A couple of those would be with Goulding Fertilisers and Grasslands. Our Concrete mixers we have one five-axle and three four-axles – and two artic mixers.
"We've picked up some work in Limerick as well and we have one mixer with Bunratty Roadstone and another one with Joseph Hogans in Foynes, which is also Roadstone. These days we're doing a lot of muck shifting and site clearance for Conack Contractors, H&H Groundworks, Sean Crowley Plant, M Fitzgibbon and Pat Keogh just to mention a few.
"At the time of writing – were busy on a site clearance project in Shannon. To complement the large volume of site clearance work being undertaken, they have opened two tips and intend to open a couple more, which will be brought back to Greenfield sites once they are filled."
In total, the Kellys have two artics and four rigids with Roadstone, including the 191-reg Hino - a vehicle which has a unique claim to fame: "It was the last Hino truck to be registered in Ireland," the Clare trucker reveals. "Conor Jennings at Longhaul put us in touch with the lad in Dundalk who had it and we decided to go ahead and purchase it."
Despite the obvious challenges presented over the past 18 months, or so Kieran Kelly Haulage have remained busy and remain very much on an upward trajectory. "We're certainly being kept going," Shane confirms. "Even with the pandemic, we have been able to keep things moving, thankfully.
"In the beginning, things slowed down significantly during the first lockdown but we still had four or five artics drawing feed as that was seen as essential. After that, things opened up again slowly but surely and we were kept going – there's always somebody looking for something to be done. We also have an eight-wheeler grab lorry and that was kept tipping away, too."
Indeed, when you have a track record and reputation such as that built up by Kieran Kelly Haulage over the past 31 years and counting – and when you enjoy excellent working relationships with a large number of loyal and satisfied customers – the phone tends to keep ringing. But Shane is acutely aware of the fact that they cannot let standards drop. In any line of work, you are only as good as your last job and this ethos ensures that Kieran Kelly Haulage's services are always in demand.
The nature of the work means it's difficult to keep the fleet clean but Kieran Kelly Haulage take great pride in the upkeep and appearance of their vehicles: "You have to keep them right. My brother Jack washes them every Saturday … there's no point letting them run ragged. When you have invested so much money, the least you can do is look after them. Brendan McMahon our mechanic does practically all the maintenance work in house, with a small bit going to Longhaul in Tullamore and O'Shea's in Limerick. With Gort Road Tyres and DT Tyres providing a great service also."
As a family business, with founder Kieran joined by sons Shane, PJ and Jack. Kieran Kelly Haulage Ltd has always provided a personal and fully transparent service. Shane is delighted to see the third generation – namely his son Scott (14) - becoming increasingly involved. "Yeah, it looks like he has got the bug. He's helping wash the trucks and he's here during the summer holidays. That's three generations of us involved now and things are looking good.
"Dad is still driving away and he remains a huge asset to the business with his experience and contributions every day. He's an old-school, pen and paper man at heart. He's happiest when he's driving and his cab is his office. Everything we've learned, we learned from him. He is working away myself, PJ and Jack take a bit of the pressure off him at times."
While there is scope for growth due to strong and steady demand, Shane believes that the difficulty in securing quality drivers could make this unviable for the time being: "We're happy at the size we're at," he states. "Getting good lads is an issue and there are no young lads coming through. Insurance has become a major factor too – it's a huge bill every year.
"It would be no problem growing because the work is there but the big issue is drivers and insurance. Fuel has gone up dramatically too and there's nobody speaking out about it. Rates aren't going up. Margins are tight so you are forever looking at ways to unlock more and more efficiencies.
"To this end, we recently started getting our parts off Jim at Callan Truck Parts in Kilkenny and he is very reasonable. He always gives us a very good deal. We also have been dealing with Pat Hickey truck and Trailer Parts in Limerick for many years."
Most of Kieran Kelly Haulage's work is within the Banner County and they are always on the look-out for new opportunities There's a lot of paperwork in their line of business and everything has to be documented.
Down through the years, Kieran Kelly Haulage have been regular participants and award winners at truck shows nationwide. Unfortunately, that hasn't been possible in 2020 or 2021 but Shane is hopeful that a return might be possible sometime soon: "You'd definitely miss them," he concludes. "With Full of the Pipe in Punchestown, Waterford and Dualla all coming close together, you'd always have that little bit more incentive to keep them polished and gleaming. But we'll keep them all as fresh as we can in the meantime and hopefully the shows will be back next year."
Kieran Kelly Haulage Ltd.,
3 Glassan,
Ennis,
County.Clare
Tel: 065 689 3012
Mobile: 087 259 9280 / 087 266 5116
Email: [email protected]
Web: www.kierankellyhaulage.com
Published in Irish Trucker & Light Commercials magazine, October/November 2021, Vol 24 No 6