Bob Lanigan & Son Ltd marks 15 years
17/12/2021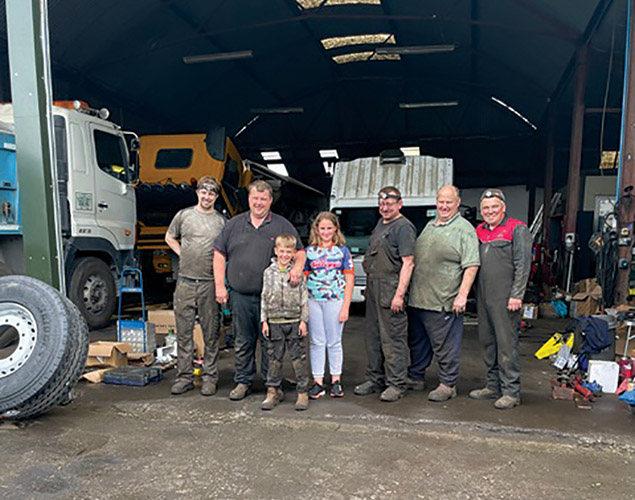 Based in Gowran, Co Kilkenny, Bob Lanigan & Son Ltd provides repairs in any make and model of trucks and trailers, full diagnostics and a 24-hour breakdown service. Irish Trucker spoke with Paddy Lanigan recently to find out more about this family-run company – from its origins to the state of business today.
Business is good these days at Bob Lanigan & Son Ltd and the plan for father and son duo Bob and Paddy Lanigan is to try and keep things that way right through to 2022.
Established 15 years ago, the company has grown a reputation for its excellent work and service to customers over the years.
Right now, the business operates with six full-time staff from its premises in Gowran in the east part of Co Kilkenny and the hopes are to expand as it continues to get busier.
Irish Trucker touched base with Paddy Lanigan to hear all about this thriving family business in the Marble County.
"We're over 20 years at it now and the business itself was established as a limited company since 2006," he outlined.
"My father and I run the company and my mother Margaret and wife Christina are also involved, so it's very much a family business here.
"We have five mechanics working full-time and one in the office and, basically, we repair all trucks and trailers – any make and model. We also do full diagnostics, brakes, a 24-hour breakdown service and have been doing TEXA diagnostics for four years now."
Formed in 1992, TEXA is a world leader when it comes to the design, development and production of multibrand diagnostic tools, exhaust gas analysers, air conditioning recharge stations and telediagnostic devices for cars, bikes, trucks, boats and farm machinery.
It has a global distribution network and, since 2017, Bob Lanigan & Son Ltd has been providing TEXA diagnostics for its customers in Ireland.
The father-son company has earned a reputation for a reliable and efficient service down through the years and it continues to grow.
It had been the vision for Bob Lanigan when he first took the decision to go out on his over two decades ago.
Back then, he had been working as a mechanic and felt there was a niche in the market for his own trucks and trailers repair business.
"He started out working for Nolan Transport as a mechanic and, after a few years there, he went doing work for timber trucks," Paddy explained.
"After a while, he got into this business and I joined and it just grew from there working with our customers and the breakdown service really took off.
"Right now, we have a Ford Transit on the road which is mine and I do a lot of the breakdown services for the business."
This past year was one like no other for businesses nationwide as a result of the Covid-19 pandemic and the government lockdowns which followed in order to try and combat the spread of the virus.
Like so many, Bob Lanigan & Son Ltd were forced to shutdown during the Spring of 2020 although, as Paddy explained, the company's 24-hour breakdown service would still be available to customers.
Since the start of this year, the family-run company has been as busy as ever and its workforce is putting in the hours to ensure that customer demand is met week in, week out.
"It (business) has been very good lately, I have to say," said Paddy.
"It definitely had its ups and downs along the way but the last six or seven months have been very busy for us, so we can't complain."
"During the first lockdown the business was closed for six weeks but we kept the breakdown service open as it was deemed essential and it helped carry us through. Now, we're as busy as ever."
So, the burning question is what has been the secret to Bob Lanigan & Son Ltd's growth and success over the past decade-and-a-half?
According to Paddy, honesty with customers coupled with a quality service goes a long way in this game.
"We do work long hours here but, in saying that, we're not afraid to say 'no' either because if we can't do it for a customer, we're not going to waste their time," he said.
"We usually can though and I think that, along with just giving a good service, is something that they appreciate."
Looking ahead to the coming months, Paddy is as optimistic as ever for the business he and his family have built together and is even looking at the possibility of expansion via new premises and a couple more mechanics.
All in good time though.
"Hopefully, we stay busy here and expand more if we can," he said.
"Down the line we'd like to try and build a new garage and employ a few more mechanics as well. It's hard to get good mechanics these days but, in saying that, the staff that we have here are really top class.
"Also, our customers are very loyal to us too. We wouldn't be here without them and they've been great down through the years.
"I'd just like to take this opportunity to thank them for their loyal support down through the years."
Bob Lanigan & Son Ltd
Main Street,
Gowran,
Co Kilkenny
Mobile: 087 052 9442
Published in Irish Trucker & Light Commercials magazine, October/November 2021, Vol 24 No 6