Happy 30th anniversary to Pat Gaffey Commercials Ltd!
13/12/2021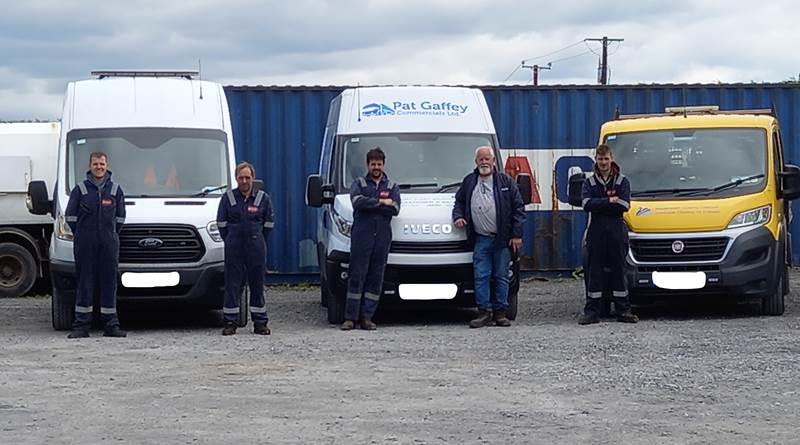 Pat Gaffey Commercials Ltd is celebrating 30 years in business in 2021. Here we highlight the full range of specialist services that the Athlone, Co Westmeath-based company provides to truck, trailer and commercial vehicle operators in their neck of the woods.
Pat Gaffey Commercials Ltd was established by husband and wife duo, Pat and Angela Gaffey, in 1991 and it's no exaggeration to say that it has come a long way from humble beginnings. In that time they have built up a sizeable customer base and they are recognised as a 'one stop shop' when it comes to taking care of your vehicles.
Their son Mark joined the family business full-time in the summer of 2006 and, speaking to Irish Trucker, he revealed: "My father started out by himself but now there are five of us working here. There is myself, my father, Rafal, Robert and Aaron. All of the lads are fully qualified and experienced in vehicle repairs and diagnostics.
"Rafal is fully qualified in auto electrics and is always ahead of the curve with regards to new technology and advancements in electrical works and maintenance, he does all the electrical repairs, starters and alternators and diagnostic fault finding on the vehicles.
"Robert and Aaron have a keen eye for detail and are always coming up with new ideas and different approaches to problems and finding new solutions to save time and cut cost for the customer whilst still providing a safe and reliable service. We are a close-knit team who are always willing to give anything a try and we're determined not to let it get the better of us."
From repairs and servicing through to recovery and roadside repairs, Pat Gaffey Commercials also offer onsite servicing which amounts to valuable time and, of course, money saved by their customers. Simply put, they maintain all vehicles to a very high standard of repair.
"Our main focus is light and heavy commercial fleet maintenance while we also maintain and service plant machinery, provide diagnostics and troubleshooting, starter and alternator repairs, pre-DOE checks and RSA maintenance records, 13 week inspections and we also provide maintenance and repairs for tractors and cars."
On the milestone of reaching 30 years in business, Mark added: "It's a great achievement, we're still going strong and every day we are trying to come up with new ideas to expand and develop, we operate out of a fully equipped garage while also providing a breakdown service.
"The van is fully kitted out with a compressor, onboard diagnostics and all the gear required to do what we need – on site servicing for plant and breakdown cover for any customer that gets stuck. We provide a 24/7 breakdown service."
Businesses don't survive three decades unless they are doing something right and, of course, without the unwavering support of loyal customers. Mark expressed the company's gratitude to the repeat customers who have stuck with them through thick and thin.
"Business is good at the moment, we're always trying to gather up a bit more but we're always kept going. Some of our main customers would be Dermot Nally Stone Ltd and McCormack Haulage Services. Off the top of my head, I'd say we have been working with Dermot Nally Stone for the last 30 years and I'd say McCormack's the last 25.
"We also have the maintenance contract for Westmeath County Council as well, where we service and repair a variety of their heavy and light vehicles. We also provide repairs to plants and trucks for Des Nally Developments and J & P Logistics, and various other customers."
The provision of a comprehensive service is the cornerstone on which Pat Gaffey Commercial Ltd's enviable reputation has been built during the course of the past 30 years. They appreciate that time is money for their customers so they aim to get their vehicles back on the road as quickly as possible.
"We pride ourselves on our timely service," Mark outlined. "We always try to get a vehicle back on the road as quickly and as safely as we can and at as reasonable a rate as we possibly can do. We don't like to see any customer stuck."
Looking ahead to what the future may hold for Pat Gaffey Commercial: "There is scope for further expansion, and we intend to expand further in the future. You always have to be able to try new things."
To find out more about the range of services that Pat Gaffey Commercials Ltd provide to their valued clients, feel free to contact Pat or Mark and the team.
Pat Gaffey Commercials Ltd
Cloonbonny
Athlone
Co Westmeath
Tel: Pat 086 247 7744 or Mark 086 198 8502
Email: [email protected]
Published in Irish Trucker & Light Commercials magazine, December 2021/January 2022, Vol 24 No 7