GMC Grab Hire Ltd fleet gets a "fantastic" new addition 
09/12/2021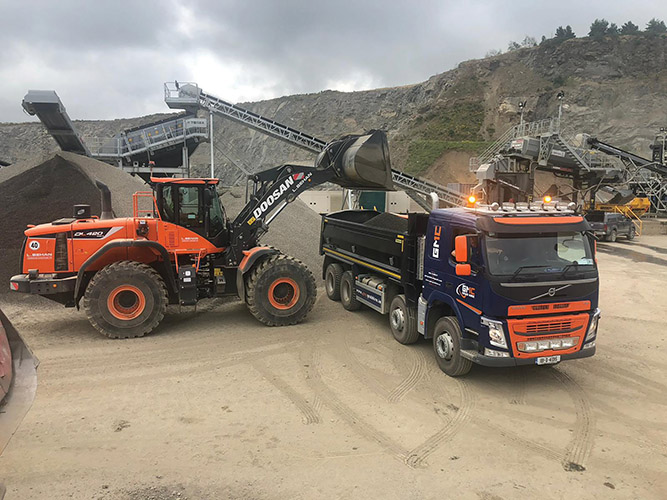 Based in Rathcoole, Co Dublin, GMC Grab Hire Ltd offers its customers a wide range of services, including grab hire and haulage, and is renowned for its affordable pricing and excellent customer service. Irish Trucker caught up with Managing Director Gary McCormack to find out more about this this thriving business in the capital and the latest addition to its fleet.
Business is good these days at GMC Grab Hire Ltd and the plan for its owner and founder Gary McCormack is to try and keep things that way right through to next year.
Employing nine full-time staff, the company operates in Windmill Hill, Rathcoole, Co Dublin and currently has six trucks on the road.
Its services include grab hire, haulage, site clearance, mini-digger hire and stone/sand supply.
Irish Trucker touched base with Gary recently to hear all about the state of business at the moment for the company and its new and impressive addition to the fleet, a Renault C430 Grab Truck (Crane Model Epsilon M125L) supplied by Palfinger Ireland.
"We added the new Renault in March and it had been ready in January but, with the lockdown, we didn't bring it in until March," he outlined.
"It's a fantastic truck and we've a full maintenance contract with it, so we've been very happy with it so far.
"In the last 12 months, we've also added a couple of new mini-diggers as well and making sure the machinery is up to date is something we've focused on here from the beginning."
Established in January 2016, GMC Grab Hire Ltd is known for its reliable service and affordable pricing, something which has stood to the company over the years.
They have built up a strong client base in the space of five short years and that continues to grow year on year.
The company is also fully registered and insured to carry out all work and hold all necessary certs to carry out work.
Right now, business is going strong and it's the intention of all at GMC Grab Hire to keep things that way as they near closer and closer to a return to some sort of normality.
The Covid-19 pandemic, and the government lockdowns which followed in order to battle the spread of the virus, effected businesses right across Ireland but Gary is quick to point out that the construction industry wasn't as badly impacted as others.
"Business is good and we can't complain about how things are at the moment," he said.
"In fairness, the construction industry got off fairly handy with regards to the lockdowns compared to other industries like retail and hospitality sector."
In saying that, GMC Grab Hire did have to readjust somewhat when reopening after the initial lockdown in the Spring of 2020.
"Half of our staff were in and half weren't, so that was something which we had to adapt to because we were doing it in a rotation here," explained Gary.
"We're back to normal now thankfully, supplying all sites and hauling our stone. Other than that, we'd get decorative stone from Windmill Stone beside us here in Rathcoole."
It sees the company supplying quality construction materials such as SR21 ANNEX E products, sand and gravel, top soil and decorative stone; one of the main reasons why clients come to them first.
Indeed, the grab hire service is ideal for those jobs that have limited access, making it perfect for clearing sites, moving stone and more much.
GMC Grab Hire's site clearance service is much-sought after by builders, landscapers and private home owners and the company is able to provide skips where required and will move all types of green waste and building waste.
It has a range of mini-diggers available for long and short-term hire and these are excellently maintained to ensure safety and reliability.
The wide selection of stone on offer ranges from one tonne to 20 tonne loads, with all of it passing rigorous quality checks before it goes out the gates at Windmill Hill, ensuring that it meets the company's high-quality standards.
It's a 24/7 delivery service and you can also choose to collect from the quarry yourself.
All of that considered, it's a competitive business to be in, to say the least, so, the burning question is what has been the secret to success thus far for GMC Grab Hire?
"When we say we're going to be there, we're going to be there," Gary stated plainly.
"We're fast, efficient and always on time. I think it's one of the main reasons why our company keeps growing.
"It's efficient and most of our customers say that the service is great."
Gary himself turns 30 years of age at the end of August and, as that landmark approaches, he remains as keen as ever to continue growing the company and ensure its customers are provided with a service of the highest quality.
Looking towards the months ahead for GMC Grab Hire, the Managing Director hopes that the company itself will maintain the current rate of work it has on at the moment and perhaps make a couple more additions to the fleet for 2022.
"I suppose the hopes for the next few months are that we continue to stay busy," said Gary.
"We'll look at adding another truck or two but, for now, we're happy with the fleet that we have."
He concluded: "I'd like to take this opportunity to thank all of our customers here and the staff as well. The customers for their loyal support over the years and the staff for all their hard work during those years."
GMC Grab Hire Ltd
Windmill Hill House,
Windmill Hill,
Rathcoole,
Co. Dublin.
Tel: 01 6917471
Mob: 086 310 8317
Email: [email protected]
Web: www.gmcgrabhire.ie
Published in Irish Trucker & Light Commercials magazine, October/November 2021, Vol 24 No 6