Fardrum Transport delivers the goods every time
07/12/2021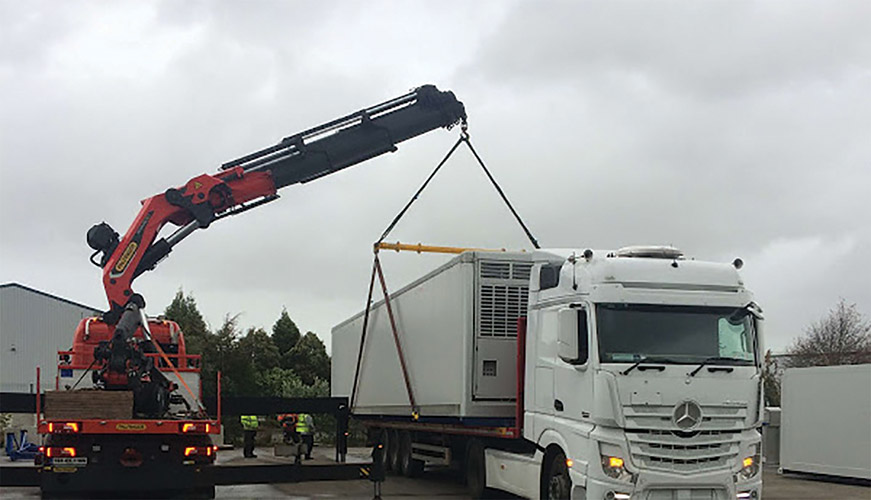 With a versatile, fine-tuned fleet and extensive experience in providing a wide range of haulage solutions, Fardrum Transport Ltd. has been delivering the goods on behalf of an ever-growing list of satisfied customers since its inception in 2012. We travelled to the heart of the midlands and touched base with director Damien Fanning to find out more about this industry-leading, family-run operation.
Over the past nine years and counting, Fardrum Transport has earned a stellar reputation as one of Ireland's most dependable haulage companies. Fronted by Damien Fanning, who runs the family business alongside his father PJ and partner Josie, Fardrum is renowned as a specialist in low loader / heavy haulage but also boasts a proven track record in box body, curtainsider, traction and refrigerated transport.
At the heart of the business is a superb fleet of trucks and trailers. Operating six fresh and immaculately-maintained trucks in conjunction with an assortment of no fewer than 20 trailers, Fardum Transport provides versatile, flexible and customer-focused solutions across Ireland and the UK from their central location in Athlone.
As well as providing a wide range of professional solutions, Damien, PJ and Josie have surrounded themselves with an excellent team. Furthermore, they have a strong network of companies around them who support the business –not to mention the loyal backing of a network of good customers.
The result of all these things combined is that Fardrum Transport – despite being a decidedly modest and humble operation – continues to go from strength to strength: "We are still at it and the business is thriving," Damien confirms. "Like everything else, it has its ups and downs but it's going really well at the moment and we can't complain."
As a low loader specialist, Fardrum Transport can cater for abnormal, wide and high loads, safely and efficiently transporting heavy machinery, lorries, industrial, construction and agricultural equipment (tractors, combines, harvesters, baled straw and hay), cranes, mobiles homes, wind turbines, stone crushers, containers, boats, etc. to and from anywhere in Ireland and the UK. Competitive rates are guaranteed, with storage facilities available and Brexit customs clearance organised on behalf of the client if required.
Damien adapts a hands-on approach to the business and likes to keep himself busy on a daily basis. As a vastly-experienced and fully-qualified mechanic, he looks after fleet maintenance and also drives and helps organise loads alongside Josie:
"I always had an interest in trucks and decided to set the business up in 2012," he reflects. "My partner Josie [McCormack] comes from a strong haulage family and has played a huge role here since the very beginning. She looks after all the paperwork and administration and we'd be lost without her."
As a trucker at heart, Damien takes a massive interest in the upkeep and appearance of the fleet. "I do have a passion for trucks and, to be honest, I'd much sooner buy a quality second-hand lorry and fix it up and keep it in good condition than invest in a brand-new one. This also helps us keep our costs down and we can pass those savings on to our customers.
"It's a real team effort here and everybody plays their part. For example, my stepson comes in every Saturday and washes the fleet, while the drivers are also very good when it comes to looking after everything."
The first truck in the Fardrum Transport fleet was a Scania R500 and Damien's preference for the famous Swedish marque remains very much in evidence today as he runs five Scanias alongside one Mercedes-Benz. "I had Volvo and DAF, too, but I always go back to Scania," he notes. "The latest is a 141-reg, which I bought second hand. I'd look after most of the maintenance and repairs myself but also get some help from the garages around me – especially Gaffey Commercials and Doolan Commercials, who help out with the tail-lifts."
From low loaders to box bodies, curtainsiders and flats, fridges, bulk tippers, skellies, extendable trailers and trailers with tail-lifts, Fardrum Transport have a trailer to suit every need. "We cover literally everything and every trailer has a tail-lift so that the driver can offload himself. We also have dual-temperature and split-door fridges.
"Going forward, I'd like to expand a bit more into the low loader, heavy haulage and abnormal loads side of the business, with cranes, which would require further investment in upgrading the fleet and trailers. That's something we might look at in the future."
Fardrum Transport has grown organically and sustainably down through the years by securing repeat business from a who's who of loyal customers including Masterlink Logistics, Flancare, Palas Foods, McDonnell Engineering, Dessie Nally Civil, Tower Engineering and Irlequip to name just some as well as subcontracting additional haulage work on behalf of McCormack Haulage.
Holding on to long-term customers is achieved by providing unbeatable levels of service… "Everything here is service-orientated," Damien confirms. "When the customer rings, you have to be available immediately to provide the service they want. You need to look after them and to be available around the clock. I can say hand on heart that I have never once turned down a load and I've never been late with a load – that's how it should be. You have to provide the best possible service.
"It helps a lot when you have good people supporting you. We have good people in the office and on the road and we also have unbelievable support from the garages here and the tyre man, Kilroy Tyres in Athlone, who would get up on Christmas morning if you needed him. Kinahan Commercials in Moate is the local test centre, while I also get unbelievable service from Cawley Commercials, the Scania dealer in Sligo. There are so many people who play their part in the success of the business – there are probably at least 20 more I forgot to mention!
"I have excellent customers as well and they give me whatever work they have and look after us, in fairness. There are a lot of people I work for who started out on their own and gave work to me from the beginning and have been with me ever since. That's how it passes on; we have grown together."
As a family-run business, the team at Fardrum Transport strive to provide customers with a personal touch. They are always contactable and make themselves available morning, noon and night. This means long hours and there's no switching off… "It does take its toll on home life as you are working a lot and everybody mucks in and the business comes first. A lot of sacrifices have to be made at home but this is all part and parcel of running a successful haulage business."
Ultimately, everything is geared towards providing exceptional services and this is something that Fardrum Transport has been achieving day in, day out since its inception in 2012. "It's all about providing an efficient, dependable service whilst being fair to your customers," Damien concludes. "We're not into flashy trucks, which might look nice but will only increase your overheads. I believe in a well-maintained lorry that can get the job done. When you know your own lorry from front to back, you know exactly what you have and what it is capable of. Our fleet and people are focussed on one thing – getting the job done!"
Fardrum Transport Ltd.,
Fardrum,
Athlone,
County Westmeath.
Tel: 086 8180933
Published in Irish Trucker & Light Commercials magazine, October/November 2021, Vol 24 No 6