AQS operate one of Ireland's finest specialist fleets
02/12/2021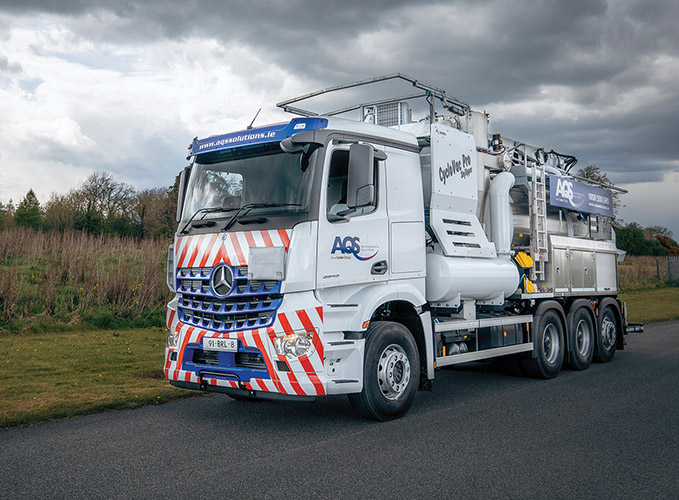 As a leader in the provision of industrial, environmental and drainage services in Ireland, AQS Environmental Solutions operate some of the most advanced and powerful industrial cleaning, drainage and tankering vehicles in the country. We touched base with Head of Operations John Fahey to discuss some of the latest additions to this fantastic specialist fleet.
AQS Environmental Solutions is one of Ireland's leading industrial, environmental and drainage services providers, delivering industry-leading solutions to a who's who of manufacturing facilities, local authorities, healthcare providers, utilities, infrastructure and pharmaceutical companies nationwide. Every day, they are trusted to safely and effectively deliver a diverse range of services – from sewer cleaning to largescale industrial cleaning projects.
At the heart of the operation is a magnificent fleet of specialist drain cleaning / industrial services machinery and equipment, each one operated by vastly-experienced and highly-skilled personnel. By having the best trucks and equipment at their disposal, AQS can invariably deliver exceptional service to customers, completing challenging projects safely and sustainably.
In April, they took delivery of a second KOKS CycloVac super suction unit, which boasts unrivalled power for cleaning of liquids, heavy sludges and dry material from tanks and large pipes without the need for confined space entry. The KOKS CycloVac Pro ticks all the boxes, with its array of impressive features including: suctioning of solids as well as liquids; 8,100 m3/h tri-lobe blower; self-cleaning cyclone system; ADR approval; air compressor to push out the liquids; high tip and outriggers for safely discharging into skips and slim bags; remotely controlled suction boom with a 270 degrees rotating angle; high pressure water jetting pump; and hydraulically hinged bumper for maximum operator comfort.
AQS Environmental Solutions currently operate 25 advanced vehicle-mounted jetting and vacuum units and are continuously upgrading and expanding their fleet, which also includes ADR Bucher Flexline combined suction and jetting units; LN 200 DISAB super suction units; articulated vacuum tankers for liquid waste haulage; Bucher combined suction and jetting water recyclers; and Bucher combined suction and jetting units
"We have 25 trucks at the moment," notes John Fahey, Head of Operations. "You have to keep investing in the fleet in order to offer the best possible service, which you can obviously improve by running more-efficient and environmentally-friendly vehicles.
"Our equipment is uniquely specified to our own requirements. Everything is customised to order and we source a lot of equipment from Denmark and Holland. An order can take up to 14 months to complete due to the specialist nature of each vehicle. You have to be planning ahead and we have next year's orders in already.
"The new ADR-spec KOKS high-vacuum industrial cleaner is on a new Mercedes chassis and we've also added a new Renault T High T480 truck this year as well as two specialist ADR tankers from Rothdean in the UK. When you are providing such a wide range of services 24/7 to customers countrywide, including local authorities, Irish Water, energy and utility companies, the waste sector, cement plants and pharmaceutical companies, etc. – as well as unblocking drains and emptying, cleaning and desludging septic tanks for domestic clients – then it is vital that you invest regularly in your fleet and in your people."
Indeed, as with any company that operates at the cutting edge of the market, embracing new technologies and striving at all times to improve their services, AQS have built up an exceptional team of operatives. Their professional team includes Health & Safety officers, civil engineers, transport managers, environmental scientists and finance managers, while their drivers – many of whom hold Haz-Chem licences - are more than just drivers. To the contrary, they are charged with carrying out a number of duties and are highly trained in each discipline.
"We have over 50 people working here at the moment and these individuals are central to the success of AQS Environmental Solutions," John notes. "We are running our own Driver Training Programme in-house and we are always on the look-out for suitable experienced and highly-skilled drivers."
AQS seek to employ people not only with the necessary skills but also with the right attitude. The entire AQS team is dedicated to setting high standards and getting personal satisfaction and career rewards from going that extra mile for customers.
Training is an essential part of the business and all personnel are competent, safety conscious and confident in undertaking their daily tasks. The in-house training programme includes confined space entry, manual handling, driver CPCs, CSCS cards for operation of plant and equipment, and continuous professional development for office personnel.
As daily activities can pose Health & Safety challenges to staff, including entry into confined spaces, operation of large machinery, manual handling, driving, handling a wide array of products and chemicals and general physical work, AQS mitigate these risks by creating a culture of safety first and providing a platform within the company for open communication, continuous training, and making sure that the best available safety systems and equipment are utilised at all times.
From bases in Kilkenny, Dublin and Cork, a comprehensive range of drainage, tank cleaning, reservoir cleaning and repair, decontamination and decommissioning, bund repairs, testing and rehabilitation, industrial cleaning, emergency response and waste management services is provided to some of the most important and safety-critical businesses and public organisations in Ireland, including customers from within the pharmaceutical, water and wastewater, power generation, facility management, heavy industrial, dairy and food manufacturing, septic tank cleaning and construction industry sectors as well as local authorities.
Over many years, AQS are pleased to have built a reputation as one of the most capable and trusted specialist industrial, utility and environmental services companies in Ireland. This has been achieved by setting high standards and delivering the very best customer service.
A key attribute of AQS Environmental Solutions is their ability to react swiftly to enquiries and undertake all jobs, big and small, in a timely but properly planned and efficient fashion. The operations team utilises fleet tracking systems and SAP provides the system support, from initial enquiry to generation of final invoice. They also operate a fully-manned 24/7 emergency call-out support line.
AQS strives to consistently provide services that meet or exceed customer and regulatory requirements. Their ISO45001 and ISO 9001 accreditation and resulting integrated QEHS management system focusses on industry specific safety led and customer led works processes and enables the company to seamlessly adapt to changes in the marketplace, be this through adopting new technology or adapting to updated Health & Safety requirements or changing environmental standards.
While the business is performing well at present, John admits that there's no room for complacency: "It's going well and we've had a busy year so far. We were lucky in that we were able to remain busy the whole way through the public health restrictions. We had to introduce new protocols and put on extra vans so that lads could travel separately but it went well for us and it's all part of doing business these days.
"The vast majority of our work comes from repeat business but we are also constantly adding new customers. We like to think this is because we provide a good service promptly and professionally, using the best equipment, experienced men and with the emphasis on quality."
Having the word 'environmental' in the company name is no mere token gesture as AQS Environmental Solutions take their environmental responsibilities extremely seriously. "It's a big part of what we do and we are firmly focussed on remaining as environmentally-friendly as possible," John confirms. "For example, we take as much waste as possible to waste to energy plants and anaerobic digesters. We ensure waste generated is treated as close to the source as possible, saving fuel and reducing carbon footprint. Fatty Wastes from the dairy sector generates heat and electricity and eliminates odour nuisance and pollution potential from more conventional disposal options. It also generates an excellent stabilised and odour free digestate. Our Recycler lorries that carry out continuous water jetting use significantly less water. This resource efficiency has a positive impact on the environment and that is the sort of result you are always looking for.
"It takes years of hard work to get to where AQS are today," the Head of Operations concludes. "Ongoing investment in the business has been huge and you also need to have foresight and vision and a clear understanding of where you are going. As the Irish division of the Lanes Group – the largest utilities company in the UK, with around 2,000 employees – we have great back-up and support from our parent company and that leaves us on a very firm footing going forward."
AQS Environmental Solutions,
Castletown,
Galmoy,
County Kilkenny.
Tel: 0504 57800
Email: [email protected]
Web: aqsenvironmentalsolutions.ie
Published in Irish Trucker & Light Commercials magazine, October/November 2021, Vol 24 No 6