Billy Moran & Sons celebrates 21 years
30/11/2021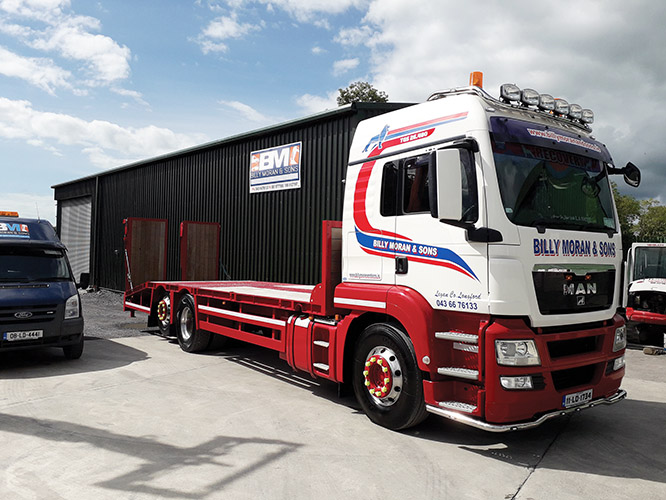 Celebrating 21 years in business, Billy Moran & Sons Ltd in Legan, Co. Longford is a one-stop shop for all your plant sales and servicing, roadside assistance, pre-CVRT inspection and repair needs.
From a small garage in the heart of Ireland, the family-business has grown into a specialist machinery / large excavator sales and service facility. Along with their machinery services, the Moran's offer pre-CVRT and full breakdown services for commercial vehicles as well as pre-NCT for cars and general repairs and servicing of private vehicles. Full diagnostics are available for all vehicles and machinery.
Billy Moran started the business as a sole trader in October 2000 before forming a limited company three years later. Joining him in the day-to-day running of the company are his son James and daughter Avril. Another son, William, was also involved before becoming a continental truck driver.
In 2004, Billy built a state-of-the-art workshop beside the family home in Legan and added an extra bay for articulated trucks in 2012. Over the years, the company has built up a large local customer-base which includes Kiernan Structural Steel, Midland Irish Peat (Klassman Deilmann), Ankerland Construction, Joe Quinn Transport, Longford County Council, Derrymore Peat, Damien Gannon Roofing, Lakeland Tarmac & Civil Engineering, White Trailers, JMS Hire, Kenny Plant and Johnny Keenan Plant Hire.
"Plant sales account for 50% of our business," James Moran explains.
"We initially specialised in plant sales and servicing before expanding into commercial, 4x4 and car sales and servicing, pre-CVRT and NCT, recovery and roadside assistance, computer diagnostics and GATES hydraulic hoses made to order.
"During the recession, plant sales collapsed and we had to concentrate on our other services. With the economic recovery, however, came a resurgence in plant sales. It's what we're best known for."
Billy Moran & Sons is committed to providing a professional and value-for-money service to meet the growing requirements of its customers along with knowledge and understanding of the industry that will ultimately benefit them. A comprehensive range of quality used plant is stocked at all times, with the company having an excellent reputation for sourcing high-quality used mini-diggers, large excavators, track machines, telehandlers, forklifts and scissor lifts.
"We stock all the leading brands, including Hitachi, Kubota and Kobelco diggers and 360 degrees track machines, JCB telehandlers and Genie scissor lifts. Our diggers range from 2.8 tonne up to 13 tonne," James continues.
"Our strong relationship with many reputable dealers in the UK allows us to source any size of machine to suit a client's specific needs and budget. All our stock is HPI-checked for customer peace of mind and protection. We do a full background check if we're buying from a new source.
"We insist on carrying clean, original stock which isn't freshly painted. You're taking the originality from the machine if you paint it or try to camouflage it. What you see is what you get! All stock is sold with a warranty and full-service history. We can also source new machines from main dealers. We still sell a small number of cars and vans, but not on the same scale as we used to.
"The customer comes first with us and we're always available to deal with their queries."
Billy Moran & Sons has met the challenges posed by Brexit and Covid-19 head on, and continues to go from strength to strength.
"While Brexit has led to longer delays, extra duties and tariffs and made good, clean stock harder to come by, it hasn't held us back and neither has Covid, which hasn't really had an adverse effect on the sectors we deal with. We've sold machinery all over Ireland and are fortunate to have so many loyal customers."
Furthermore, the family-business provides a mobile mechanical breakdown service to get you back on the road as quickly as possible. They have a MAN 6x2 rigid truck with a beavertail body dedicated to breakdown recovery as well as to the collection and delivery of stock. They also run a MAN tilt and slide and two service vans for repairs on location.
Billy Moran & Sons can service and repair everything from cars and commercials to trucks, excavators and tractors, offering a top-class vehicle diagnostic and inspection service. The company's pre-CVRT and NCT checks will ensure your vehicle passes its test with flying colours.
James concludes by saying: "We would like to take this opportunity to thank all our customers and suppliers for their continued support, and look forward to dealing with them well into the future."
Here's the next 21 years of this highly-regarded Longford-based company!

Billy Moran & Sons Ltd
Clontymullen,
Legan,
Co. Longford,
N39 X754
Telephone: 043 6676133
Mobile: 086 8127597 / 087 9777595
Email: [email protected]
Website: www.billymoranandsons.ie
Published in Irish Trucker & Light Commercials magazine, October/November 2021, Vol 24 No 6