Dermot Glennon Ltd. putting people first
25/11/2021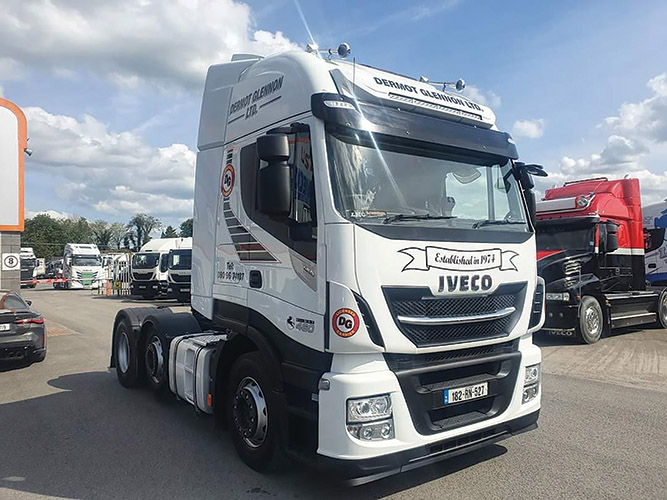 Dermot Glennon Ltd. is an industry-leading, family-run general haulage business that has been delivering unrivalled services nationwide for coming up on half a century. A policy of invariably putting people first was instilled by founders Dermot and Rosaleen Glennon when the business was established in 1974 and – as Irish Trucker discovered when speaking with their daughter Denise - this approach is still very much evident today.
Operating out of a central location at Cloonfad in County Roscommon, Dermot Glennon Ltd. is one of Ireland's longest-established and most trustworthy haulage contractors. For 47 years and counting, this superb family-run business has been offering a friendly, professional nationwide general haulage service with all deliveries guaranteed to arrive at their destination on time every time.
Dermot was an owner operator for many years before he became incorporated in 1974 and over the years most of his six children have worked in the company in some capacity with three remaining in employment now.
While a fresh and immaculately-maintained fleet of eleven artics and rigids literally keeps the wheels turning at Dermot Glennon Ltd., it is people who provide the real story behind the success and ongoing viability of this exceptional family business. Speaking to Transport Manager Denise Flood - daughter of the eponymous Dermot and his late wife Rosaleen – it doesn't take long to realise that the personal touch for which Dermot Glennon Ltd. are renowned near and far had been born out of a deep respect for and appreciation of the importance of people.
"You need good people around you and – no matter how good you are at your work – you probably need a little bit of luck too," Denise notes. "When it comes to people, we are lucky as we not only have great customers but also great staff and the support of many others for maintenance, parts and all the supports that keep the business moving. My mam and dad started this story in 1974 and many others have contributed to that story down through the years, each of them vitally important.
"At the moment, we employ ten full time and one part-time worker – they are our greatest asset. The importance of our drivers, old and new, cannot be over emphasised. We would not be here without them or the years of hard work by Dermot Snr, Rosaleen and Dermot McGuirk. We are extremely lucky with the staff we have. We try to maintain a family environment in the company at all times and we make sure everybody on the payroll knows how important they are and what we think of them."
To say that family values run deep at Dermot Glennon Ltd. would definitely be an understatement. When the business suffered a massive double blow in 2013 / 2014, everybody pulled together commendably under the most difficult of circumstances to make sure the family business continued to move forward
"Sadly, Mum passed away in 2013 and that was when I took over in the office with help from my brother, Dermot Jnr.," Denise reflects. "Dad is still here and it's brilliant to have all those years of experience behind you. His presence is invaluable and you couldn't measure how much he has invested into the company. Losing Mum was a huge blow and then, eleven months later, we also lost driver Dermot McGuirk, my brother-in-law, who was also an extremely popular member of the team. Dermot McGuirk was much loved not just within the business but also by our customers."
In many ways, the business that exists today is a tribute to Rosaleen and Dermot McGuirk: "It's fair to say that they were both much loved and well liked. In a way, you feel that you have to keep the show on the road to keep them proud. It's part of their legacy. They put the years in and you don't want to let them down."
With a proven track record for achieving complete customer satisfaction through the provision of fast, reliable and efficient haulage services, Dermot Glennon Ltd. take immense pride in providing all clients with a first class service from start to finish. From collection through to delivery, their fully trained and friendly staff deliver the goods every time!
"We've just taken on a young driver and O'Leary Insurance have been very good to us with that," Denise continues. "Bringing in young drivers isn't easy there is a great time and financial investment in younger drivers who may then move on to other projects, which has happened in the past. At the same time, you have to place some trust in people and hope that they will stay with you."
Dermot Glennon started out with a Hino lorry in 1974 and today runs a mixture of DAF, Scania and Iveco – a combination of artics, rigids with HIABs and curtainsider rigids. A prompt and competitive container haulage service (from 20ft containers to 45ft) is available from every major port in Ireland.
The fleet is constantly being upgraded and replenished, the most recent addition being a stunning 182-reg Iveco Hi-Way 460 purchased from Longhaul Commercials in April. "For both value and efficiency, we like to source good-quality second-hand trucks," Denise reveals. "We're forever improving the fleet. We're trying to get everything up to Euro 5 / Euro 6 standard whilst also making sure that everything is suitable for the work we do.
"It goes without saying that you have to keep them all in the best condition possible in order to eliminate breakdowns and to keep your customers happy. We do a small bit of mechanical work ourselves but Noel Feighery in Cloghan handles most of the technical work and Garahys Garage in Birr looks after the CVRT tests."
Dermot Glennon Ltd have a longstanding friendship and working relationship with Casey Trailers who repair and refurbish trailers for the firm. The Roscommon company have purchased a new PSK trailer from Dennisons, with whom they also have a longstanding excellent working relationship.
By providing unrivalled service levels, Dermot Glennon Ltd. have been able to hold onto a diverse range of loyal customers down through the decades. These include local hardware stores Barretts of Ballinasloe and Garveys in Roscommon, Easyfix Rubber, RackZone, Victor Stone, McKeon's Sand & Gravel, RMD Quikform, Shannonbridge Pottery, PD Contractors, Curtis & Lees, Door Works, Banagher Concrete, BG Freightline, Cahill Enterprises, Greenes of Ahascragh, Curley Memorial, Davoren Plant, Dovista Rationel, local builders Paul Flynn & Sons and T Connolly & Sons as well as subcontracted work for Whitten Road Haulage.
"You have to provide a diverse range of services to remain in business," says Denise. "We're lucky to have very loyal customers and we are more than happy with them. You look after every customer and every load – even if it's only one load a month, you still treat it as an absolute priority."
Fortunately, the public health restrictions introduced in response to the Covid-19 pandemic have not impacted upon the business detrimentally. "We were without Barretts and Garveys for twelve weeks during the first lockdown last year but we came back strong after that and I'd say we are busier than ever at the moment."
As for the key to Dermot Glennon Ltd.'s success over the past 47 years, Denise confirms that it all comes down to looking after customers and their products: "You try to be honest at all times and you work with customers to give them exactly what they want. Communication is a big part of that. You get the right instructions from them and then you carry those out quickly and efficiently. You make sure that everything is done right. You have to be flexible and be able to work around your customer. We have years of experience and it's second nature to us now … we just do our jobs and do them to the best of our ability."
Almost five decades after Dermot and Rosaleen Glennon set the business up from humble origins, the signs are encouraging that there are a few more chapters remaining to be written in this particular success story. "With the consistency and the variation in our work – which has become much less seasonal – it looks like we might be able to grow the business going forward," Denise concludes. "It's not easy to get drivers but we do feel there is scope for expansion. We have a few extra customers on board now giving us regular work, so things are looking up."
Dermot Glennon Ltd.,
Oldtown,
Cloonfad,
County Roscommon.
Tel: 090 9674187
Email: [email protected]
Web: dermotglennonltd.ie
Published in Irish Trucker & Light Commercials magazine, October/November 2021, Vol 24 No 6