Busy times at Commercial Spare Parts
23/11/2021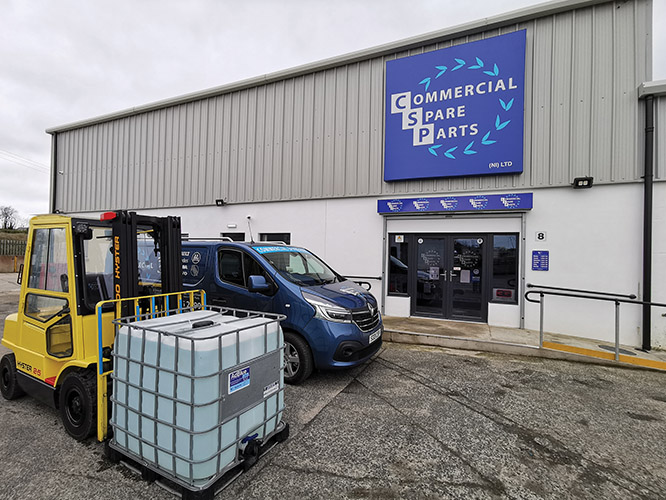 Based in Portadown, Co Armagh, Commercial Spare Parts specialises in supplying replacement parts and the relining of brake shoes for trucks and trailers in the area. Irish Trucker touched base with founder Graham Sergeant recently to learn all about the ins and outs of this thriving business.
These are busy times at Commercial Spare Parts and the plan for Graham Sergeant and the team up in Portadown, Craigavon, Co Armagh is to try and keep things that way right through to 2022.
Established 16 years now, the company has grown into leading distributors to independent end users and fleet operators in the commercial vehicle industry.
Today, Commercial Spare Parts offers its customers more than 30,000 plus parts featuring some of the most well-known brands in the industry.
Irish Trucker spoke with Graham Sergeant recently to find out all about the company – from its move into a state-of-the-art premises in recent years to the current state of business today.
"Right now, we're operating with 10 staff, two of them part time," Graham outlined.
"We moved into the premises we're at now in November 2019 and it's a 11,000 square foot facility with a 2,500 square foot workshop.
"It's based at Unit 8, Ballyworkan Business Park, 148 Mahon Road, Portadown, Craigavon, Co Armagh."
With its workload growing, the move at the end of 2019 made sense business-wise for Commercial Spare Parts in order to meet the high customer demand.
After all, service to customers has been paramount to the company since 'Day One' and they continue to offer a first-class delivery service, backed-up by superb technical support, range and availability.
Right now, business is booming, according to Graham, even in the midst of a global pandemic.
"Because of the effect to the haulage industry, we have been very busy here," he outlined.
"We're taking on another member of staff here soon and we also added two new Renault Traffic vans in March.
"We bought them from Shelbourne Motors which is literally right beside us here. We actually done the deal with the founder of Shelbourne Motors' grandson and it puts the number of deliver vehicles in the fleet up to four."
It's not the only horizon which Commercial Spare Parts is expanding, with the company's break re-lining workshop especially business these past couple of years.
As Graham himself puts it, "The last three years has really seen it take off for us" and the hopes are that the trend will continue for some time to come.
Business is good and the company is evidently expanding, with the move to Ballyworkan Business Park clearly proving a successful one to date.
So, what has been the secret to success for Commercial Spare Parts over the past decade-and-a-half?
According to its founder, attention to detail is crucial when it comes to this line of work, as well as meeting customer demand with an excellent service.
"I'd like to think that we keep a close eye on the many things that we have going on here and that we remain competitive when it comes to the service that we provide," said Graham.
"We pride ourselves on our service here and always have done."
It's that impeccable service which has seen Commercial Spare Parts establish such a strong working relationship with United Aftermarket Network (UAN) for the supply of key commercial vehicle components.
The company is one of a burgeoning group of over 30 UAN members in the UK which specialises in the supply of CV replacement parts.
Along with being a member of the UAN, Commercial Spare Parts is also a part of the Federation of Small Businesses and ensures their customers of a quality service and providing them with all spare parts.
These include brake re-lining service, brake drums, discs and pads, air springs, air brakes, clutch, axle parts, turbos, oil filters, air filters, hydraulic filters, lighting and mirrors.
Sales are strong at the minute even off the back of government lockdowns both sides of the border brought in to combat the spread of Covid-19.
The plan for Graham and his team is to keep business going strong and continue the company's growth as they edge closer and closer towards 20 years in business.
Ever the optimist, Graham himself sees no reason why Commercial Spare Parts won't continue to move forward and grow in the months and years to come.
"I don't see any reason why we won't continue to strive. We are very hopeful for the future here," he stated.
"That's the way I feel, so looking at the next couple of years I see no reason why the company won't continue to strive and expand going forward."
Commercial Spare Parts are wholesale stockists and distributors for a wide range of truck and trailer parts.
The Co Armagh-based business supplies trade and end user companies across UK and Ireland. Next day delivery is offered on all parts.
For details of product ranges and brand stocks customers are asked to contact the main depot in Portadown (see details below).
Commercial Spare Parts
Unit 8, Ballyworkan Business Park,
148 Mahon Road,
Portadown,
Craigavon,
Co Armagh
BT62 3SF
Tel: 028 3835 2299
E-Mail: [email protected]
Published in Irish Trucker & Light Commercials magazine, August/September 2021, Vol 24 No 5