CJS Transport as dedicated as ever
11/11/2021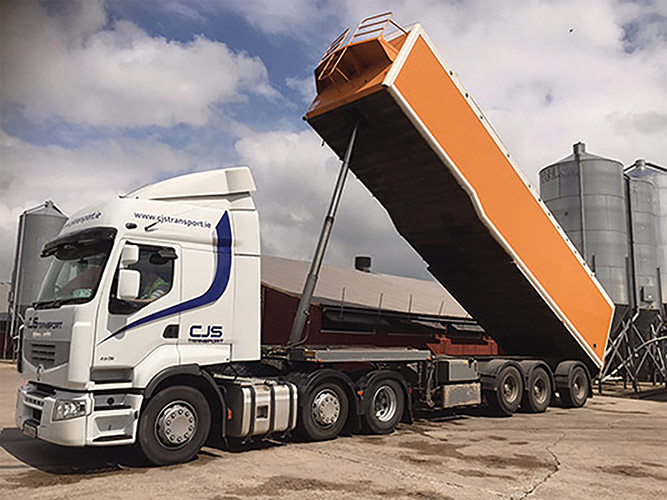 Five years have passed since we called to the doors of CJS Transport to have a chat about the business, so we thought it was time to renew acquaintances and see what changes had been made in those intervening years.
The Garristown, Co Meath based haulage company has been dedicated to its core business since it was formed in 2013 and we spoke to company managing director Cathal Caffrey.
CJS Transport are focussed on looking after their customers and they know that it is crucial to invest in the business. That is why they have added three new Renault T480 trucks to their fleet. This brings the fleet up to eight trucks in total, seven of which are Renault and one MAN.
"We have the lorries out working and that is the main thing. The fleet is fairly fresh as the trucks range from 2020 to 2013," said Cathal.
"We have added two more trucks on the road in the last couple of years. Our customer base is much the same, but we would be doing extra work with those that we are with."
The history of the company dates back way before 2013 as Cathal and his brother John are the third generation of the family to be involved in the business with father Sean still 'patrolling' the yard from time to time.
"It is very much a family run business as myself, John and our brother in law Simon Lenehan formed the business, while my sister Julie looks after the accounts. Our father is in his seventies, but that doesn't stop him from helping out from time to time and his experience can be invaluable at times."
Of course, the business would not be where it is today without a dedicated team of drivers and Cathal admits that they are fortunate in this department.
"The majority of the drivers here would be very experienced at what they do. They have been driving for years and their wealth of knowledge behind the wheel is invaluable. They are the heartbeat of the company and they are the ones meeting our customers on a daily basis."
Cathal revealed that sourcing new drivers is an issue that has hampered not only themselves, but the haulage industry in recent years.
"There are a shortage of drivers out there. There are not many young lads or women taken on this type of work as a profession and one of the main reasons for that is it is virtually impossible to get insurance for them.
"You nearly have to be over 25 before any insurance company will entertain you and by then many people have chosen other career paths. The insurance costs are something that need to be addressed as they just seem to be steadily rising all the time, regardless if you had a claim or not."
However, the biggest bill for Cathal and the guys is the price of diesel, which has always topped the pile when it's come to weekly expenditure.
"Diesel prices are very volatile, and at the moment and the price is up and down a lot. It is a significant outlay, but apart from getting the best out of the trucks, fuel wise, there is not a lot else that we can do about it."
One area that they have been able to save is maintenance, which is kept in-house, and this not only saves money, but it means less downtime also.
"Simon looks after all the maintenance and if there is a problem, it is fixed straight away. Any of the trucks that are not under warranty are well maintained by us to ensure that we avoid any unnecessary problems.
As a very much general haulage operation, CJS Transport provide their services across an array of industries and Cathal admitted that expansion is something that they are willing to explore.
"The main drawback for us in regard to expanding the business is the lack of drivers. If we could get good qualified drivers then we would add more trucks to the fleet, but at the moment, we are happy with the direction of the business.
"We are very customer driven and it is all about them at the end of the day. We feel that we provide a very good service and the fact is that if we didn't then they would take their business elsewhere and that is just the nature of the industry."
There is no doubt that CJS Transport are here to stay and their drive and willingness to go that extra mile for their customer sets them apart from their competitors. Between the founders, there are many years' experience in the company and this is combined to offer the best service possible.
Contact Details:
CJS Transport Ltd
Bartramstown
Garristown
Co. Meath
Mob: 083 1704910
Email: [email protected]
Published in Irish Trucker & Light Commercials magazine, August/September 2021, Vol 24 No 5