Clonfadda Commercials - one of the best for mobile Volvo diagnostics and repairs
09/11/2021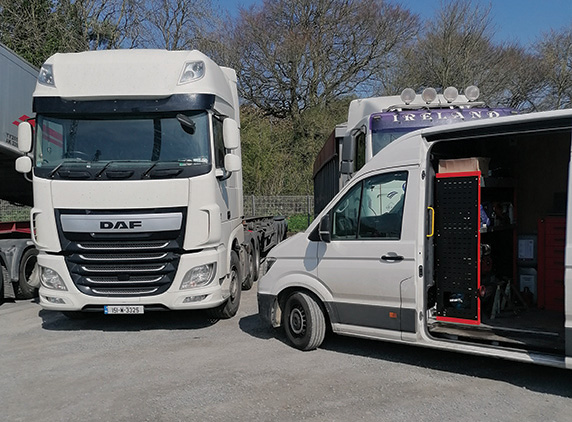 Based in Fenor, County Waterford, Clonfadda Commercials has earned a stellar reputation as an industry-leading mobile diagnostics and technical repairs specialist. We touched base with proprietor John Francis, who specialises in the Volvo / Renault marque but possesses the expertise to cover all other makes and models.
Waterford-based commercial vehicle technician John Francis has vast knowledge of Volvo trucks and buses, having worked with them all his life. "When you specialise in a particular manufacturer, it's easier to provide customers with the best-possible and most-efficient service," he notes. "Because modern machinery is so advanced and every system is different, it makes sense to stick to what you know best as much as you can."
Thus, while Clonfadda Commercials can oversee quality workmanship on any make of truck, John admits he is most comfortable and at his most efficient when providing diagnostic and repair services to Volvo / Renault operators.
Although Clonfadda Commercials is a relatively new entity, having been established less than three years ago – in August, 2018 – John has a wealth of experience of working with the Volvo marque. He started his apprenticeship locally with Suirway Bus & Coach Services Ltd., who are synonymous with Volvo, working his way up to the position of head technician before spending two years as a Frontline diagnostic support engineer with renowned UK-based Volvo truck and bus dealership Thomas Hardie Commercials.
"I did mobile and on-site diagnostics with Thomas Hardie Commercials and then went to Australia for a year," the Waterford technician reflects. "I wasn't always on tools while in Australia but worked in the plant and agri sectors and also did some driving before coming home and deciding to set up on my own."
Clonfadda Commercials was born and John hasn't looked back. A lot of hard work has been invested into the business over the past three years and, slowly but surely, on the back of providing exceptional services, his reputation for delivering professional, dependable, value-added solutions has spread far and wide through word of mouth.
As well as steady repeat work from satisfied customers, the Waterford man continues to pick up new business through positive referrals from existing clients. "Most of the work is local enough covering counties Waterford, Wexford and Kilkenny but we have been called to jobs as far away as Navan and distance is not an obstacle. Once you travel prepared and have your homework done before you go, then it makes little or no difference where the vehicle is located."
John comes from a strong engineering background and owes a lot of his success as a commercial vehicle technician to the influence of his father, Vincent: "I've been interested in mechanical stuff from a very young age. My father is a marine engineer and I spent a lot of time alongside him when I was young. That's definitely where I got my interest from."
Providing expert knowledge on Volvo trucks and coaches, the owner of Clonfadda Commercials admits that he decided early on that he didn't want to be a jack of all trades but was focussed on instead being a master of one: "That was the ideology I started out with," he confirms. "It's easier said than done but I am getting there slowly but surely.
"The Irish haulier isn't easy to win over as they don't always like change. Generally speaking, operators want a quick service and they don't want to spend any money unnecessarily, so you have to be prompt and offer value for money. It takes time to build up a business like this but we're developing a really good reputation through word of mouth and things have been extremely busy since the start of this year, which is very encouraging."
Elaborating further on the service provided, John continues: "We specialise in mobile diagnostics and repairs for trucks, trailers and buses. A lot of wiring and electrical fault finding. We do a lot of work with I-Shift gearboxes and have all Volvo diagnostics and specialist tools for sorting out literally any problem – injectors, gearboxes, blocked exhausts, anything. I also have genuine Haldex, Knorr Bremse and WABCO trailer diagnostics."
Diagnostics is a huge part of what John does and he believes it's best to plug in and get to the source of the problem before lifting any other tools… "I don't like guessing. You could go with your gut instinct and nine times out of ten you will be right, but what about the other time? You are best to be 100% certain. I prefer to spend the time finding out for sure what the problem is. The troubleshooting aspect of the work is vital now and you need to use it once you have the equipment at your disposal. You might spend a little extra time diagnosing but you will get it right and will save yourself and your customer time and money in the long run.
"When it comes to trucks and buses, which are providing people with their livelihood, you have to make sure. While it can be a little time-consuming at the start, you can't gloss over it and take a chance because it can become a real headache if you just guess and the customer ends up losing even more time and money."
Despite having initially worked predominantly with buses, John is equally proficient diagnosing and repairing Volvo trucks and the latter accounts for a growing percentage of his overall business. "I started in the bus and coach end but am starting to get more and more busy with trucks, too," he states. "I had more industry contacts in buses and coaches but have now developed a truck clientele as well, although, right now, I wouldn't be actively seeking to take on large commercial fleets or anything like that. While diagnostics / repairs is the core element of the business, I also take on some maintenance and servicing to supplement that."
Clonfadda Commercials has come a long way in a competitive market in a comparatively short space of time and John Francis' business is on solid footing going forward. "I'd like to establish a permanent premises and perhaps to offer a recovery service down the road," he concludes. "Even though I'm still working on lots of different makes and models, ideally I'd like to eventually focus exclusively on Volvo. I could expand the business but it's not easy to get capable staff. However, Rome wasn't built in a day so we just need to be patient."
Clonfadda Commercials,
Clonfadda,
Fenor,
County Waterford.
Tel: 089 4791523
Email: [email protected]
Published in Irish Trucker & Light Commercials magazine, August/September 2021, Vol 24 No 5