A facelift for R&N Transport's stunning fleet
04/11/2021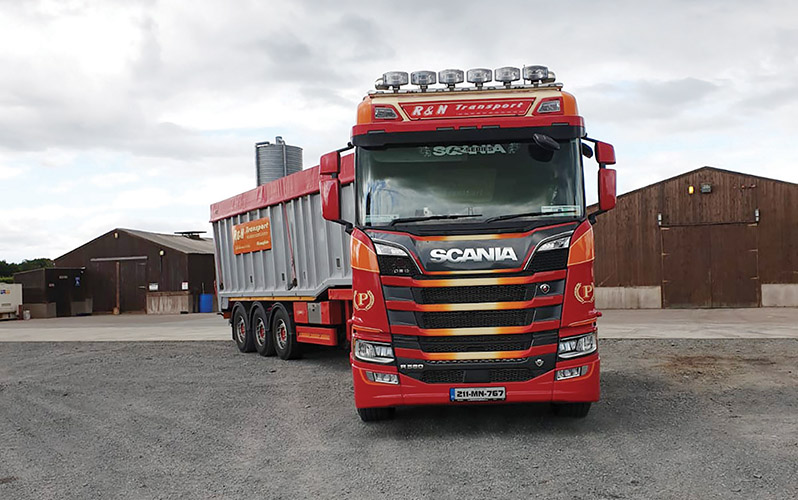 It's been a busy and successful year so far for the team at R&N Transport, who bolstered their fleet with the addition of a striking new Scania R580 and have another new truck on the way. We tipped over to Tydavnet in Monaghan and touched base with co-proprietors Raymond and Niall Brady to get an update on activities at this multifaceted and progressive family-run operation.
In April, Monaghan-headquartered bulk haulage specialists R&N Transport took possession of a truly fantastic new next-generation Scania R580 6x2 unit from renowned local dealer McElvaney Motors. Finished off in R&N's eye-catching orange-and-red livery, the newest addition to the fleet looks superb but is of course a workhorse first and foremost.
As such, the stunning 211-reg R580 will play a key role in keeping the fleet fresh and replenished so that the industry-leading animal feeds haulage specialists can continue to provide their clients with efficient, dependable and thoroughly professional services.
"We're absolutely delighted with the new truck," confirms director Raymond Brady, who runs the business alongside his brother, Niall. "We decided to invest in the new one because it was time to move up the years again. We like to keep the trucks fresh and maintenance-free in order to reduce maintenance costs and minimise the chance of breakdowns or downtime.
"We're running two lorries at the moment – both Scanias. The second one is actually a 162-reg R450 and it will be replaced in due course. We like to keep things fresh. We're very busy at weekends with chickens and the last thing you want to be doing is fixing trucks.
Thus, a five-year replenishment programme is in place. "The new truck is completely headache-free," Raymond continues. "We took out a five-year maintenance contract, which covers everything bumper to bumper. McElvaney's give us a great service and that maintenance contract definitely removes a lot of the hassle from running trucks."
With a couple of new trailers also sourced and ordered, R&N Transport will soon have access to one of the freshest, best-maintained and most attractive bulk haulage fleets in the country! Running the most modern gear, Raymond and Niall will remain ideally-placed to continue providing their long-serving customers with unrivalled service levels.
R&N Transport generates direct employment for three people. In the haulage business for coming up on three decades - having followed in the footsteps of their late father, John - Raymond and Niall Brady complement their successful animal feeds haulage operation with a thriving poultry business, making sure they are kept busy all year around.
Raymond tends to look after the daily loads while Niall handles the maintenance side of things.
Much of the animal feeds delivered by R&N are drawn out of Paul & Vincent's mill in Edgeworthstown, County Longford and distributed to farmers nationwide. For centuries, Paul & Vincent have been at the forefront of the Irish compounding industry in the blending and manufacture of high quality feed for the supply to farmed livestock. Meanwhile, the Monaghan siblings also distribute high-performance animal feeds from AW Ennis / Erin Farms Feeds in Virginia, County Cavan, Patton Feeds in Monaghan and from Kiernan Milling in Granard, County Longford.
Raymond believes that supplementing the haulage business with the running of nine poultry houses helps keep things interesting as there's never any real danger of monotony kicking in. "As they say, variety is the spice of life. Obviously, the haulage is a big part of the business, but the poultry houses are very important to us as well. We focus on them both equally. Having both to consider does keep you occupied and provides a bit of variety. The lorries can provide a welcome relief to go to when you are extra busy with the chickens, and vice-versa." A change is as good as a rest.
Of the nine poultry houses, which are located on four different sites around Monaghan, five of them have Western Brand chickens, four of which are contracted to Whitakers Hatcheries in Carrigaline, County Cork. The units house around 166,000 chickens and 110,00 pullets (which supply the free range and cage-free eggs markets). Drawing on their own in-house resources, the Bradys haul all their own meal for the pullet units.
It's not only the haulage side of the business that's been getting a facelift – Raymond and Niall have also been investing in modernising their poultry houses: "Last year we put in a new poultry house at Drumbenagh, Tydavnet for Whitakers, which was the first of its kind in Ireland, to comply with the new free range and barn regulations which came in in Ireland in 2014. The old one had 16,000 birds and we knocked it down and built a new unit from scratch, which accommodates 34,000.
"Our intention is to keep modernising and expanding the poultry units," Raymond continues. "We have three done already and will work our way through them all. For example, one of the units in Clontibret will go from 7,000 chickens to 35,000, while one of the pullet units is going to be increased from 10,000 to 17,000.
"We plan to grow that side of the business and to keep our standards high in haulage, too. When it comes to haulage, we are reliable and on time, with no downtime whatsoever, an excellent fleet and a really good service from McElvaney's."
Raymond concludes by paying tribute to the input of various family members, who make an immeasurable contribution towards the success and ongoing viability of both operations:
"The family are a great help and we'd be lost without their support," he points out. "My own oldest lad, Reece, is 18, Lewis is 17 and Craig is 14. Niall's son, Caomhain, is also 14 and all four of them roll up their sleeves and help out. My wife, Laura, and daughter, Keri, also play their part, while Niall's, Brenda, does all the paperwork and their daughters, Niamh and Aine, also do their bit. It's all about family at the end of the day and we'd be lost without the support of all of them."
R&N Transport,
Tydavnet,
County Monaghan.
Tel: 086 8509066
Published in Irish Trucker & Light Commercials magazine, August/September 2021, Vol 24 No 5