Busy times continue at Jonathan Small Garage Services
02/11/2021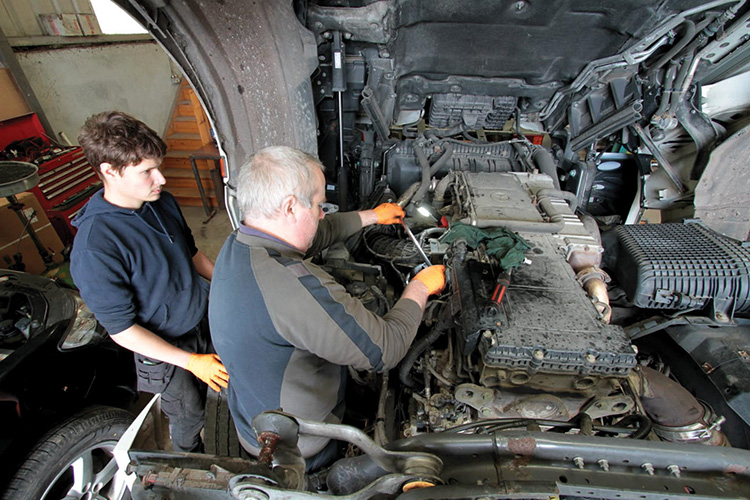 Based in Claregalway, Co Galway, Jonathan Small Garage Services Ltd has managed to quickly build up a strong customer base in the space of a few short years. Irish Trucker touched base with its owner and founder to learn all about the ins and outs of the company, its origins and the state of business today.
These are busy times in the workshop of Jonathan Small Garage Services Ltd and the plan for Co Galway native Jonathan Small and his team over in Clogher is to try and keep things that way right through to 2022.
Established as a limited company since September 2019, the business has enjoyed a quick rise in less than three years even in midst of a global pandemic.
Jonathan and his team have grown this venture from the ground up, with the former having worked as a heavy vehicle mechanic for more than two decades now.
Irish Trucker caught up with the man himself to find out more about Jonathan Small Garage Services Ltd and its plans for expansion and servicing more Mercedes clients down the line.
"We're based in Clogher, Claregalway, Co Galway and it was September 2019 when I decided to go out fully on my own with the business," Jonathan explained.
"There's three of us full-time in the workshop, with one full-time mechanic, and also an apprentice mechanic we provide service and maintenance to trucks, vans and light commercial vehicles, mostly buses and coaches."
The company also specialises in DOE preparation, gearbox repairs, differential repairs, and diagnostics for its customers.
Jonathan also outlined that in the last year they have been carrying out these services for clients which deal in Mercedes vehicles specifically.
"Since last August, we started getting more and more into Mercedes vehicles here," he said.
"Goggins Transport in Dublin currently send a number of their Mercedes Actros fleet into us here and we're hoping to get more and more involved with Mercedes over the next couple of months."
It seems as though things have been moving quickly from the beginning for Jonathan Small Garage Services Ltd, as the company's client base continues to grow.
While it officially became limited in 2019, the origins of the business stretch back decades before that, to a time when Jonathan first became immersed in the industry and mechanic services.
"I'm working as a heavy vehicle mechanic for the last 25 years," he said.
"I would have started on buses and coaches working for Padraig Naughton in Spiddal and then started working for Barry Quinn Transport. Over that space of time, I started to gain a few clients of my own and I suppose things just took off from there.
"I'm also a part-time motor mechanic lecturer at the GRETB Training Centre since 2018."
It all helps to keep Jonathan Small a busy man, even with the Covid-19 pandemic having had an affect on his business.
The pandemic, and the government restrictions which followed in order to try and combat the spread of the virus, have affected businesses throughout the country and Jonathan Small Garage Services Ltd is no different.
"Unfortunately, we have lost a lot of work from our bus and coach customers due to Covid and them being off the road, but the workshop here has still been extremely busy," Jonathan explained.
"People see the good work that we're doing and we're hoping at some point to get involved with Mercedes a bit more. That's the plan anyway."
All things considered, the company has made impressive progress in the space of a few short years and continues to do so.
So, the burning question is what has been the secret to such quick success for Jonathan Small Garage Services Ltd?
According to Jonathan himself, integrity and competitiveness go a long way in this line of work with customers.
"I think it's mostly because of our honesty and the fact that we provide such a good service for them," he said.
"Plus, we can supply a lot of parts to them at a lower cost than some of our competitors out there.
"So, I think it's down to cost and honesty overall. The workshop is there the last 14 years and while it's only a small facility, it's well known at this stage by our customers and we're hoping to expand it and employ more men here."
Once things return to some sort of normality, expansion looks to be the next step for Jonathan Small Garage Services Ltd as they remain determined to keep up with the strong customer demand.
For Jonathan, delving further into the market of Mercedes vehicles is also imperative for the company moving forward and its overall growth.
He sees it as the place to be while remaining grateful to his existing clients above all.
"We want to expand and provide a good service for Mercedes clients, for trucks and buses, this side of the country.
"That's the aim anyway. Both Advance Drive and Goggins Transport are two of our biggest clients and I'd just like to say that we're very grateful to them for their loyalty to us over the years," he concluded.
Jonathan Small Garage Services Ltd
Clogher,
Claregalway,
Co Galway
Mobile: 086 866 8540
Published in Irish Trucker & Light Commercials magazine, August/September 2021, Vol 24 No 5