Telematics-led training for smart fleets 
26/10/2021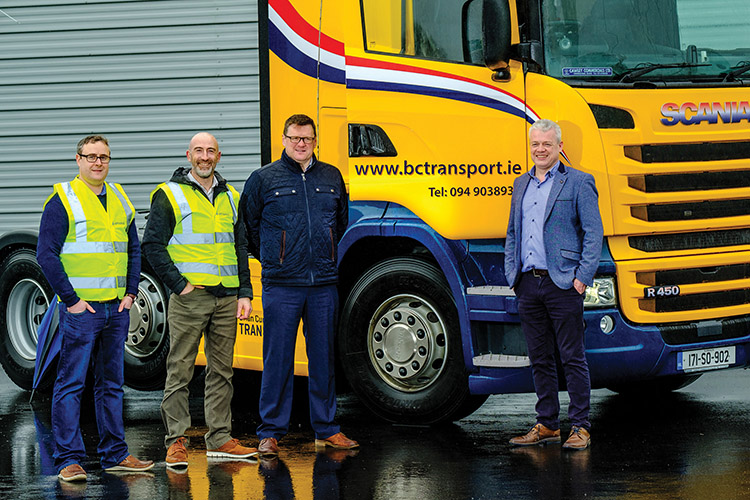 A leading provider of online training and certification solutions for smart fleets, Aptarus was founded in Galway in 2015 by Karl Lusted and Martin Farrell after they identified the need for data-driven training in the transport and logistics sectors.
The software development company's mission is to make training and education accessible to the mobile workforce, while delivering sustained improvements in fuel economy, fleet safety, compliance and carbon footprint. The company continues to go from strength to strength and currently provides ten different courses in four different languages which can be accessed at any time, with the objective being to save fleet owners time and money.
"Our training platform is designed to be complementary to the driver trainer," says Aptarus CEO Karl Lusted.
"It is designed for mobile workers which means transport companies don't have to take their fleets off the road for training purposes. The system works on any mobile device, including phones and tablets, and facilitates training at a time and place that suits individual drivers. What gives the system its cutting edge is that the training is bespoke for each driver as it is based on the telematics information drawn from their vehicle.
"All training is based on individual performance metrics extracted from the telematics data, so each driver gets personalised training based on their individual requirements. The system allows fleet managers to deal with the day-to-day running of their business without having to worry about training their drivers or taking their fleet off the road to do so."
Karl believes online learning will become the new normal after the Covid-19 pandemic has passed.
"Covid has only accelerated the rise of online training. It's a great way to train people and it's here to stay. It will be a vital part of our future," he predicts.
"The beauty of our training App is that it can be done 24-7 on any device. It suits a lot of drivers to learn at their own pace and to do it in their native language. Our product is being driven by the customer and what best suits them. We're constantly adding courses, languages and features. We have also expanded our platform to support blended learning, which allows a mixture of online training, classroom training,
assignments, and more."
By choosing Aptarus online learning to handle their online driver training requirements, leading logistics companies such as Cunningham Transport, FMC Haulage, Clare Distribution and Tarrant International have benefited from reduced costs, improved safety, improved compliance, faster onboarding times, reduced risk, increased flexibility and reduced carbon footprint.
Aptarus delivers an average of 5% fuel savings by improving driver performance. This is achieved by using its unique telematics-led training solution. Altering driver behaviour is a proven method of improving safety on the road, and reducing the likelihood and impact of accidents. It also reduces
insurance costs. With Government and EU regulations constantly changing, Aptarus saves fleets time and money by keeping their drivers and vehicles compliant. Furthermore, the company delivers reductions in carbon footprint by up to 4% by improving fuel economy across your fleet.
Aptarus offers courses in the following: Fuel-Efficient Driver; Safety in Adverse Weather; Vulnerable Road Users; Workplace Safety; Food Safety; Manual Handling; Security Awareness; Covid-19 Awareness; Good Distribution Practices. The latter two courses were added in response to the pandemic as Karl explains: "Our Covid-19 Awareness course was available for free last year to help fleets adapt to the coronavirus. The Good Distribution Practices course is aimed at transporters engaged in the shipping of pharmaceutical products, including Covid-19 vaccines and PPE (personal protective equipment)."
The courses are provided in English, Polish, Russian and Romanian, with more languages set to be added in the coming months. When a driver has completed a course, they can take a test to achieve certification in that course.
The Galway-based company charges for its service on a monthly subscription basis. Its Plus and Premium Plans cost €5 and €8 respectively per month, while its Basic Plan is free. Since launching its first training course – Fuel-Efficient Driver – in Ireland in 2017, Aptarus has also rolled out a number of courses in the UK and US.
"It's still early days and there are lots of fleets still not aware of us, but we're getting our name out there and are getting good traction. We have 15 staff, who are a mix of software developers, content creators and voice artists, and are growing all the time."
Aprtarus' two founders both come from a telematics background. While working together at Blue Tree Systems – a company which Karl co-founded with Charlie Cahill and subsequently sold to Nasdaq-quoted Orbcomm in 2017 – they noticed that fleets were overwhelmed by the amount of data that their telematics system was generating. These fleets were only using a small amount of this data in their day-to-day operation, and Karl and Martin realised that it could be put to good use.
At the same time, Karl and Martin realised that while online training was becoming popular in some industries, it was not widely in use in the transport and logistics sector. Combining these two observations, they decided to set up Aptarus to provide online training, using real-world data to determine individual training requirements for each driver.
"With our platform, training is available any place at any time, so a driver can use it while waiting to pick up a load or whenever suits. We bring the training to you," Karl concludes.
Aptarus
Galway Technology Centre,
Mervue Business Park,
Galway,
H91 FF8W.
Telephone: 091 884048
Email: [email protected]
Web: www.aptarus.com
Published in Irish Trucker & Light Commercials magazine, August/September 2021, Vol 24 No 5