Morenane Transport moving with the times
21/10/2021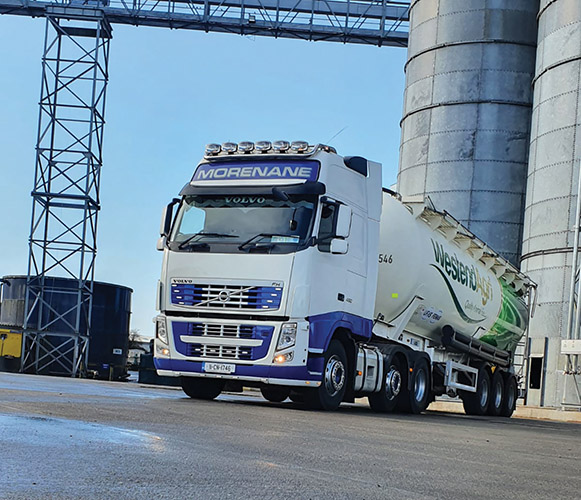 Almost nine decades on from its inception, Morenane Transport is an exceptional fourth-generation, family-run haulage business that continues to go from strength to strength. We returned to the Treaty County and touched base with managing director Edward O'Callaghan to get an update on this long-established and progressive operation, which is diversifying into new areas and enjoying a period of steady expansion as a result.
The genesis of Morenane Transport dates back to 1933. Conveniently located within close proximity to Askeaton, equidistant between Limerick city and Foynes Port, this fourth-generation family business is one of Ireland's longest-established haulage contractors, boasting a proud history of excellence that few others can rival.
With an unblemished track record for consistently delivering the goods, the O'Callaghan family have every right to celebrate past glories – but they are also moving with the times and have both eyes fixed firmly on the present and the future. They have diversified and taken on some new contracts in recent years; as a result, Morenane Transport are busier than ever.
Traditionally bulk animal feed haulage specialists, the vast majority of Morenane Transport's work has been carried out in conjunction with Roche's Feeds and this continues to be the case today. However, in order to ensure a steadier flow of work all year around, they have recently agreed some key new contracts – most notably with WestendAgri, Heiton Steel and Greaney Concrete Products – which have resulted in an increased workload and expansion of the fleet.
"We're expanding and we are very busy at the moment, thankfully," confirms MD Edward O'Callaghan. "Even during lockdown, we were quite busy as most of our work is farming-related – and that's what got us through the recession as well. In Ireland, the farmer is always going, so we were still busy with Roche's.
"Once they opened it up again, the steel and concrete started to get going again too. We are blessed with good loyal customers. Like ourselves, Roche's are a family business and they have grown substantially since I started working with them. They were only doing 12,000 tonnes a year back then and are now up to a quarter of a million tonnes per year. I grew alongside them and that's why I am in the position I am in today.
"But the animal feeds business is seasonal and you will have quiet times. Therefore, I branched out and teamed up with another couple of family businesses. We work for Greaney Concrete Products and have also started to draw minerals in tankers for WestendAgri. We're also doing a good bit for Heiton Steel, who we've been with for two years now … their base is a stone's throw from Foynes Port and we cover the South West for them."
Edward runs Morenane Transport alongside his wife Hazel. The business was founded by his grandfather Ned O'Callaghan and Edward took over from his own father Michael in 1994, changing the name from O'Callaghan Transport to Morenane Transport eight years later.
One of the very first TASSC-approved haulage contractors in the Munster region, they handle all of Roche's Feeds' transport requirements throughout the province and into parts of the West and South East, delivering animal feeds to merchants and farms as well as drawing raw materials from ports into the mill on the Dock Road for processing.
"I can't stress enough how important it is to have good customers," Edward continues. "All of our customers treat us with respect and the close working relationships we have with them are invaluable. It was actually one of the directors in Roche's who pointed us in the direction of the specialised minerals work with Westend Agri - a new departure for us - which has put two extra trucks on the road and keeps us busier during the quieter times. The guys at WestendAgri are sound and they are growing too. Greaneys are also very good to us– we draw a lot of cement for them.
"We know we are very fortunate to be so busy during these dreadful times for the economy. We certainly don't take it for granted and we are grateful for everything we have. A lot of hotels and other businesses in hospitality and indeed many other sectors are in major trouble because of the restrictions. My best friend, whose son drives for us, owns a fleet of buses and they have been parked up for months, which is truly shocking. Any vehicle that you've invested a large amount of money in is no use parked up.
"We've been extremely fortunate that haulage hasn't been affected and we have a steady flow of work every day. It's funny how it works: you are never sure what you are going to be doing from one week to the next but before you know it, it all falls into place. We're blessed. We consistently have good customers, enough work to keep us going and really good drivers. The job is only going to be as good as your team and we have a very strong team here. Everything comes together like pieces in a jigsaw and we're very, very happy with how the business is going at the moment."
The 24-strong team at Morenane Transport are professional, skilled, experienced, motivated, courteous and safety-conscious at all times. At the heart of the operation is a stunning, flexible and immaculately-maintained fleet of regularly-upgraded and –replenished trucks and trailers. Currently the O'Callaghans are operating 23 trucks and 33 trailers (including bulk tippers and tankers, flats and specialist tankers).
"We'd probably run 18 of the trucks during peak times, with a number of them kept in reserve," the company MD reveals. "The fleet is mainly Volvo plus a couple of Scanias. We've started dealing with Dennison Commercials in the North and find that we get very good value buying from them. For example, we've just purchased a Volvo that was only twelve months old and it cost €80,000 – that's a saving of €40,000 on the price of new truck. We've very happy with the Volvos and our technicians have great experience and knowledge of working with the one brand. We stock all Volvo parts in the workshop and they are very comfortable working with them. Similarly, we buy all trailers with the same suspension and our technicians know these systems inside out."
The ethos of a close-knit family business permeates everything Morenane Transport do. "It is a family thing, absolutely," Edward confirms. "It's all about the drivers and most of them are either friends or friends of friends. We have a lot of really good young lads working here who take great pride in washing and cleaning their trucks and trailers, inside and out, which is very important obviously with TASSC. Cleanliness and hygiene are paramount.
"We've invested in all new tipper trailers over the last five years, which brings down the maintenance bill and increases efficiencies. Image and presentation are so important. When you are going into Roche's or anywhere else, you want to always make a good impression with your equipment. We wash them all on a daily basis. It's all about providing a dependable service, on time, and running a good, clean, tidy operation."
Edward and Hazel's son, Christopher, has set up under the Kilcornan Transport banner while their 18-year-old daughter, Kirsty, who is studying Business with Entrepreneurship in GMIT, is in the process of qualifying as a Transport Manager. Indeed, if she passes she will the youngest Transport Manager in Ireland. It's all hands on deck at Morenane Transport and Edward O'Callaghan wouldn't have it any other way with a new Renault expected in May!
"I'm in haulage all my life and I love everything about trucks," the Limerick man concludes. "To be fair, the girls in the office are doing most of the heavy lifting here. They do serious work compared to the rest of us. The paperwork that goes into running a TASSC-approved haulage operation is unreal and we would be lost without the girls in the office. It's a team effort and they are central to that team."
Morenane Transport Ltd.,
Morenane,
Askeaton,
County Limerick.
Mobile: 086 8323201 / 086 2515630
Published in Irish Trucker & Light Commercials magazine, August/September 2021, Vol 24 No 5