McGurk Haulage's stunning fleet just got even better!
19/10/2021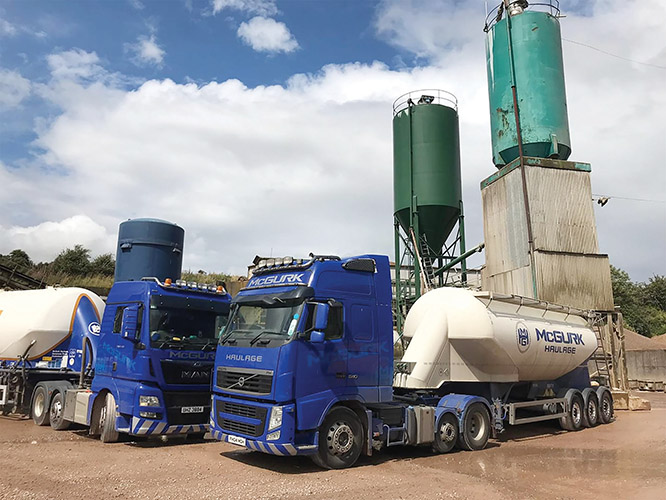 In April of this year, County Tyrone headquartered bulk transportation specialists McGurk Haulage bolstered their superb seven-strong fleet with the acquisition of a magnificent new Renault T520 tractor unit. We interrupted proprietor Stephen McGurk's busy schedule to discuss the latest addition and to get an update on his industry-leading operation, which has been providing unrivalled and ever-evolving services for more than a quarter of a century.
The year got off to a fantastic start for McGurk Haulage in Cookstown, County Tyrone when they took possession of a stunning new Renault T520 6X2 MML from renowned Renault dealer Diamond Trucks in Mallusk. Beautifully finished off in the eye-catching and instantly-recognisable, predominantly-blue McGurk livery (applied by AMT Truck Centre & Impact Graphics), the head-turning new truck is a winner in terms of both performance and aesthetics.
This T520 is both efficient and dependable, with the mini midlift allowing additional payload by reducing the overall weight of the tractor unit whilst still enabling a gross vehicle weight of 44 tonnes. The hydraulic equipment was fitted onto Stephen McGurk's striking new truck by S.M. Components Ltd., while additional lights were fitted by Diamond Trucks' trusty service team. Suffice to say – and as the accompanying photographs readily testify - the new addition looks the part!
"It's a really good motor and I'm very happy with it so far," confirms founder and proprietor Stephen McGurk, who is driving the new truck himself. "Renault trucks are very reliable. They are pretty much a Volvo as they have all the Volvo running gear, so the quality is guaranteed. I'd be more of a Volvo man myself but there were no additional Brexit levies on the Renault and that's what done the deal for me ultimately."
Having celebrated its 25th anniversary in 2020, McGurk Haulage specialises in the transportation of dry powder, delivering every consignment promptly and professionally for an impressive and ever-growing list of satisfied customers, including Acheson & Glover in Fivemiletown, Kilwaughter Minerals in Larne, McGarrity Bros in Carrickmore, Breedon Group, Irish Cement and Lafarge Cement.
"The customers know what you can do but you have to prove yourself over and over again," Stephen notes. "You are only as good as your last load. I'm not sure there's any such thing as loyalty in this game – you are there because your customers need a service and they know they can depend on you. You have to provide them with a service they can count on. You have to deliver the goods every day and there is no room for complacency or slip-ups.
"The pressure is always on to meet deadlines and you have to rise to that challenge on a consistent basis. It's a tough business and things are harder now than ever before, but us hauliers have got better at what we do. We have to keep improving all the time; otherwise you'll be left behind."
Key to making sure that optimal service levels are maintained at all times is operating a fresh,
regularly-replenished and immaculately-maintained fleet of trucks and bulk tankers. To this end, McGurk Haulage currently operates a fleet of seven artics, while Stephen is also a vastly-experienced and fully-qualified technician who runs his own workshop as well as driving.
The Tyrone haulier admits that demand for his services is such that he could expand the business further, but he prefers to keep things at the present size in order to guarantee a personal service and offer complete customer satisfaction. "The fleet is predominantly Volvo and Renault, as well as one MAN," says Stephen, who travelled over to Wales to purchase his very first truck – a Volvo FL10 – 21 years ago and has never looked back. "Obviously it's important to keep all the trucks and trailers in good nick and we invest a lot of time and money into this. We take on most of the maintenance and servicing work ourselves but also sub a bit of the out to a local garage in Cookstown."
McGurk Haulage is very much a family business, with Stephen's wife Jacqueline, daughter Émer and son Matthew (currently serving as a mechanic in the workshop) all having made invaluable contributions to the success and ongoing viability of Tyrone's premier bulk transportation company down through the years.
Although the public health measures introduced in response to the arrival of the Covid-19 pandemic impacted upon construction and haulage – particularly during the first wave of lockdowns during the Spring of 2020 – Stephen is pleased to report that he's currently as busy as ever he's been:
"We've stayed very busy, thankfully. We were quiet for three months or so when it all started but then things took off again and we have been flat out. Our trucks are out on the road every day, covering Northern Ireland, the Republic and also into the UK."
Does running the company require investing a great deal of unsociable hours? "Yeah, we do a lot of weekends, etc., but in general you try to keep it to five days a week as much as you possibly can. I'm not going to lie – a lot of hours go into this and it's hard work. If I could come up with another idea for something handier and with more money, I'd go for it!" the Tyrone trucker quips.
Looking to the future, there are no plans for any drastic changes to McGurk Haulage's winning formula. As the old adage goes – if it's not broken, why fix it?... "We're at a good size and we are busy, so we'll keep going as we are," Stephen concludes. "We are better positioned than ever we've been. We are super-efficient now. Things change and you keep improving and becoming better at what you do. Right now, we are able to offer an even better service than we could at any stage in the past. We like to keep upping our game."
Indeed, ownership of the wonderful new Renault T520 will ensure that this process of constant improvement continues unabated!
McGurk Haulage Ltd.,

Dungate, Dunnamore Road, Cookstown, County Tyrone, BT80 9NX.
Tel: 077 408 77067
Email: [email protected]
Facebook: www.facebook.com/mcgurkhaulage
Published in Irish Trucker & Light Commercials magazine, August/September 2021, Vol 24 No 5