Tarstone – the road maintenance specialists
14/10/2021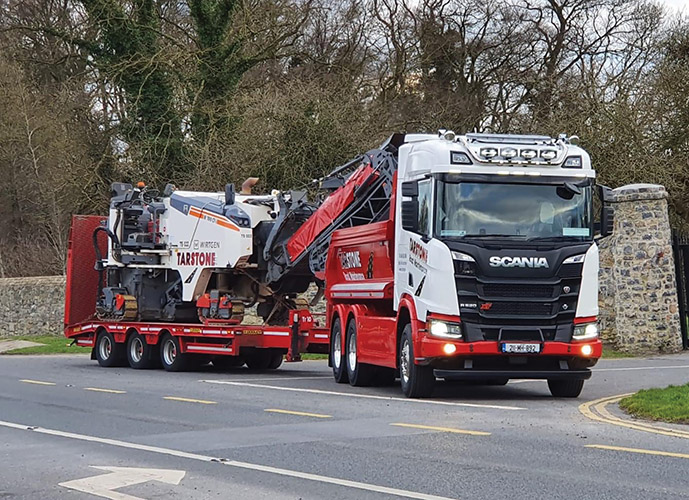 For the past 23 years, Tarstone Road Maintenance Ltd has been providing a wide range of services to an ever-expanding customer base with their client list.
Based in Navan, Co Meath, the company which is owned and operated by Ernie Lynch provides services such as Road Maintenance, Imprinted & Coloured Asphalt, Crack & Joint Repair, Recycled Sustainable Solutions, ROADMASTIC Polymer Modified Mastic Asphalt Manufacturing, ROADMASTIC Ironwork Installation and Refurbishment Contracting Service and Planer Hire
Through this wide range of services, Tarstone travels throughout the 32 counties providing quality work that has enriched their reputation over the years.
Their experienced team approach every job with the same dedication that the company has become known for and maintaining that level of service is paramount to all at Tarstone.
To carry out their daily duties, the company runs an impressive fleet of trucks and machinery all of which are under the control of Transport Manager Robert Connolly who spoke to us about what it takes to keep the fleet running efficiently.
"We have about 25 trucks of various sizes as well as a number of vans, while we have a wide range of machinery as well. Maintenance is key, we have a fully kitted out workshop here and we do 95% of the maintenance ourselves. The fleet is checked every week for any faults and repaired straight away," said Robert.
The Tarstone fleet is well known on Irish roads and their striking colours of white and red stand out regardless of what time of year it is.
"The fleet is kept in pristine condition and in fairness to the drivers, they keep them very well. We run DAF, Scania and Renault trucks which are sourced from various locations, and we expand and upgrade on a regular basis.
"Employing Tarstone Road Maintenance will lead to the least disruption possible. We have our own fleet of low loaders and therefore we do not rely on outside hauliers to transport a replacement to site."
Robert added that they are fortunate to have a good reliable team of drivers at the moment but added that sourcing similar typed drivers has become an issue, not just for the company, but for the transport industry in general.
"The majority of staff here have been with the company many years and they are very experienced at what they do, but when it comes to hiring new drivers, it has become something of a challenge. There are not too many young people taking up driving as career, so there is a shortage of drivers and that is certainly going to become more of an issue down the line."
Operational and Technical Manager Cathal Fahy took time out of his busy schedule to talk about the wide range of services the business offer.
"We are primarily involved in Road and Airfield Construction and Maintenance which sees us provide a comprehensive range of services to Local Authorities and the relevant Statutory Bodies.
"We also manufacture Polymer Modified Paving Grade Mastic Asphalt at our depot in Meath and supply our own ironwork installation and refurbishment contracting crews," said Cathal.
"Our customer base would include Dublin Airport Authority, Dublin Port, Shannon Airport, ENET, CRH, Lagan Asphalt, Kilsaran, Arkil, SIAC, McGraths Quarries, Harrington's, McSweeneys, and practically every local authority in Ireland. Aside from operating in Ireland and Northern Ireland we would also have operations in the UK, Canada and Australia."
Health and Safety is a priority for everyone at Tarstone and they operate in accordance with the requirements of the Safe-T-Cert Health and Safety Management Certification Scheme. They are Grade A registered operators of the scheme for the last number of years.
"Our commitment is to a safe and healthy working environment for both our staff and members of the public. In-house training is carried out continuously with all staff while the company also uses the services of Safety Consultant on a weekly basis. We have invested heavily in training for all our staff, from management training and training for all our operatives. (Plant Operator Training and Safety Awareness). We ensure that all persons working on our projects are aware and fully comply with our systems and standards."
Accreditation wise, as well as the aforementioned Safe-T-Cert Health and Safety Management Certification Scheme, the company have achieved the ISO-9001, our Polymer Modified Mastic Asphalt is CE certified for use on roads, airfields and other trafficked areas. I recently have gained entry to the International Mastic Asphalt Association (IMAA) which allows myself to keep abreast of international developments/specifications and new technology in relation to mastic asphalt. I also sit on the TII Industry Technical Group and I am a member of Chartered Institute of Highways and Transportation and the Institute of Asphalt Technology. All of these various committees help myself to keep abreast of standards and specifications in relation to Bituminous products.
"We are CPD accredited and would host a number of educational seminars on the manufacture and installation of Polymer Modified Mastic Asphalt, Inlay Jointing and Imprinted Asphalt for clients. This particular service is very much welcomed by our customers and upwards of twenty of these Webinar/Seminars would be held each year. We are continuously looking at ways to improve and expand our client base which includes investment in research and development in all of our products."
That commitment to excellence is evident as Tarstone Road Maintenance are an Irish award-winning business who most recently were honoured as the 'Most Innovative Road Maintenance Service Providers 2020/2021' and also as the 'Road Maintenance Service Provider of the Year 2020/2021.'
The company also plays its part when it comes to environmental issues. "We are dedicated to optimising our use of natural resources, reducing waste, and actively recycling our road construction waste products. We aim to help our customers develop sustainable opportunities to use recycled materials and promote the circular economy," concluded Cathal.
Contact Details:
Tarstone Road Maintenance Ltd
Head Office
Dean Hill, Hayes, Navan
Co Meath, C15P9X9.
Email: [email protected]
Office +353 46 9024066
Mobile +353 86 6165123
Emergency 24hrs +353 86 2522785
Published in Irish Trucker & Light Commercials magazine, August/September 2021, Vol 24 No 5