One of the best in the North East for truck diagnostics, repairs and maintenance
12/10/2021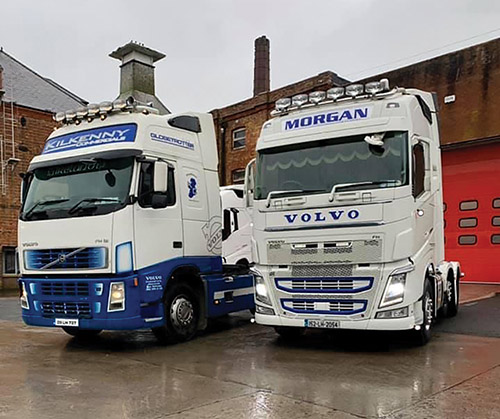 During the three short years since its inception, Kilkenny Commercials Ltd. has developed an unrivalled reputation for delivering a full range of industry-leading truck and trailer diagnostics, repairs and maintenance solutions. We visited their modern workshop on the outskirts of Dundalk to get an insight from proprietor Aidan Kilkenny.
Since its genesis in October, 2018, Kilkenny Commercials has grown exponentially, providing a comprehensive suite of professional, value-added vehicle maintenance and repair services to fleet owners across the North East and beyond. Founder Aidan Kilkenny is a specialist Volvo technician but possesses the expertise, experience and tools to work with literally any make of truck, trailer or bus. His client base continues to grow through word of mouth and the Dundalk man is quick to point out that he'd have nothing if it wasn't for the trust and loyalty of these customers: "Customers are key really because they are the ones who keep you in business. There's no point having a garage if nobody comes to it," he notes.
"We look after everybody from the owner driver up to large fleet operators and they are all equally important. I treat every customer and every vehicle the same. You could have three lorries from the same fleet one day and three owner drivers the next day. It makes no difference … once you provide a good service, they will come back."
Using all the latest diagnostics tools and garage equipment, Kilkenny Commercials specialises in troubleshooting, repairs and planned preventative maintenance of trucks and trailers with all works carried out in accordance with the exact specifications set out by the manufacturer.
From electrical and mechanical diagnostics to engine and transmission repairs, mechanical repairs and CVRT preps / scheduled servicing and safety inspections, each vehicle receives the utmost attention to detail, with the highest quality workmanship guaranteed. Kilkenny Commercials also offers a 24-hour breakdown / recovery service to existing customers and sells quality pre-owned trucks and trailers. To ensure complete customer satisfaction, they stock a full range of genuine Volvo parts.
Aidan inherited his passion for trucks from his father Declan, who is a haulier and also a qualified mechanic. "I grew up with lorries. One of my earliest memories is of sitting in the child seat in my father's lorry," and often helping him fix and repair lorries over weekends he reflects. "My father had lorries all his life and still drives one today. He had quite a few contacts in the industry, too, and that helped me get the business off the ground."
Kilkenny Commercials hit the ground running and Aidan has been extremely busy since opening his workshop doors for business. "We're flat out and even on Saturdays you would find yourself fixing or greasing or doing something.
With the capacity to deliver complete Volvo I-shift gearbox rebuilds (gears, bearings, engaging sleeves, etc., including repairs and calibration with all parts supplied), Aidan is an experienced and highly-skilled Volvo technician who leaves no stone unturned in getting HGVs back on the road as quickly as possible with the emphasis always on maximum safety and professionalism.
He served his time with Dennisons in Newry and underwent rigorous Volvo-specific training at the manufacturer's UK college based in Coalville, Leicestershire. Increasingly, laptops and diagnostics are becoming invaluable tools of the trade. To this end, Kilkenny Commercials uses the latest genuine Volvo diagnostics and multi-brand Jaltest diagnostic solutions to deliver accurate trouble-shooting and hence optimal end results.
"A lot of it is laptops and diagnostics now, with the rapid advance of technology in lorries," Aidan confirms. "Systems are more complex and you can save both yourself and your customer a lot of time and money by plugging it in. With the new models always evolving, it's all plugged in. If you have the right diagnostic equipment and software, you can get information that points you in the right direction more efficiently instead of wasting time using trial and error, so it's much better for everybody.
"Things are always advancing and moving forward. You have to embrace it, keep up to speed with new developments and invest or else you will fall behind. We bought the Jaltest multibrand diagnostics recently and we're doing a wide range of work with that on trucks and trailers. You have to spend it to make it back! We also have Volvo engine tools for engine rebuilds and we do a lot of gearbox rebuilds, too."
Due to the wide range of stellar services provided, the business is going from strength to strength – not least because Aidan has surrounded himself with great staff… "You need good staff and I only employ the best. This time last year I was on my own but there are three of us here now and I'm always actively on the look-out for experienced staff. The lads here at the moment are top class – Myself and Tiernan started our apprenticeships the same day in Dennison's and who knew a few years down the line that he would be working for me and Shane is a highly-skilled and motivated final-year apprentice they're a really good and loyal team.
"My fiancee Tracy does a lot of the paperwork for me and is a massive help as I wouldn't have time to do it myself, while my father also helps out in the evenings and at weekends, as does my brother Ciaran."
Of course it's not uncommon in this line of work to find oneself working some very unsociable hours. "We will certainly do that for our regular customers," says Aidan. "If you have good clients coming to you regularly and one of them is broken down then you have to work with them and get them out of a hole, no matter what time of day or night it is, because they are the ones that keep you here. You have to look after them.
"I'm very grateful to them for giving me their business. There are a lot of very good customers around me and they keep coming back. Their loyalty is the lifeblood of the business. If the haulier doesn't trust you and come to you and pay you, then you have nothing." A substantial customer base has been built up already, with a large catchment area covering counties Louth, Armagh, Monaghan. Meath. Down and even into Dublin and Longford.
Although he's embracing the latest technology in his workshop and toolbox, Aidan concedes that the business model itself is not rocket science: "It's all about quality – simple as that. We make sure we get it right the first time. I don't like shabby work going out and I don't ever want anything coming back to me that wasn't resolved properly. We pride ourselves on providing reliable services, in line with manufacturer recommendations, and we are tidy and neat. If somebody comes to you with a problem, you sort them out. If that means working after hours, so be it … there's no 9-5 in this job."
The committed proprietor of Kilkenny Commercials has a deep passion for his work and intends to keep providing a personal, hands-on service to his ever-growing customer base. "We're currently looking for larger premises because space is tight here at the minute," he concludes. "With a bit more space, we could take on more work and grow the business in a sustainable way. But you can never become complacent or lose focus because it's true what they say – no matter how high your standards are, you are only as good as your last job."
Kilkenny Commercials Ltd.
Unit 7, Brewery Business Park, Cambrickville
Dundalk, County Louth.
Tel: 086 3933152
Email: [email protected]
Facebook: KilkennyCommercials
Published in Irish Trucker & Light Commercials magazine, August/September 2021, Vol 24 No 5