Bulk Powder specialists
07/10/2021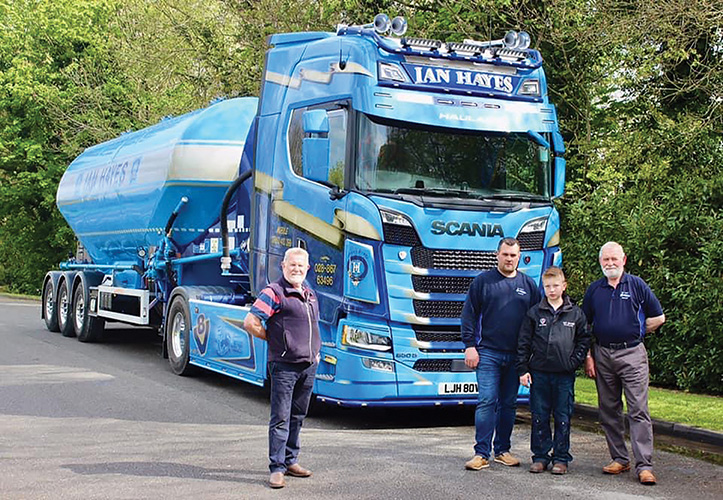 For the past 41 years, Tyrone based Ian Hayes Haulage has been providing and efficient and reliable service to its long-standing customers and this family run business prides itself on offering the personal touch.
There is certainly something about dealing with a family run business that other companies can't compete with as any issues will be dealt with by the owners.
This is definitely the case with Ian Hayes Haulage as for years, any enquiries were dealt with by Ian or his wife Florence, while nowadays their son Lloyd is at the forefront of the business.
Ian is still an integral part of the business and so to was Florence until her sudden passing in April this year. Florence's passing is very deeply regretted by her husband, children, grandchildren and family circle.
Through their years of hard work and dedication to their services, this family run business has not only gone from strength to strength, but their reputation in the haulage industry is rivalled by very few.
Specialising in the transportation of bulk powder, Ian Hayes Haulage uses a state-of-the-art fleet of trucks and tankers to provide their services.
From their headquarters in Cookstown, the company operates throughout the 32 counties and mainland U.K also. With a fleet of 12 trucks, two of which are used as spares in case of emergencies, the companies striking colours of blue and sky blue certainly stand out.
Lloyd spoke to Irish Trucker about the services that they provide and how the Covid and Brexit issues have affected them.
"We are busy enough at the moment. One of our biggest customers would be Creagh Concrete as well as Larsen Building Products. We would also deliver animal feeds, so between them all and other private work, we would be kept going," said Lloyd.
"The last year has been unusual to say the least. We were off for a few weeks during the first lockdown, but we gradually got everyone back over the course of a couple of months and we have been going since."
Lloyd admits that they are fortunate to have long standing customers who are regarded as some of the top businesses in their sector throughout the country.
"We are fortunate to be involved with the likes of Larsens and Creagh Concrete. They are good companies to be working for and my father would have been doing work for Creagh since he started out."
As stated, there are 12 trucks in the fleet, eleven of which are Scania with the other being a DAF and Lloyd added that they upgrade on a regular basis.
"In the last few years, we have invested a lot into the trucks and tankers. We would source our trucks from a guy in the U.K who we have been dealing with for a number of years. We have our own garage with a full-time mechanic, so we look after our own maintenance and ensure that the fleet is kept in pristine condition. We would have done a bit of work for other companies as well, but we find it hard to source mechanics, so we just focus on our own fleet now."
Lloyd revealed that they are fortunate not to have to source good drivers as they already have an excellent team at their disposal with many, many years' experience between them.
"We have eleven drivers, one of them would be with us three years and the rest are over ten. We are very lucky to have such good drivers. They are very experienced, and they know the job inside out, they are also very familiar with our customers which is a big help too."
With time being of the essence in this industry, Ian Hayes Haulage will promise to get your product transported without delay and on time, ensuring you meet any deadlines you may have.
"We also have a range of other transportation trailers and low loaders at our disposal, meaning we can most certainly fulfil any kind of transport requirements you would like carried out."
Travelling to the mainland U.K has changed significantly since Christmas as the effects of Brexit are being felt by the haulage industry.
"There is a lot more paperwork to deal with now. We would transport goods to Scotland a lot and we have had a few issues, but I think in the long run, it will all be sorted out, it is like everything else, it just takes time."
Running such a successful business can be time consuming and as a family man, Lloyd needs the support of his wife and children, which the affable Tyrone man has. His wife Denise, sons Jamie and Bobby as well as daughters Kendra and Danielle have played a vital role in allowing him to carry on the success that his father and mother built over the years.
"I'm very lucky to have a great family around me. Hopefully, we are building something for the next generation, my son Jamie (13) is showing a big interest already, while Bobby who is only two has a big interest in trucks also."
For the moment, Lloyd is happy with the direction of the business and he feels that once they continue to provide the level of service that their customers have become accustomed too, they will be in a good place.
"Once our customers are happy then so are we. They know we provide a good service, but we know that we must maintain that too. There are always issues in the haulage industry, but you just have to deal with them and carry on."
Contact Details:
Ian Hayes Haulage
11 Drumnacross Road
Cookstown
Co Tyrone
BT80 9DT
Northern Ireland
Tel: 028 8676 3496
Mob: 07860 410399 (Ian)
Mob: 07780 227755 (Lloyd)
Fax: 028 8676 3496
Email: [email protected]
Published in Irish Trucker & Light Commercials magazine, August/September 2021, Vol 24 No 5