Coogan Commercials providing an unbeatable service
05/10/2021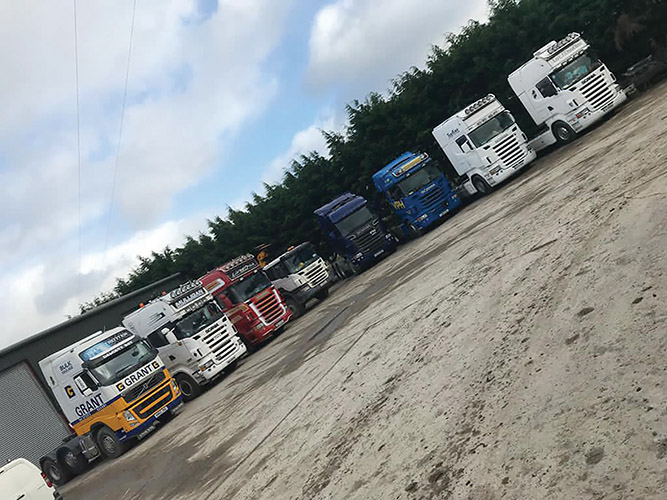 For HGV repairs and recovery, six-weekly inspections, computer diagnostics, laser wheel alignment, 24-hour call-out and a whole lot more besides, look no further than Coogan Commercials Ltd. in Newry, County Down – a thriving commercial vehicle workshop which has made quite an impact within a relatively short period of time. Irish Trucker spoke to founder / proprietor Gavin Coogan to find out more about this exceptional, industry-leading operation.
Although Coogan Commercials has only been in existence for a few years, the business has hit the ground running and has already built up a large client base across counties Down, Armagh, Louth, Meath and further afield. Reflecting on the genesis of the commercial vehicle repair, recovery and maintenance business – which was incorporated as a limited company earlier this year – owner Gavin Coogan notes:
"I've been in business on my own for three years now, having worked in Granco Scania for four years prior to that. I've been around lorries all my life and we have the capacity to carry out all kinds of work on every make and model of truck and trailer."
It's clear from talking to Gavin that he has a tremendous passion for – and understanding of – trucks. He knows lorries inside-out and this is the career path he was probably always destined to take. "My uncle owns a fleet of lorries [R & G Murphy Haulage] and that's where the interest would have come from initially. I look after his fleet for him now and have built up my own clientele as well."
A comprehensive list of services is provided to commercial vehicle owners and operators including MOT checks; six-week inspections; laser wheel alignment; recovery and 24-hour call outs; servicing; diagnostics; gearbox reconditioning; engine rebuilds, etc.
Such is the timely and professional delivery of value-added services that word has spread near and far of Coogan Commercials' competence and dependability. "The majority of my customers would be local enough but I do get men coming from as far away as Ardee and Navan. Our reputation has spread through word of mouth and we are constantly taking on new business.
"When you have satisfied customers, they will let others know about the service you provided. For me, it's all about offering a good service with a quick turnaround and the minimum of downtime. The nature of haulage is such that they all need to get back on the road as soon as possible so you do your best to get them in and out as quickly as you can, whilst also making sure all the work is carried out to the highest standards."
On any given week, the work breaks down at approximately 50:50 between preventative maintenance and repairs. "We do a lot of engine work … mostly on Scania, but we have rebuilt Volvo engines too," Gavin continues. "We can do all engine work – removing, stripping, rebuilding and refitting. Typically, we would do at least one engine rebuild a month. We also carry out a lot of gearbox reconditioning on site."
At present, full-time work is generated for three fully-qualified and vastly-experienced engineers but Gavin believes there exists scope to expand the business even further going forward: "We have been very busy this last while and I'm looking to take on another full-time man at the moment. It's not easy to get good men but I'm on the look-out. To be honest, it's never quiet here. There's always enough work for three but there are days when we could do with four or even five mechanics.
"My aim is to grow the business over time but to do this is a sustainable manner. I'm constantly investing in the business and I wouldn't mind putting in a tachograph rolling road, for example, but we will play it by ear and see what happens. I've just invested in the laser wheel alignment and we're very busy with that. A lot of money goes into diagnostics as well. All the equipment and software in a commercial garage is pricy but you will be lost if you don't keep up with the latest technology.
"You simply have to remain up to date with the newest equipment and keep refreshing, upgrading and improving yourself because the reality is that every new lorry that comes out today has something new on it that you haven't seen before and you have to keep on top of it all the time."
Gavin is fully hands-on himself and that will undoubtedly remain the case… "I work six days a week and am mechanicing most of that time. I'd also be out and about on the road sourcing parts and equipment. There's always plenty to do."
Coogan Commercials stock a vast range of parts from callipers to oil filters, brake pads to springs and everything in between. "We'd have more or less anything that you'd get in a lorry but, for anything we don't have in stock, both Granco Scania and CMP are only five minutes away so we are never stuck for parts."
Gavin's mobile phone is never off and he goes out of his way to look after his loyal customers around the clock. With a mobile service van on the road as well as a lorry and loader for 24/7 breakdown recovery, Coogan Commercials offer exceptional service levels that go above and beyond the call of duty.
"It's all about good service," the Newry man concludes. "Once the owner is happy with your work and the trust is there, that's the main thing. We insist on doing everything to a high standard in a meticulous and thorough manner and customers know they can depend on us."
Coogan Commercials may be a relative newcomer but they have already established a superb reputation for excellence and there are many more chapters yet to be written in this success story!
Coogan Commercials Ltd.,
Killean,
Newry,
County Down.
Tel: 0(044)79 35485367
Published in Irish Trucker & Light Commercials magazine, August/September 2021, Vol 24 No 5