No job too big or small for Dolphin Haulage
28/09/2021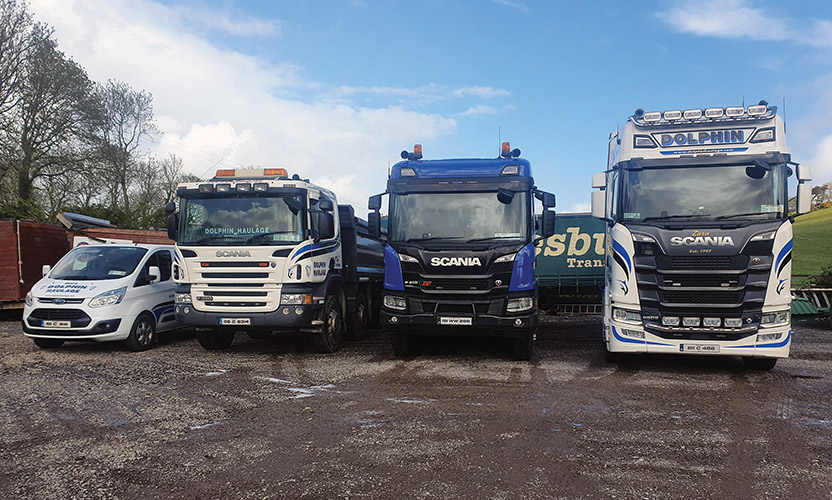 Celebrating 25 years in business, Dolphin Haulage Ltd in Midleton, Co. Cork is a leading provider of low loader, tipper, general haulage and 24-hour recovery services.
Owner Mark Dolphin runs three trucks, including a stunning new Scania 650S which he recently took delivery of from AOC Commercials, and a new Faymonville trailer which was purchased from Ashbourne Truck Centre. The new artic has been put to work pulling the new Faymonville low loader as well as a Schmitz tipper trailer. The other trucks in the fleet are a 191-registered Scania P410 XT rigid and a 06-registered Scania P380 rigid.
Mark traded in a 171-registered Scania 580 and a 2016 Faymonville low loader for the new arrivals, which represent a significant investment in his business.
"I wouldn't deal with anyone but Bernie O'Connor in AOC Commercials when it comes to buying a new truck. He's very fair and treats everyone the same," the affable haulier says.
"The new tractor unit is going great and so is the new low loader which is the fifth or sixth Faymonville I've bought off Joe Mooney in Ashbourne Truck Centre since 2006. Again, I wouldn't go anywhere else as the back-up service offered by Joe and his staff is second to none. We've built up a strong relationship over the years."
Mark continues: "The new low loader is more specialised than the old one in that the ramps come in to touch off each other when the tailboard is pulled up. The neck is also 200ml longer which means you can fit a tractor or roller on the neck.
"We never had a day's trouble with any of the previous Faymonville trailers we've had. You can rely on them 100%. You have to have good gear to get good work and to meet RSA requirements."
No job is too big or too small for Dolphin Haulage whose clients include Lagan (part of the Breedon Group), Boom & Platform, Manlift Hire, KM Plant Sales, Fitzpatrick Plant & Sales and Sorensen Civil Engineering. The company offers a comprehensive range of services to the customer, delivering peace of mind as well as the goods.
"We pride ourselves on providing a top-class, reliable and value-for-money service to a wide client-base in the Munster region," Mark explains.
"We have some very loyal customers who are involved in everything from construction to pharmaceutical work. We draw sand, gravel, tarmac and aggregates for Lagan, mostly from their Cork depot in Rossmore. We also move a range of plant and machinery such as crushers, screeners, rollers, diggers, tractors, excavators and telehandlers for various clients. We can carry any weight from one tonne up to 55 tonnes."
Mark is pleased to say that Dolphin Haulage remained fully operational throughout most of the pandemic.
"We were stopped for seven weeks when COVID first hit, but have been flat to the mat ever since. We had a lot of essential work on for the likes of Sorensen Civil Engineering and the lift hire companies.
"As bad as COVID was, it gave us a chance to reassess and re-energise. It made you more appreciative of what you have. The recession of 10 years ago and the pandemic have grounded a lot of people. They're more careful with their money which isn't a bad thing."
Mark was just 18 when he bought his first truck after taking out a bank loan.
"I left school at 15 and worked in agricultural contracting before starting out as a sole trader in 1996. I formed a limited company two years later. The economy was booming at the time and before long we were running six trucks. But then the recession hit and the work suddenly dried up.
"The first thing I did was cut back on the number of trucks and trailers I had. I went back to one truck before building it back up to three. I'm happy with where we are at now. We have good customers and good suppliers, and you can't ask for anymore than that. I stand over my motto which is: 'No job is too big or small – you call, we haul.'"
Dolphin Haulage operates from a one-acre site outside Midleton. The site boasts a 2,500 sq. ft. workshop and a spacious yard.
"With every job, I do my utmost to provide the best possible service. I will go the extra mile to keep my customers happy," concludes Mark, who would like to take this opportunity to thank his clients and suppliers for their continued support. He is also full of praise for his drivers who are professional, dependable and courteous.
Here's to the next 25 years of Dolphin Haulage!
Dolphin Haulage Ltd
Knockashruleen,
Midleton,
Co. Cork.
Telephone: 087 2559560
Email: [email protected]
Published in Irish Trucker & Light Commercials magazine, August/September 2021, Vol 24 No 5